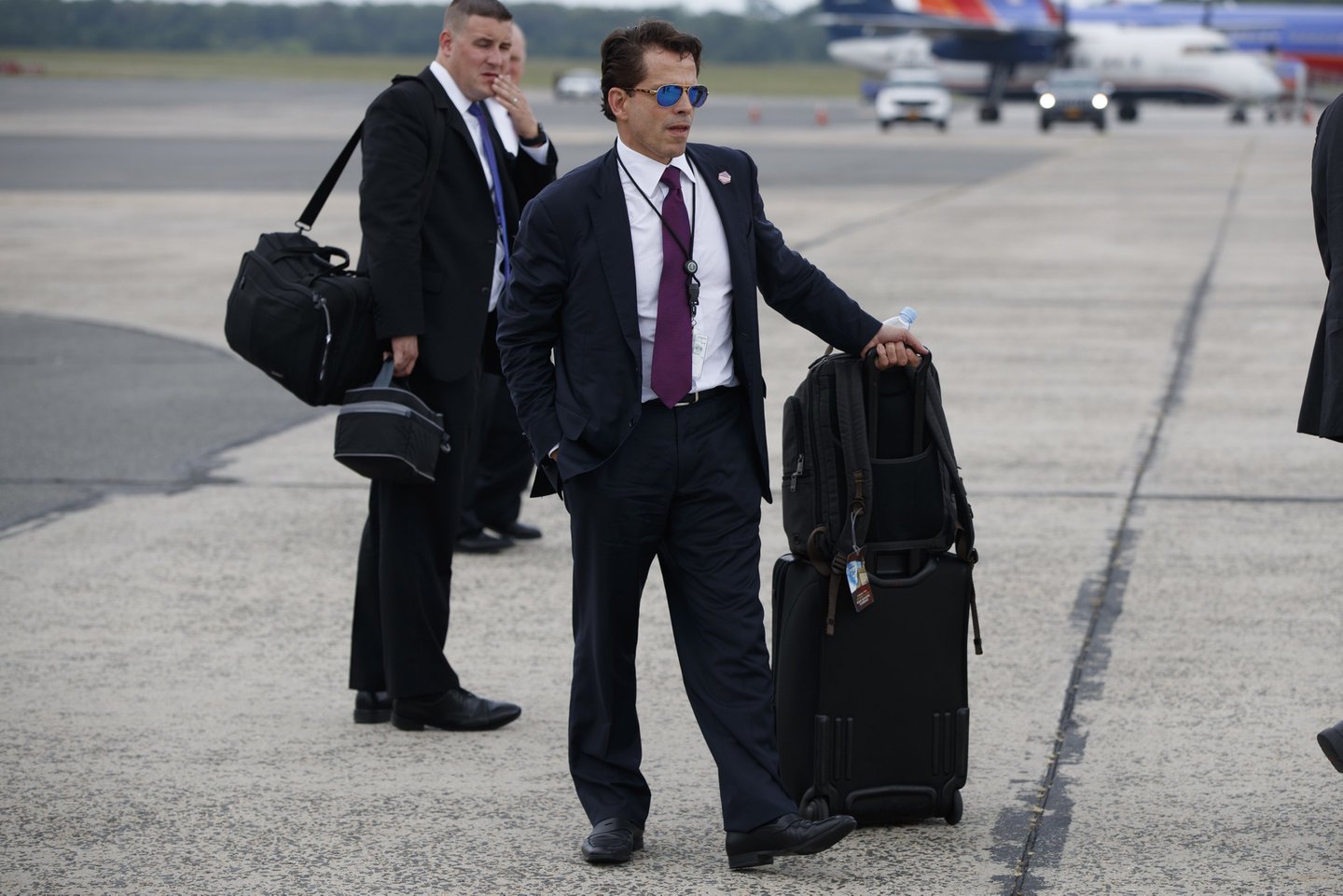 The Trump administration is barely six months old, but it's already seen several high-profile departures – from both inside and outside the White House – including three people this month.
Here's a look at who's already come and gone during the Trump administration, from Anthony Scaramucci to Michael Flynn.
Within the White House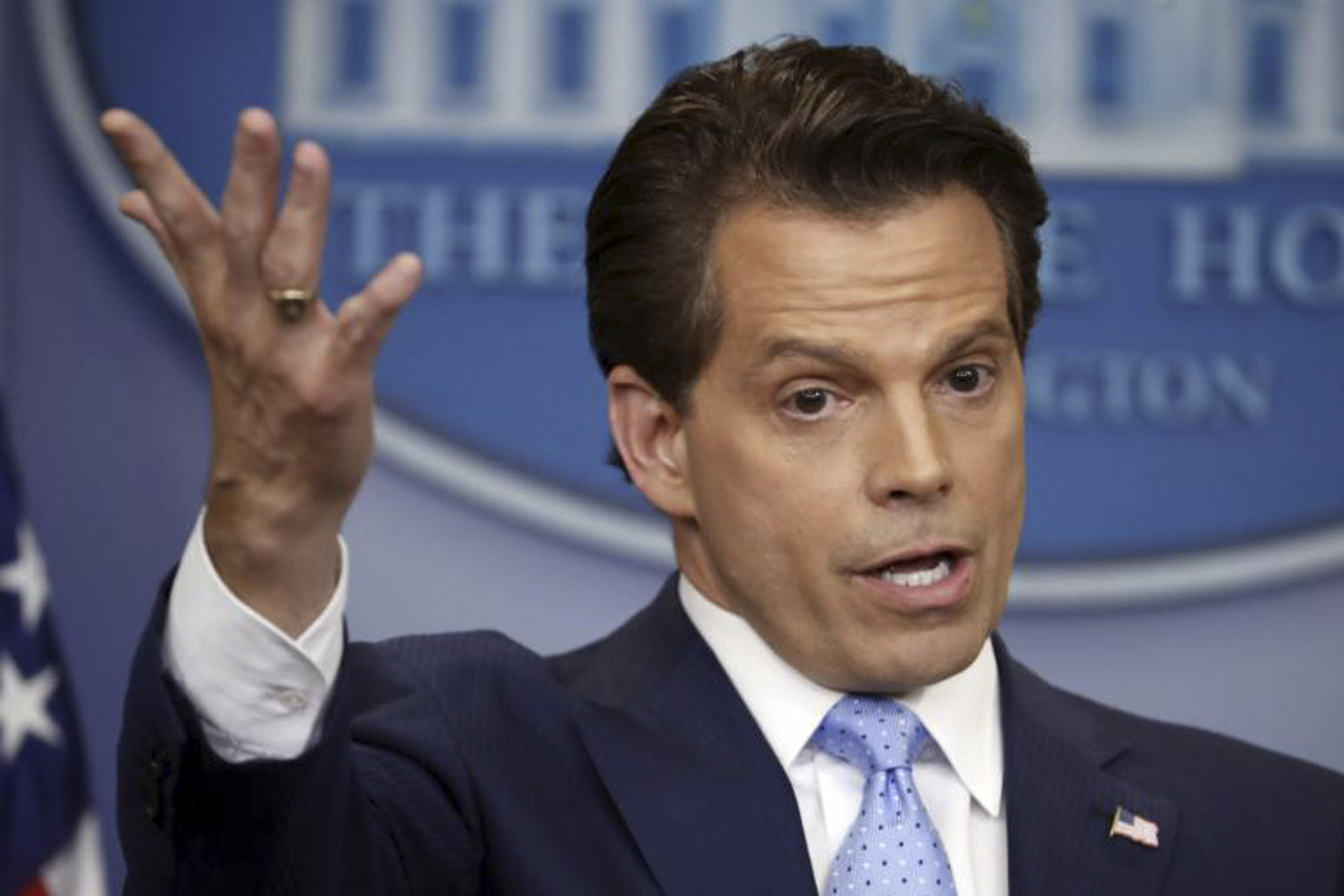 Anthony Scaramucci
"The Mooch" came and went in just 10 days. The White House confirmed Monday, July 31, that he was ousted as communications director. "Mr. Scaramucci felt it was best to give Chief of Staff John Kelly a clean slate and the ability to build his own team," Press Secretary Sarah Huckabee Sanders said in a statement. Scaramucci, a Port Washington-raised financier, gave an expletive-filled interview to The New Yorker last week in which he called Reince Priebus a "paranoid schizophrenic" and disparaged the president's chief strategist Steve Bannon.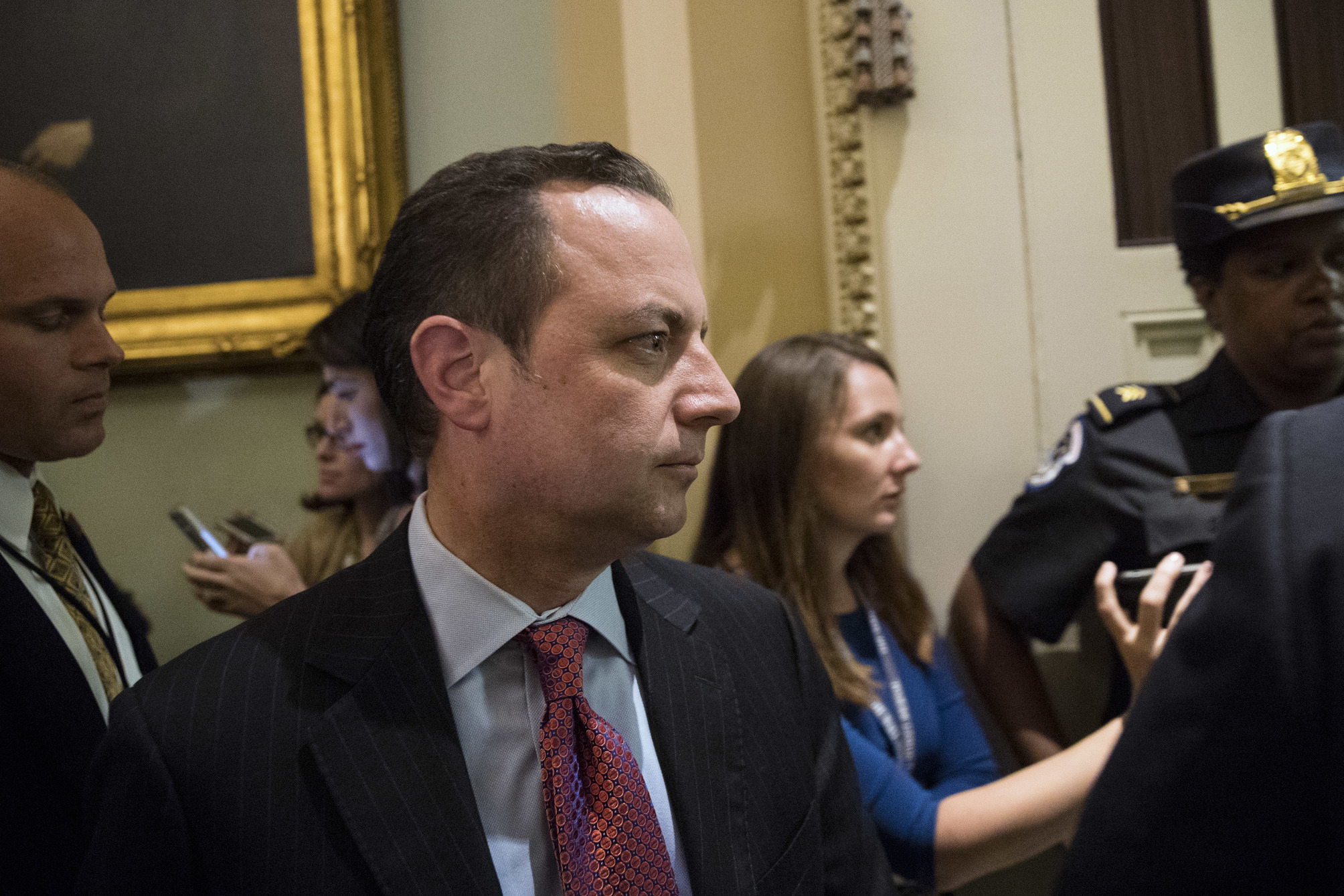 Reince Priebus
When President Donald Trump's first chief of staff lost his job, the world found out about it on Twitter. That's where Trump named Priebus' replacement, Homeland Security Secretary John Kelly, on Friday, July 28. So ended a tumultuous six-month tenure for Priebus, a former head of the Republican National Committee, who was widely seen as a weak chief of staff amid White House infighting. "We accomplished a lot together and I am proud of him!" Trump said in a tweet about Priebus.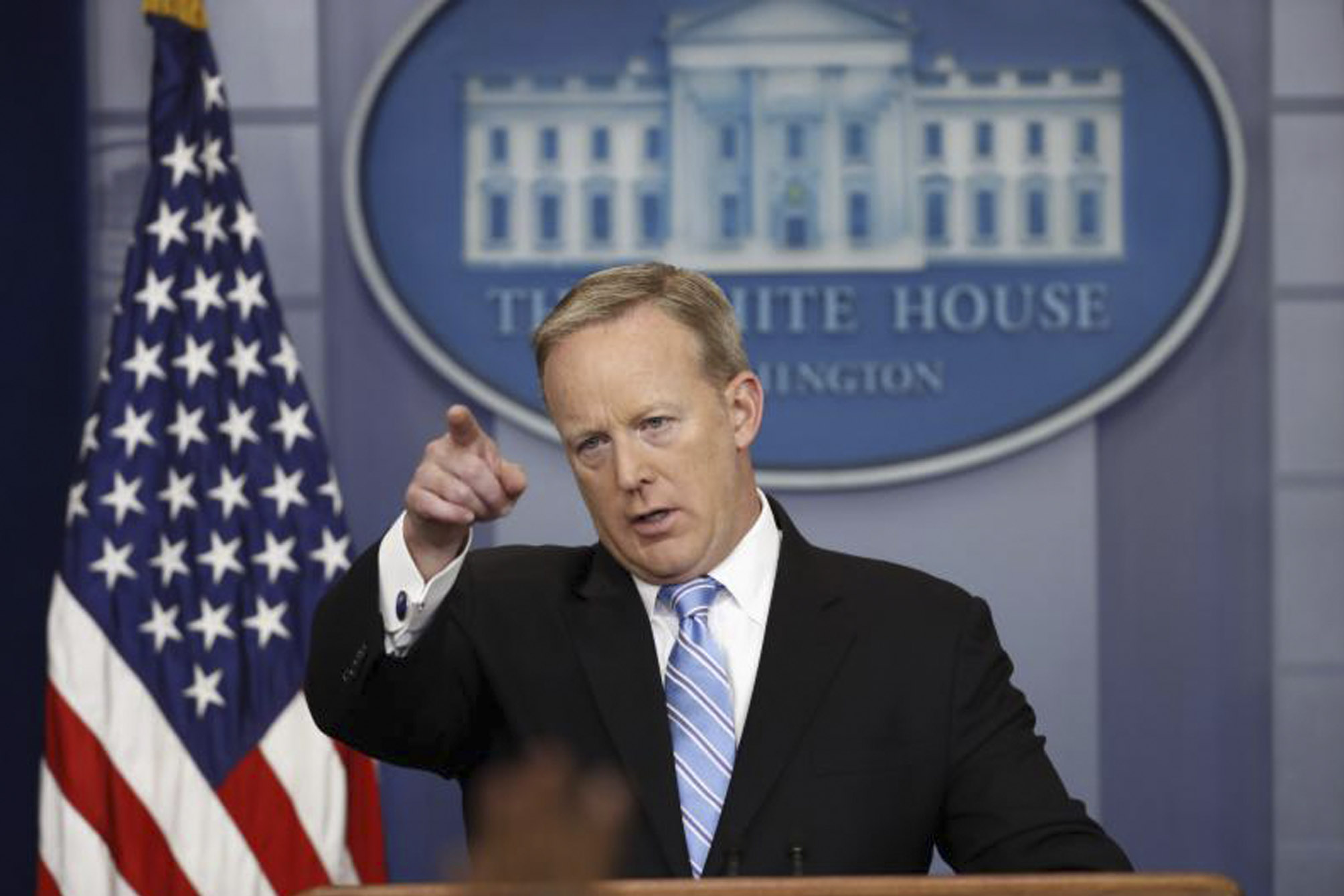 Sean Spicer
The White House press secretary suddenly quit on Friday, July 21, after Trump named Anthony Scaramucci as communications director. Spicer objected to Scaramucci's hiring, news reports said. Spicer's short run was marked by testy and even combative exchanges with the press at daily briefings, while Melissa McCarthy memorably lampooned him on "Saturday Night Live." Like Priebus, Spicer hailed from the RNC.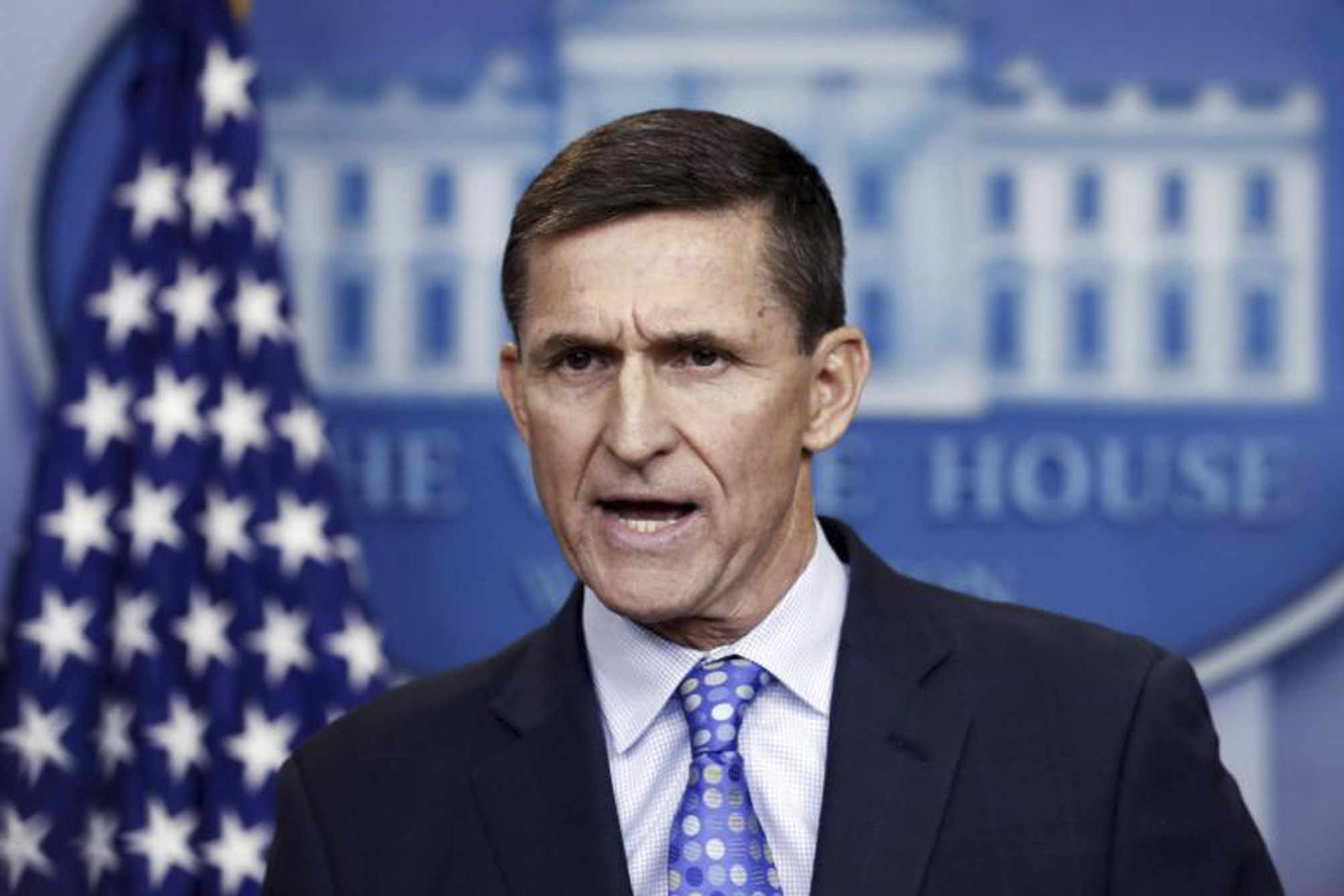 Michael Flynn
Flynn resigned after three and a half weeks as national security adviser, on Feb. 13, after reports that he discussed U.S. sanctions with the Russian ambassador to the U.S. before Trump took office. Trump asked Flynn to resign because he misled Vice President Mike Pence about his late December call with the ambassador, Spicer said. Former acting Attorney General Sally Yates later testified that she warned the White House that Flynn "could be blackmailed" by Russia.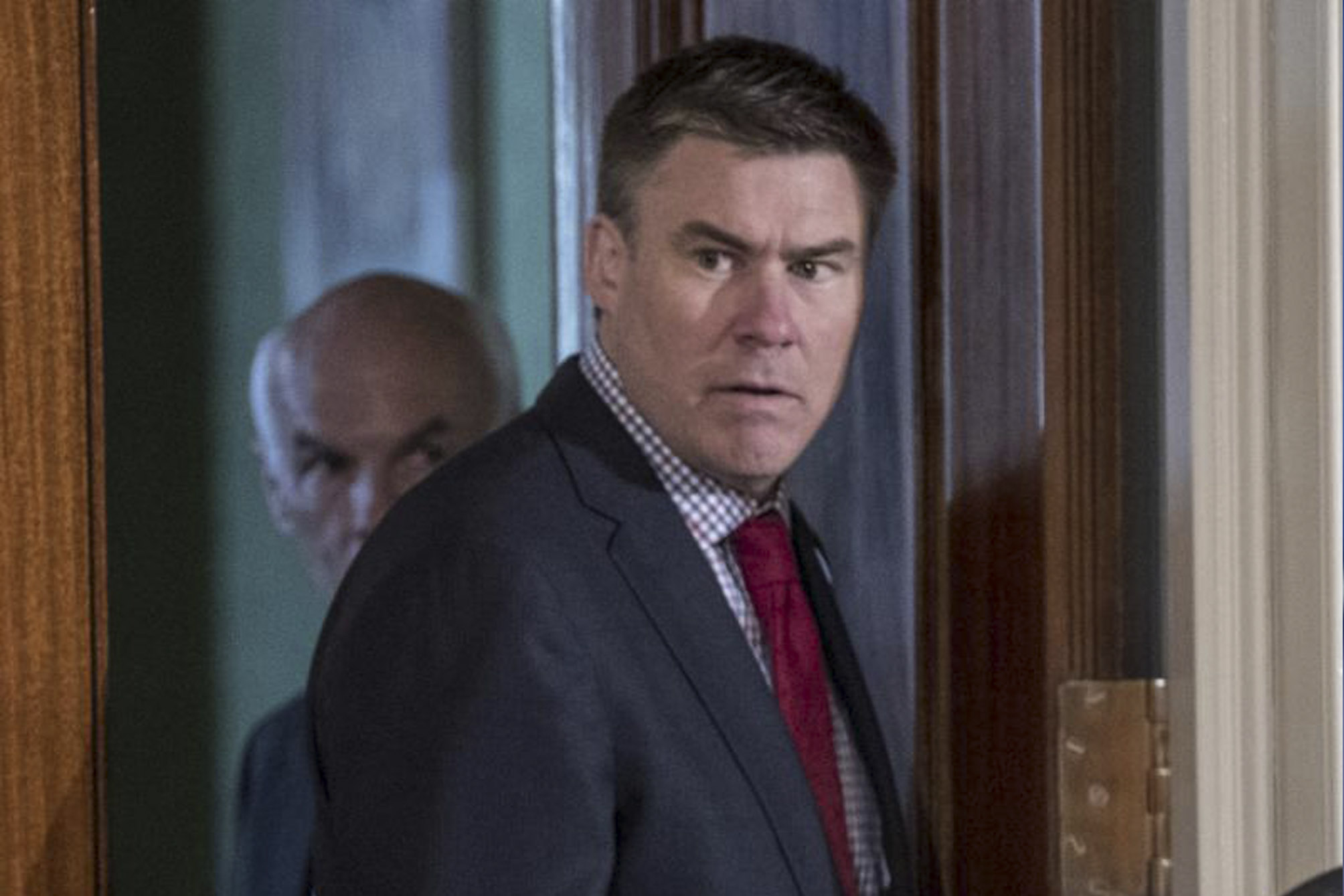 Michael Dubke
Trump's first White House communications director resigned in May, serving his final day on June 2. Dubke founded Crossroads Media, a Republican firm that specializes in political advertising. Dubke wasn't the first person hired for the job – that would be Jason Miller, who backed out before Trump took office.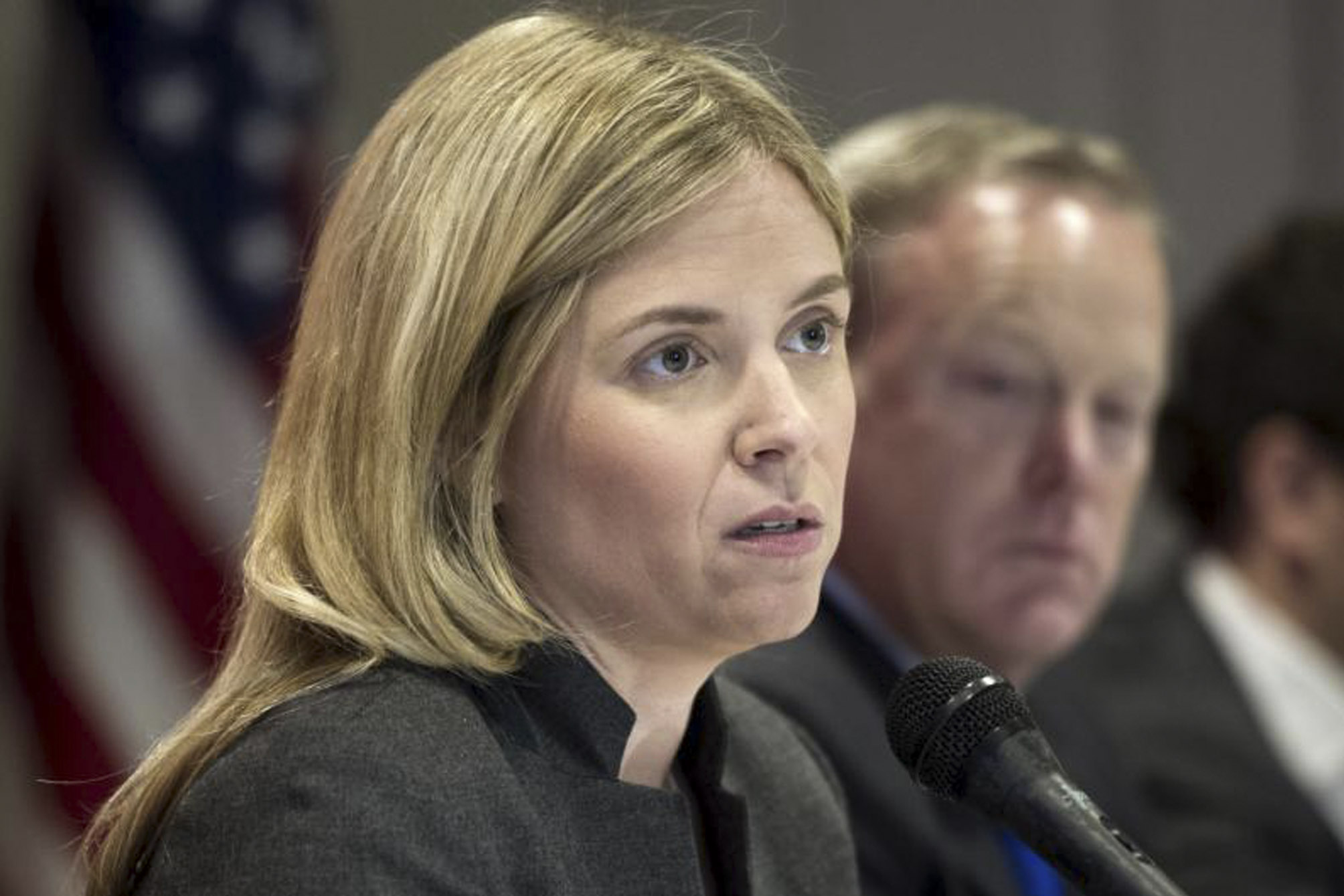 Katie Walsh
The deputy chief of staff said March 30 that was she was leaving her post to join America First Policies, a pro-Trump outside group. Walsh said she decided to do that after the first attempt to repeal Obamacare during the Trump presidency failed in the House – where too many Republicans opposed it.
Outside the White House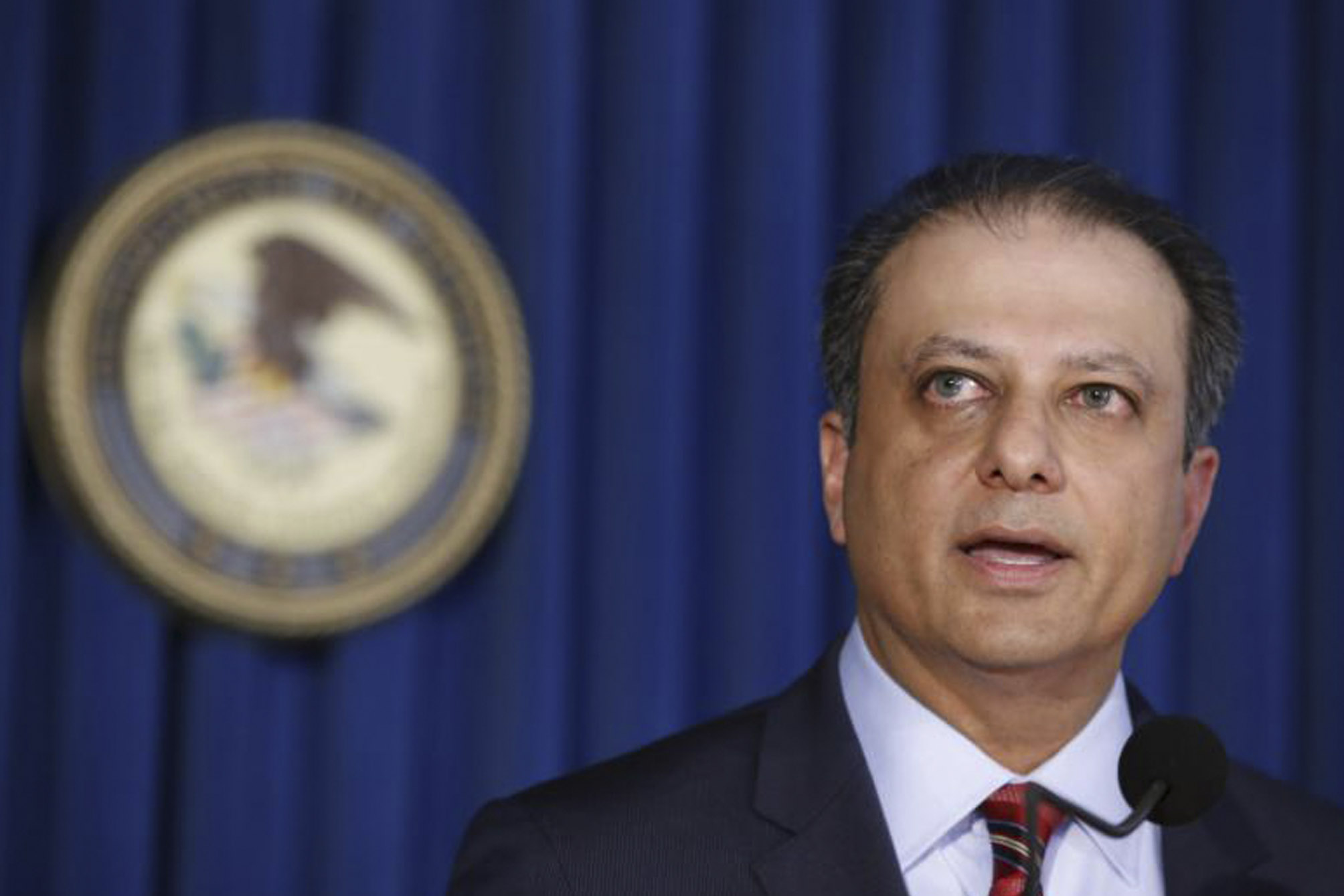 Preet Bharara (along with 45 U.S. attorneys)
The Manhattan U.S. attorney was fired after he refused to resign – announcing his own termination on Twitter on March 11. Attorney General Jeff Sessions had demanded the resignations of Bharara and 45 other Obama-appointed federal prosecutors the day before. Several of the 46 were given months-long extensions, including Connecticut's U.S. attorney, who is staying on until October.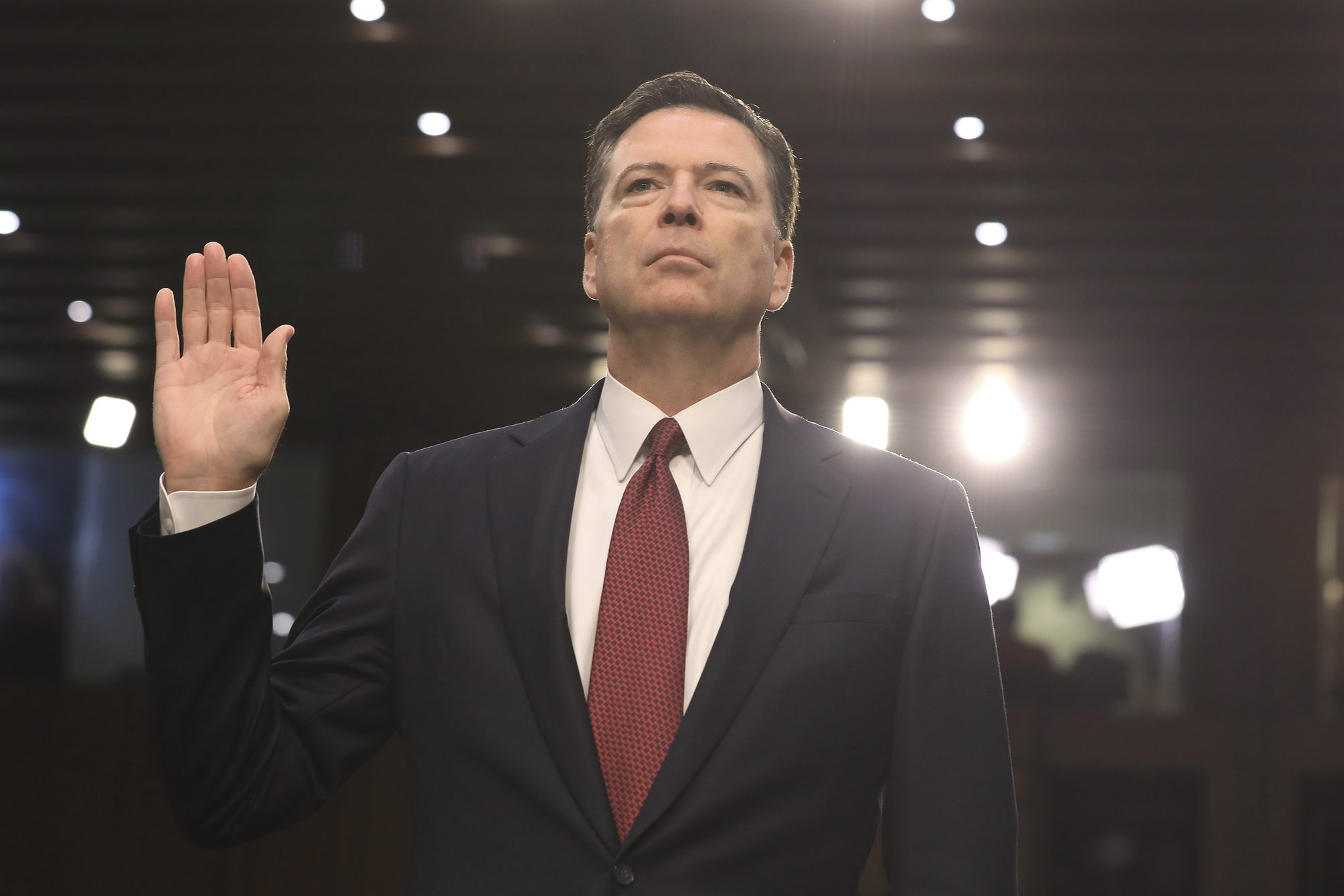 James Comey
Trump's firing of the FBI director shocked the nation on May 9 – with rippling effects for his presidency since. Trump told NBC News "this Russia thing" – which he called "a made-up story" – was on his mind when he decided to fire Comey, as the FBI investigated Russian interference in the presidential election. Comey told the Senate Intelligence Committee he was fired to change "the way the Russia investigation was being conducted."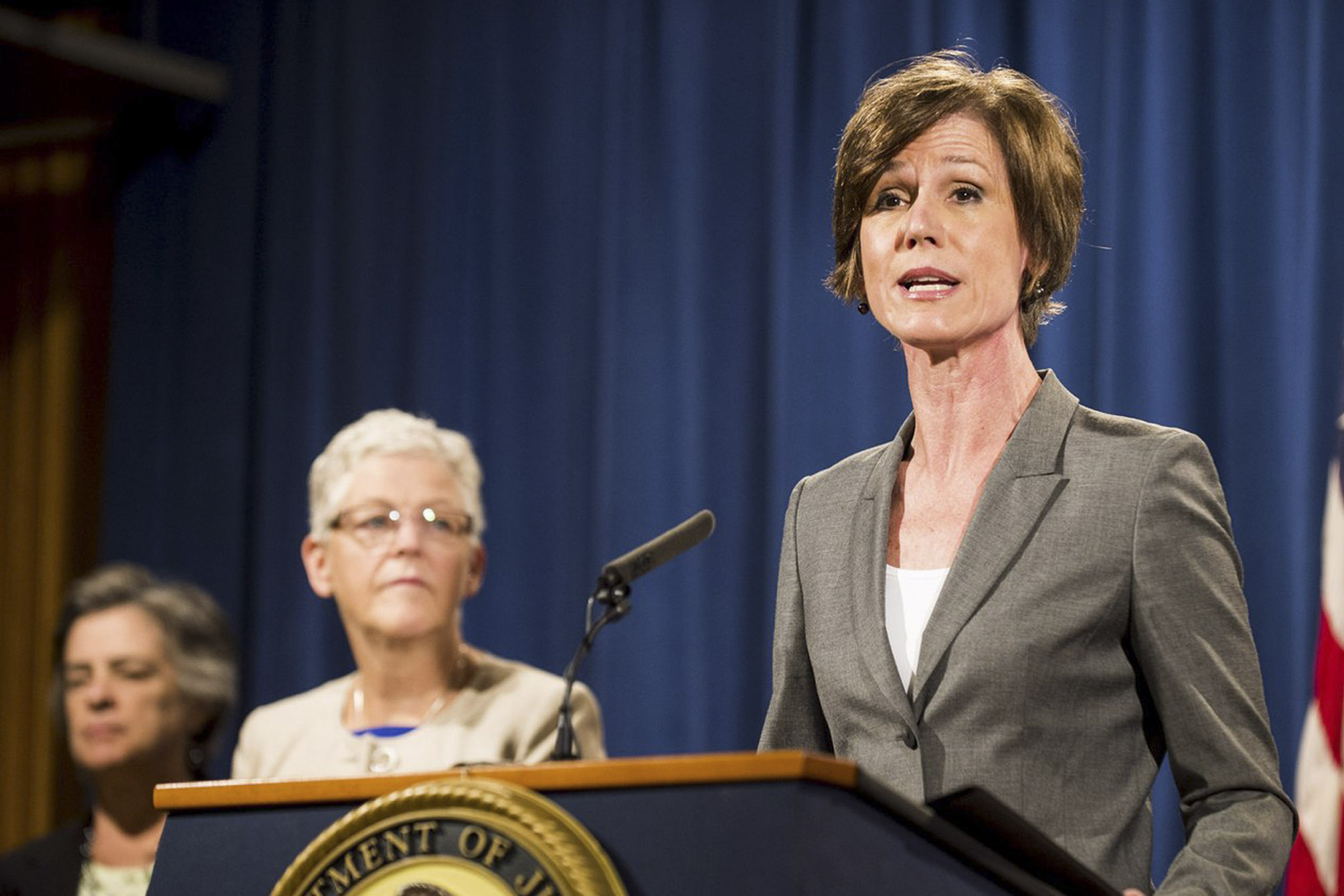 Sally Yates
Trump fired the acting attorney general on Jan. 30 after she ordered Department of Justice lawyers to stop defending the executive order he issued on Jan. 27, one week into his presidency, banning travel from seven Muslim-majority nations. A White House statement accused Yates of betraying "the Department of Justice by refusing to enforce a legal order designed to protect the citizens of the United States."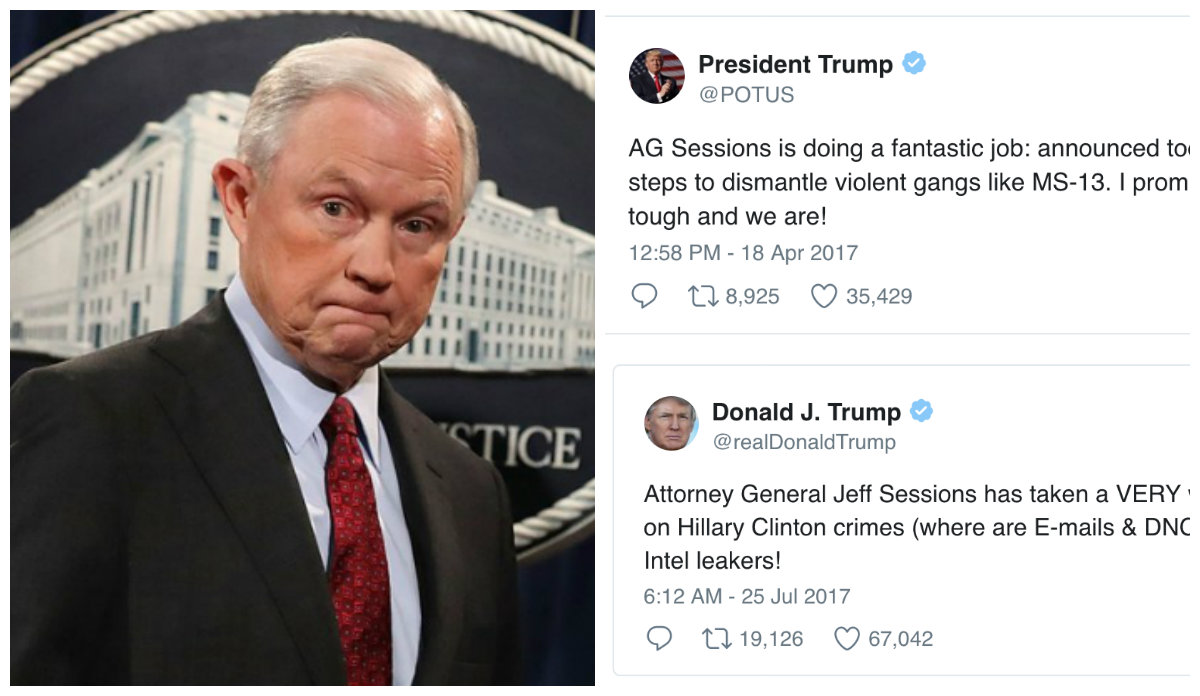 He was one of President Donald Trump's earliest supporters but now Attorney General Jeff Sessions is taking heat from the president on Twitter. Earlier in the week, Trump expressed regret over choosing Sessions for the Cabinet position and then he took to social media for a days-long public criticism of what he called Sessions' "weak" handling of allegations against Hillary Clinton.
But the relationship was not always so contentious. Trump has often used Twitter to tout Sessions and his work, before his tone took a sharp turn this week. Here's a look back at every Sessions-related tweet from Trump's personal and POTUS handles since the election.
Feb. 28, 2016

Thank you, Senator Sessions

Sessions was the first senator to endorse Trump. In his Facebook post on the endorsement, Trump acknowledged Sessions as "the Senate's indispensable man and the gold standard."
Thank you @SenatorSessions!#MakeAmericaGreatAgain #Trump2016https://t.co/Szs0QF88HR pic.twitter.com/UL6t60TTjP

— Donald J. Trump (@realDonaldTrump) February 29, 2016
---
March 4, 2016

A vote of confidence

Trump chooses Sessions as chairman of a high-profile advisory committee.
Senator Sessions will serve as the Chairman of my National Security Advisory Committee. https://t.co/jQed1P6SD9 pic.twitter.com/n83Cbs4jtA

— Donald J. Trump (@realDonaldTrump) March 4, 2016
---
June 8, 2016

Foreshadowing retweeted

Back before Trump was even the Republican nominee for president, a supporter tweeted at him with a bright idea:
Jeff Sessions for Vice President. Sessions' name had circulated in the media, as well, as a possible running mate or Cabinet nominee. Trump retweeted the user.
"@KathyCeurter: @realDonaldTrump please Mr.Trump make @SenatorJeffSessions your VP. He is a perfect running mate." He is a great guy!

— Donald J. Trump (@realDonaldTrump) June 9, 2016
---
Nov 22, 2016

"A fitting selection"

The National Review applauded Trump's pick for Attorney General. Trump shared the link.
'Jeff Sessions, a Fitting Selection for Attorney General'https://t.co/LjKTkAZSFy

— Donald J. Trump (@realDonaldTrump) November 22, 2016
---
Jan. 13, 2017

Everyone's doing great

As confirmation hearings got underway to fill Trump's Cabinet positions, he tweeted his support.
All of my Cabinet nominee are looking good and doing a great job. I want them to be themselves and express their own thoughts, not mine!

— Donald J. Trump (@realDonaldTrump) January 13, 2017
---
Jan. 31, 2017

Eager to get Sessions in
When will the Democrats give us our Attorney General and rest of Cabinet! They should be ashamed of themselves! No wonder D.C. doesn't work!

— Donald J. Trump (@realDonaldTrump) January 31, 2017
---
Feb. 8, 2017

Sessions confirmed
Congratulations to our new Attorney General, @SenatorSessions! pic.twitter.com/e0buP1K83z

— Donald J. Trump (@realDonaldTrump) February 9, 2017
---
Feb. 9, 2017

Live in the Oval Office
Join us live in the Oval Office for the swearing in of our new Attorney General, @SenatorSessions!
LIVE: https://t.co/nZ0JJIqmk2 pic.twitter.com/0PEcB2B4Pf

— Donald J. Trump (@realDonaldTrump) February 9, 2017
---
March 3, 2017

'An honest man'

After Sessions recused himself from the Russia investigation and any future investigations related to Russia, Trump defended the actions that led Sessions to the decision in a series of tweets. He also told reporters he did not think Sessions needed to recuse himself.
Jeff Sessions is an honest man. He did not say anything wrong. He could have stated his response more accurately, but it was clearly not….

— Donald J. Trump (@realDonaldTrump) March 3, 2017
…intentional. This whole narrative is a way of saving face for Democrats losing an election that everyone thought they were supposed…..

— Donald J. Trump (@realDonaldTrump) March 3, 2017
…to win. The Democrats are overplaying their hand. They lost the election, and now they have lost their grip on reality. The real story…

— Donald J. Trump (@realDonaldTrump) March 3, 2017
…is all of the illegal leaks of classified and other information. It is a total "witch hunt!"

— Donald J. Trump (@realDonaldTrump) March 3, 2017
---
March 4, 2017
Trump mentioned Sessions in a series of tweets defending him and pointing to the Obama administration's contact with the Russian ambassador. On the same day, Trump also tweeted the President Barack Obama wire tapped his phones.
The first meeting Jeff Sessions had with the Russian Amb was set up by the Obama Administration under education program for 100 Ambs……

— Donald J. Trump (@realDonaldTrump) March 4, 2017
Just out: The same Russian Ambassador that met Jeff Sessions visited the Obama White House 22 times, and 4 times last year alone.

— Donald J. Trump (@realDonaldTrump) March 4, 2017
---
March 13, 2017

A proud welcome

Sessions appeared in a series of photos taken in the Oval Office, welcoming the new Cabinet members and meeting with members of a police union.
Proud to welcome our great Cabinet this afternoon for our first meeting. Unfortunately 4 seats were empty because Senate Dems are delaying! pic.twitter.com/mykytxPkD9

— Donald J. Trump (@realDonaldTrump) March 13, 2017
It was an honor to welcome @GLFOP to the @WhiteHouse today with @VP Pence & Attorney General Sessions. THANK YOU for all you do 24/7/365! pic.twitter.com/UOKsiqMpsx

— Donald J. Trump (@realDonaldTrump) March 28, 2017
---
April 18, 2017

Getting tough

Trump lauds Sessions' work thus far.
AG Sessions is doing a fantastic job: announced today new steps to dismantle violent gangs like MS-13. I promised to get tough and we are!

— President Trump (@POTUS) April 18, 2017
---
July 22, 2017

Decrying leaks against the AG

In the early morning hours of July 22, Trump mentioned Sessions in a tweet decrying what he called illegal leaks that lead to a Washington Post report alleging that Sessions had previously undisclosed conversations with Russia about the election.
A new INTELLIGENCE LEAK from the Amazon Washington Post,this time against A.G. Jeff Sessions.These illegal leaks, like Comey's, must stop!

— Donald J. Trump (@realDonaldTrump) July 22, 2017
---
July 22, 2017

Questions for the AG

About an hour later, the tweets started to point more directly at Sessions.
So many people are asking why isn't the A.G. or Special Council looking at the many Hillary Clinton or Comey crimes. 33,000 e-mails deleted?

— Donald J. Trump (@realDonaldTrump) July 22, 2017
…What about all of the Clinton ties to Russia, including Podesta Company, Uranium deal, Russian Reset, big dollar speeches etc.

— Donald J. Trump (@realDonaldTrump) July 22, 2017
---
July 24, 2017

Beleaguered

In addition to the criticism of Sessions on Twitter, Trump told The Wall Street Journal he was looking at the possibility of firing him.
So why aren't the Committees and investigators, and of course our beleaguered A.G., looking into Crooked Hillarys crimes & Russia relations?

— Donald J. Trump (@realDonaldTrump) July 24, 2017
---
July 25, 2017

VERY weak
Attorney General Jeff Sessions has taken a VERY weak position on Hillary Clinton crimes (where are E-mails & DNC server) & Intel leakers!

— Donald J. Trump (@realDonaldTrump) July 25, 2017
---
July 26, 2017

Foreshadowing retweeted

Trump's attack continued, even as Republicans came to Sessions' defense and denounced the president's actions.
Why didn't A.G. Sessions replace Acting FBI Director Andrew McCabe, a Comey friend who was in charge of Clinton investigation but got….

— Donald J. Trump (@realDonaldTrump) July 26, 2017
…big dollars ($700,000) for his wife's political run from Hillary Clinton and her representatives. Drain the Swamp!

— Donald J. Trump (@realDonaldTrump) July 26, 2017
In the following days, Trump said in interviews that he wants Sessions to stay on the job. Sessions said he intends to do so.
Republicans suffered a stunning defeat early Friday morning, when the Senate narrowly rejected the GOP's slimmed-down Obamacare repeal bill after an ailing Sen. John McCain — whose support allowed the debate to begin Tuesday — cast a surprise "no" vote.
The vote dealt a serious blow to President Donald Trump and the GOP agenda, with most Republican candidates having pledged for years to repeal President Barack Obama's 2010 health care overhaul, the Affordable Care Act.
Here's what led up to the vote's failure:
Pence breaks procedural vote tie
The Senate held a procedural vote on Tuesday that allowed formal debate to begin on a potential repeal of major components of the Affordable Care Act. The vote itself did not trigger any changes to the existing legislation. Nonetheless, it was seen as an indication of how some Republican senators on the fence about the actual repeal effort may ultimately vote. The vote passed by a slim margin with Vice President Mike Pence breaking a 50-50 tie.
The two Republicans, Susan Collins of Maine and Lisa Murkowski of Maine, to cast "no" votes had already put their opposition on record. That left moderate GOP senators such as Dean Heller of Nevada and John McCain of Arizona, as the critical votes. Heller didn't indicate his support until minutes before the vote while McCain – making a dramatic return to the Senate after a recent diagnosis of brain cancer – gave no indication of which way he was leaning until he cast a "yes" vote. All Democrats voted no as expected.
Repeal and replace bill fails
The first defeat for Republicans in the week's 20-hour period of debate and amendments to dismantle Obamacare came late Tuesday, when nine Republican senators defected and sank Senate Majority Leader Mitch McConnell's repeal and replace Obamacare bill.
The bill was a wide-ranging proposal that would repeal much of former President Barack Obama's health care law and replace it with a more restrictive plan.
The rejected proposal included language by McConnell erasing the Obama law's tax penalties on people not buying insurance and cutting Medicaid.
Language by Texas Republican Sen. Ted Cruz would let insurers sell cut-rate policies with skimpy coverage. And there was an additional $100 billion to help states ease costs for people losing Medicaid sought by Midwestern moderates.
Full Obamacare repeal vote fails
On Wednesday, July 26, the divided Senate Republican majority failed to muster the votes to pass its longtime goal of a complete repeal of Obamacare, marking the second setback of the week as it debated and attempted to shape legislation to dismantle the 2010 health care law.
The amendment, which resurrected a 2015 bill to repeal Obamacare but delay it for two years to give lawmakers time to replace it, failed in a 45-55 vote, with seven Republicans — including McCain — voting against it, even though six of them voted for it when it passed in 2015.
Republicans voting no were McCain, Murkowski, Sen. Rob Portman of Ohio, Sen. Shelley Moore Capito of West Virginia, Sen. Dean Heller of Nevada, Sen. Susan Collins of Maine and Alexander, and Sen. Lamar Alexander of Tennessee.
'Skinny repeal' bill fails
The "skinny repeal" bill would have ended the mandate that all individuals obtain health insurance, terminated a tax on medical devices, and leave untouched a Medicaid expansion created by Obamacare. It would have resulted in the loss of health insurance for 15 million people over the next decade and a 20 percent increase in insurance premiums, the nonpartisan Congressional Budget Office estimated.
McCain, whose return to the Senate helped begin the formal debate on the three health-care bills, ultimately cast the vote that killed the Republicans' "skinny repeal" bill and delivered a severe political defeat for Trump and McConnell.
Skinny repeal fell short because it fell short of our promise to repeal & replace Obamacare w/ meaningful reform https://t.co/tZISIvccOO

— John McCain (@SenJohnMcCain) July 28, 2017
McCain made the call shortly after dramatically walking to the front of the Senate floor around 1:30 a.m. Friday, holding out his arm and turning his thumb down — meaning a 51-49 defeat for the bill Republicans called the Health Care Freedom Act. The Arizona maverick joined with fellow Republicans Collins and Murkowski and all 48 Democrats in the chamber to vote no.
I urge my colleagues to trust each other, stop political games& put health needs of American ppl 1st. We can do this https://t.co/3gKeGcHNQH

— John McCain (@SenJohnMcCain) July 28, 2017
The amendment was a last resort for Senate Republicans to pass something — anything — to trigger negotiations with the House. Some Republicans were concerned that the House would simply pass the pared-down bill and send it to Trump.
The reaction
House leaders had no hesitation about blaming the Senate for the collapse of one of the GOP's paramount priorities.
In a statement, Speaker Paul Ryan, R-Wis., pointedly said "the House delivered a bill" and said he was "disappointed and frustrated." Nearly three months earlier, the House approved its health care package after several embarrassing setbacks.
He added, "But we should not give up. I encourage the Senate to continue working toward a real solution that keeps our promise."
3 Republicans and 48 Democrats let the American people down. As I said from the beginning, let ObamaCare implode, then deal. Watch!

— Donald J. Trump (@realDonaldTrump) July 28, 2017
Trump returned to Twitter to express his disappointment with the failure of the GOP effort and threatened to let the health care system collapse:
The Supreme Court said Monday the president's 90-day ban on visitors from Iran, Libya, Somalia, Sudan, Syria and Yemen can be enforced pending arguments scheduled for October — as long as those visitors lack a "credible claim of a bona fide relationship with a person or entity in the United States."
But much remains murky: What exactly is a bona fide relationship? Who gets to decide? Will the travel ban even still be an issue by the time the justices hear arguments?
Here's a look at some key issues surrounding President Donald Trump's executive order:
WHO'S THE WINNER?
After the lower courts found the travel ban unconstitutionally biased against Muslims and contrary to federal immigration law, Trump hailed the Supreme Court's decision as a "clear victory for our national security."
Very grateful for the 9-O decision from the U. S. Supreme Court. We must keep America SAFE!

— Donald J. Trump (@realDonaldTrump) June 26, 2017
It was a legal win for the administration — to an extent. Three justices — Clarence Thomas, Samuel Alito and Trump appointee Neil Gorsuch — said they would have allowed the travel ban to take effect as written.
But the other six kept blocking it as it applies to those traveling to the U.S. on employment, student or family immigrant visas as well as other cases where the traveler can show a "bona fide" connection to the U.S.
That's no minor exception, according to immigrant groups, who say relatively few people come to the U.S. from the affected countries without such close ties.
Likewise, the justices said, refugees can travel to the U.S. if they demonstrate those connections — contrary to the part of Trump's executive order suspending the nation's refugee program.
"This decision is a true compromise," said Kari Hong, an immigration law expert at Boston College Law School. "It is true that the travel ban is allowed to go into effect, but the Supreme Court substantially narrowed who could be denied entry."
---
BUT WHAT'S 'BONA FIDE'?
The court's majority laid out the "bona fide" relationships it had in mind. For individuals, a close family relationship is required: A spouse or a mother-in-law would be permitted. So would a worker who accepted a job from an American company, a student enrolled at a U.S. university or a lecturer invited to address a U.S. audience.
What's not bona fide? A relationship created for purposes of avoiding the travel ban, the justices said.
"For example, a nonprofit group devoted to immigration issues may not contact foreign nationals from the designated countries, add them to client lists, and then secure their entry by claiming injury from their exclusion," the court wrote.
---
AND WHO DECIDES?
Thomas, Alito and Gorsuch found that guidance confusing and unworkable.
"Today's compromise will burden executive officials with the task of deciding — on peril of contempt — whether individuals from the six affected nations who wish to enter the United States have a sufficient connection to a person or entity in this country," Thomas wrote.
It also could lead to legal challenges amid the "struggle to determine what exactly constitutes a 'bona fide relationship,' who precisely has a 'credible claim' to that relationship, and whether the claimed relationship was formed 'simply to avoid'" the travel ban," he wrote.
---
LITTLE PRACTICAL IMPACT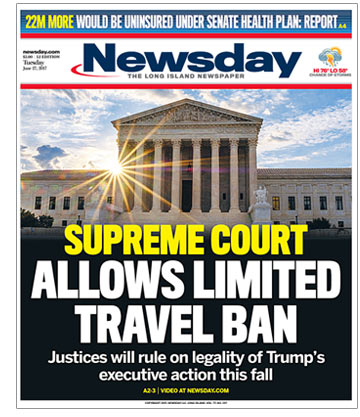 Eric M. Freedman, a constitutional law professor at Hofstra University in Hempstead, said he expects the Supreme Court's decision to review the case will have little practical impact, because the ban that remains in place excludes people with family or institutional ties to the United States.
"There will be no substantial change in the status quo, and it is highly unlikely that anyone will notice any change," Freedman said Tuesday. "The decision gives some symbolic paper victory to the Trump administration without making any changes on the ground, because it leaves the ban in areas where it has no practical application . . . and the bet is the case will be moot and the whole thing will be dismissed" when the justices return in October.
Under the terms spelled out by the high court, he said, only tourists from the nations in question seem to be directly affected by the 90-day ban.
"The only identifiable class anybody has been able to think of are people traveling for the first time as visitors to America, or people who are very occasional visitors to America who decide they are going to come between now and October," he said.
---
REFUGEES RELIEVED
Mark Hetfield, president and CEO of HIAS, a refugee agency founded in New York City that last year helped resettle 4,000 people into the United States, said the court's decision is not expected to affect refugee programs for the time being, because "by definition, refugees have to have a relationship" with resettlement agencies and the governments of their host countries before they are allowed in.
"They kind of have to be invited and fall into a special category and their applications are assisted" by the host government itself, he said.
"We are relieved," Hetfield said. "We are quite pleased because, frankly, the ruling will have a very narrow impact, the way we read it, and it definitely made it clear that the president's powers with regards to discrimination against refugees are at least limited."
In addition, he said, the administration agreed when it revised its rules to wait 72 hours for implementation of any order and said it wouldn't stop refugees who already were approved to come to the United States. Because of that, "it shouldn't have a dramatic impact like what we saw on Jan. 27," when there was chaos at international airports in various U.S. cities after the first order was signed.
---
MORE AIRPORT CHAOS TO COME?
Trump's initial travel ban, issued without warning on a Friday in January, brought chaos and protests to airports nationwide as travelers from seven targeted countries were barred even if they had prior permission to come to the U.S. The State Department canceled up to 60,000 visas but later reversed that decision.
A federal judge in Seattle blocked the order a week later, and Trump eventually revised it, dropping Iraq from the list and including reasons people might be exempted, such as a need for medical treatment.
The limited ban will take effect Thursday morning, the State Department said Monday.
Airports may be less likely to see the same sorts of demonstrations given the advance warning, that those with prior permission to enter are not affected and the months people have had to reach the U.S. since the first ban was blocked.
Matt Adams, legal director of the Seattle-based Northwest Immigrant Rights Project, which filed one of many lawsuits against the policy, said he still expects some confusion at airports, at least initially. Eventually, people likely will be barred from boarding planes to the U.S., he said.
"With many groups, it's clear-cut from the type of visa: Anyone coming in on family visa or employment visa, by their terms it's clear they have a bona fide relationship," he said. "What's more difficult is if you're coming in on a tourist visa. I think you're going to be going through a lengthy inquiry, and we'll have to see how that plays out."
---
NEXT LEGAL STEPS
The Supreme Court would not hear arguments on the legality of the ban until October. But by then, a key provision may have expired, possibly making the review unnecessary.
That's because Trump's order only sought to halt travelers from the six countries for 90 days, to give the administration time to review the screening procedures for those visa applicants.
That's right, we need a TRAVEL BAN for certain DANGEROUS countries, not some politically correct term that won't help us protect our people!

— Donald J. Trump (@realDonaldTrump) June 6, 2017
The administration has argued that the ban would not go into effect until court orders blocking each provision were lifted. The Supreme Court has asked for more arguments about whether the challenges to the travel restriction became moot in June.
David Levine, a professor at the University of California's Hastings College of Law, said the justices likely will not sidestep a ruling on the executive order on those grounds.
"The underlying issue of presidential power is too important and too likely to occur in the future," he said.
The Senate Republican health care bill released Thursday faces an uncertain path as Majority Leader Mitch McConnell pushes for a vote next week before Congress leaves for the July Fourth recess. The bill, worked on in secret for the past several weeks, largely mirrors the House measure and has caused four Republican senators to balk at voting for it because it didn't repeal enough of Obamacare and President Donald Trump called for negotiations.
Here's how the bill compares to the the Affordable Care Act and House bill; and what could happen next:
---
Who is covered
Individual mandate
ACA: Individual mandate requires most Americans to have health coverage or pay a fine.
House bill: Instead of a mandate, insurers could impose 30% surcharge on people who buy a new plan after letting previous coverage lapse, giving healthy people an incentive to remain insured.
Senate bill: Individual mandate would be eliminated. Nothing would replace it as an incentive for healthy people to have insurance.
---
Employer mandate
ACA: Employer mandate requires larger companies to offer affordable coverage to employees.
House bill: Would eliminate employer mandate.
Senate bill: Would eliminate employer mandate.
---
Children under 26
ACA: Young adults could stay on parents' health plan until age 26.
House bill: Unchanged.
Senate bill: Unchanged.
---
Paying for coverage
Imposed taxes
ACA: Imposed new taxes (including investment income and wages above $200,000) to help people pay for coverage.
House bill: Would eliminate most of those taxes.
Senate bill: Would eliminate most of those taxes.
---
Subsidies
ACA: Subsidies to insurers help people pay deductibles and copays.
House bill: Subsidies would end in 2020.
Senate bill: Subsidies would end in 2020.
---
Tax credits
ACA: Tax credits primarily based on income, age and geography to help low- and moderate-income people buy coverage via marketplaces.
House bill: Tax credits would be based primarily on age. Amount would not increase if premiums increase, and people in high-cost areas would get no additional money.
Senate bill: Tax credits primarily based on income, age and geography, but would cover a simpler plan. People would need to be lower-income than ACA to be eligible.
---
Pre-existing conditions
ACA: Pre-existing conditions could not be used as basis to deny coverage or raise premiums.
House bill: State could allow insurers to raise premiums based on pre-existing conditions if they had a gap in coverage.
Senate bill: Pre-existing conditions could not be used as a basis to deny coverage or raise premiums.
---
Costs for older people
ACA: Insurers could charge older people up to 3 times more than younger people.
House bill: Insurers could charge older people up to 5 times more. States can adjust ratio.
Senate bill: Insurers could charge older people up to 5 times more.
---
Pre-tax HSA
ACA: For pre-tax health savings accounts, individuals could contribute up to $3,400 and families up to $6,750.
House bill: Individuals could contribute up to $6,550 and families up to $13,100 to accounts, starting in 2018.
Senate bill: People could contribute more to their accounts than under ACA.
---
High-risk pools
ACA: Did not create high-risk pools.
House bill: Creates fund for high-risk pools. States would get $130 billion over 10 years to help sick people.
Senate bill: Creates fund for high-risk pools at $112 billion over 10 years. Aimed at reimbursing insurers to help sick people.
---
Changes to Medicaid
Funding
ACA: Entitlement program with open-ended, matching federal funds for all who qualify.
House bill: Would be funded by giving states a per-capita amount or block grant based on their spending, not adjusting for rising costs. Projected to reduce federal funding.
Senate bill: Would be funded by giving states a per-capita amount or block grant, starting in 2021. Amount projected to grow more slowly than in House bill, potentially reducing spending.
---
Expansion
ACA: States can expand Medicaid to cover people making up to 138% of poverty line, and federal government would pay a large part of the cost.
House bill: States would not be able to expand Medicaid after this year. In states that do expand by deadline, federal government would pay a smaller part of cost.
Senate bill: For states that expand Medicaid, federal government would pay a smaller part of the cost starting in 2021.
---
Other elements
Essential benefits
ACA: Insurers required to cover essential health benefits, such as hospital visits and mental health care.
House bill: States allowed to change what qualifies as an essential health benefit.
Senate bill: States allowed to change what qualifies as an essential health benefit.
---
Planned Parenthood
ACA: Planned Parenthood eligible for Medicaid reimbursements, but federal money cannot fund abortions.
House bill: Planned Parenthood would face 1-year Medicaid funding freeze.
Senate bill: Planned Parenthood would face 1-year Medicaid funding freeze.
---
What's next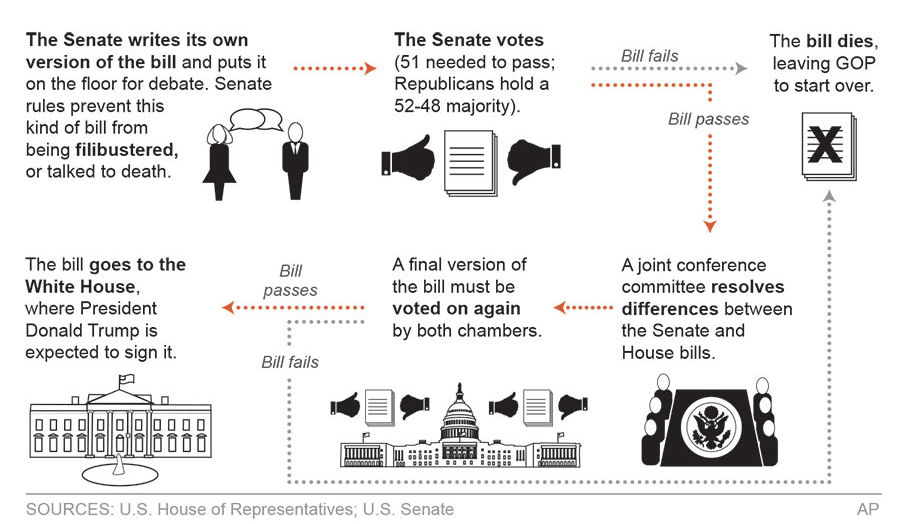 –WITH TOM BRUNE | GRAPHIC BY THE ASSOCIATED PRESS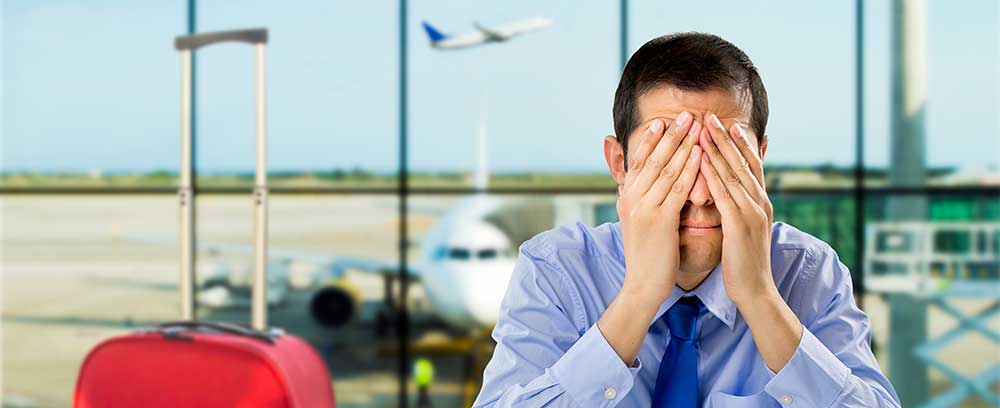 2017 has become the year of airline passenger disputes gone viral. But do the videos and photos capture bad airline behavior, bad passenger behavior or something in between? The in-between is where there may be lessons consumers can learn.
Nearly all of the disputes stem from a disconnect between what passengers believe their rights to be and what their rights actually are, said Christopher Elliott, a consumer advocate, author and travel journalist.
"We're not dealing with common sense when it comes to airlines," he said. "The way the rules work on the plane are different than on the ground, it's not a democracy."
We asked travel experts to share their takes on six recent controversies. Follow this list of don'ts to help you make it to your destination without becoming a headline.
Do NOT ignore the fine print
On March 26, two teenage girls traveling from Denver to Minneapolis were told they could not board their United flight because they were wearing leggings. A third girl wearing leggings changed clothes before she was allowed on. Following backlash, United clarified that the girls had been flying using employee passes, which require those passengers to follow a company dress code that does not allow leggings.
2) She's forcing them to change or put dresses on over leggings or they can't board. Since when does @united police women's clothing?

— Shannon Watts (@shannonrwatts) March 26, 2017
Experts say: Most airlines don't have specific dress codes for regular passengers but the lesson is the same, Elliot said: Make sure you read the fine print for your ticket to be aware of any restrictions.
George Hobica, founder of airfarewatchdog.com, recommends always finding out airline regulations, but especially when using free tickets.
"As a former airline employee, I have suffered through not being allowed to board," he said. "If you're flying on a free pass, you should inform yourself or whoever gives [you the pass] should inform you of company regulations. I would err on the side of dressing up. Up your sartorial game a bit."
Do NOT refuse to get off the plane
There have been several incidents this year regarding passengers being forced off planes despite having purchased tickets. Perhaps the most notorious example was the removal of Dr. David Dao, a Kentucky doctor who was violently dragged off a United flight from Chicago to Louisville after declining to give up his seat for United employees.
Experts say: United has apologized for the way the situation was handled, but the incident brought to many customers' attention that airlines do under federal law have the right to bump you from your seat. The easiest way to handle this is to just go ahead and give up your seat when asked, all of the experts said.
Airlines bump customers for a variety of reasons, including needing to transport employees, accommodate an air marshal or because the flight was overbooked. Customers may be chosen to give up their seats based on a variety of reasons, including check-in time.
"Even if you think you're in the right, and you may be, if you refuse that request you're in violation of federal law," Peter Greenberg, CBS News travel editor, said. You can ask for more money to give up your seat, if you choose to do so. Following the incident, United announced it would offer up to $10,000 for customers who volunteer to give up seats on overbooked flights.
Bonus: Read our explainer: What to do when you get bumped
Do NOT start a riot
When Spirit Airlines canceled at least nine flights out of Fort Lauderdale on May 8 after labor negotiations with its pilots failed, angry customers in the Spirit terminal nearly started a riot. Once physical violence began, three Long Islanders were arrested.
Experts say: "Passengers don't have a right to riot but they should have a right to be compensated in certain circumstances," Hobica said.
You're entitled to either a refund or a seat on another flight from the airline, but not much else. Some larger airlines in the U.S. have interline agreements that allow them to schedule customers on another airline. Greenberg said it may be worth checking whether the airline for your next flight has this policy in place (Spirit does not).
"The price you pay for flying an airline without an agreement is you may be sleeping at an airport," he said. Elliott also advised checking the status of your flight before you leave. It may not help you avoid a canceled plane, but you won't have to spend as much time at the airport.  
Do NOT ship your pet (unless absolutely necessary)
Simon, a giant rabbit from Worcestershire, England, expected to become the biggest in the world, was shipped via a United Airlines flight to Chicago on April 26, but he never made it to his new owner. He was found dead in his carrier in the cargo hold when the plane arrived, though his breeder said he was in good health when he left.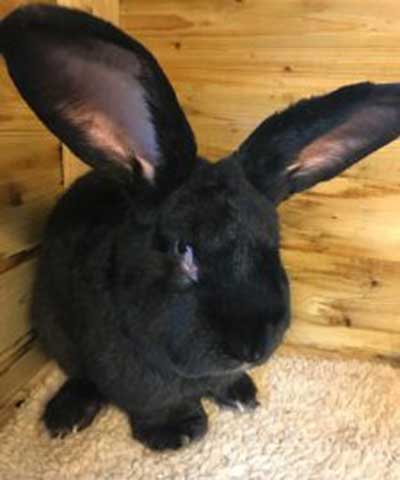 Experts say: While Simon's cause of death isn't clear, all three experts agreed that shipping a pet in the cargo hold is a big risk. "It's a very dangerous place," Hobica said. "Many animals perish every year."
According to the Department of Transportation's animal death statistics, 136 animals died on flights between January 2012 through February 2017. "It's tragic and 100 percent preventable," Elliott said.
Do NOT bring a stroller on-board
One April incident highlighted what parents can and can't bring with them. In a viral video, an American Airlines flight attendant on a plane from San Francisco to Dallas, is shown yelling at a tearful mother with a baby and another passenger who stepped in to help. According to witnesses, the woman tried to bring a stroller on the plane and the attendant roughly grabbed it.
Experts say: Do your research and check the airline's carry-on rules before you get to the gate. "There the passenger was at fault," Hobica said. "Do a little homework. If this passenger had, she would have seen strollers are checked."
Greenberg said the flight attendant could have handled this situation in a more tactful way, but the lesson for consumers is if a flight attendant tells you something won't fit, don't escalate the situation by fighting with them, just listen.
Do NOT use someone else's ticket
On May 3, a Delta Air Lines customer posted a video to YouTube of his family in a heated dispute with flight attendants over whether his two-year-old could sit in a seat originally purchased for one of his other children who was on a separate flight. The entire family was ultimately kicked off the flight.
Experts say: For security reasons, you can't take a seat if your name isn't on the ticket – even if the situation seems innocent enough. That's standard policy. "Basically, you cannot pull a switcheroo," Hobica said. Hobica said the father should have purchased a separate seat for his young child in the first place.
Do NOT bring this stuff with you
From gas masks to brass knuckles, click here for a list of things you do NOT want to bring to the airport.
As the House and Senate take on separate investigations into alleged Russian interference in the 2016 election, details of meetings and other connections between Russia and those within Trump's circle continue to surface.

Here's a breakdown of those connections.
Donald Trump Jr.
Trump ties:
Son, runs Trump businesses
Russian ties:
Met with Russian lawyer who claimed to have intel on Hillary Clinton

The President's eldest son met with Russian lawyer Natalia Veselnitskaya two weeks after his father won the GOP nomination after an intermediary promised him compromising information on Hillary Clinton from the Russian government.

Trump Jr. originally said the meeting was regarding a ban on American adoptions of Russian children, but later released the entire email exchange that led to the meeting which showed he was offered information. Trump Jr. said he considered the information "Political Opposition Research." Trump's son-in-law Jared Kushner and then-campaign manager Paul Manafort also attended.

Trump Jr. is operating the family business. In a 2008 speech to a real-estate conference about emerging markets, he told attendees he had traveled to Russia six times in an 18-month period, saying that "buyers have been attracted to our projects." The President himself has claimed he has no investments in Russia, but his son disclosed that Trump properties have Russian investors.
Here's my statement and the full email chain pic.twitter.com/x050r5n5LQ

— Donald Trump Jr. (@DonaldJTrumpJr) July 11, 2017
Here is page 4 (which did not post due to space constraints). pic.twitter.com/z1Xi4nr2gq

— Donald Trump Jr. (@DonaldJTrumpJr) July 11, 2017
Jared Kushner
Trump ties:
Son-in-law, adviser
Russian ties:
Met with Russian ambassador, Russian banker, Russian lawyer

The president's son-in-law, a key member of the administration's inner circle, met during the election campaign with the Russian ambassador and a top-level Russian banker to discuss sanctions and a "backdoor channel" to Vladimir Putin, according to several reports.

Kushner has agreed to testify before the Senate investigative committee. A Trump spokesman has said Kushner's meetings were appropriate, given that he functioned as the person of contact with foreign officials during the campaign.

He also attended the meeting between Trump Jr. and the Russian lawyer Natalia Veselnitskaya, which emails show was arranged under the premise that Veselnitskaya had compromising information about Hillary Clinton.
Remember when Jared Kushner proposed a secret communications channel with the Kremlin last December? https://t.co/xn44SgDbXf

— Breanne Deppisch (@breanne_dep) July 11, 2017
Paul Manafort
Trump ties:
Former campaign manager
Russian ties:
Did work for Ukraine, Russian billionaire; met with Russian lawyer

Trump chose the longtime Republican operative to take over his campaign in March 2016 as an effort to broaden and professionalize an operation that was gaining steam. But Manafort resigned in August after reports that he was part of a covert Washington lobbying operation on behalf of Pro-Russia factions in Ukraine without disclosing that work to the U.S. government. The Associated Press reported that Manafort's firm received at least $1 million for his efforts, with payments coming from a bank in Belize. The U.S. Treasury Department, working with the FBI and CIA, also is looking at financial payments Manafort might have received through banks in Cyprus.

Further, AP reported that Manafort once secretly worked for a Russian billionaire close to Putin on a communications plan to influence politics, business dealings and news reports to Russia's benefit.

Manafort's spokesman has contended the work for the Ukrainian faction was "totally open and appropriate." Manafort confirmed that he worked for Oleg Deripaska, the Russian billionaire, but said the work wasn't pro-Russia in nature.

He also attended the meeting between Trump Jr. and the Russian lawyer Natalia Veselnitskaya, which emails show was arranged under the premise that Veselnitskaya had compromising information about Hillary Clinton.
Paul Manafort retroactively registers as a foreign agent for Ukraine lobbying https://t.co/oPajUzXkht pic.twitter.com/L4sHsCd8fg

— HuffPost Politics (@HuffPostPol) June 29, 2017
Carter Page
Trump ties:
Former adviser to campaign
Russian ties:
Investigated as Russian agent

A former foreign policy adviser to the Trump campaign, Page traveled to Moscow last summer, giving a Russian-friendly speech and meeting with a confidant of Russian President Vladimir Putin. After Page left the campaign, intelligence officials obtained a warrant to monitor his communications, reportedly on the suspicion that he was a Russian agent. They reportedly cited communications intercepted in 2013 concerning a Russian officer trying to recruit Page, who has vigorously denied any wrongdoing. Page worked in Moscow for three years (2004-7) as a Merrill Lynch executive.

Trump personally announced Page as a member of his campaign's foreign policy team in March 2016, but has since distanced himself.
Photos/Docs: Carter Page met with Russia's Deputy Prime Minister Arkady Dvorkovich in July 2016 at event in Moscow#TrumpLeaks #TrumpRussia pic.twitter.com/0YNgSmH9ry

— Scott Dworkin (@funder) May 24, 2017
Mike Flynn
Trump ties:
Former national security adviser
Russian ties:
Had contact with Russian Ambassador Sergey Kislyak

Trump's initial national security adviser resigned after The Washington Post revealed that he misled Vice President Mike Pence about the nature and extent of his contacts with Russian Ambassador Sergey Kislyak. But the resignation merely opened the door for a deeper look at Flynn's activities.

In 2015, Flynn was paid $45,000 for participating in a Moscow event honoring RT, Russia's state-backed TV network, and another $22,000 for making two Russia-related speeches. Last December, Flynn met with Kisylak at Trump Tower and on Dec. 29 made five phone calls to Kislyak – the same day President Obama announced sanctions against Russia. Though, he initially denied it, Flynn did discuss sanctions and could be vulnerable to blackmail, according to intelligence officials.
Jeff Sessions
Trump ties:
U.S. attorney general
Russian ties:
Met with Russian Ambassador Sergey Kislyak

The U.S. attorney general, during testimony under oath at his confirmation hearings, had twice told senators that he had no contact with any representative of the Russian government about the 2016 election before or after Election Day. Then The Washington Post reported that Sessions in fact met with Kisylak in July and September. Sessions recanted his previous statements and said he would recuse himself from any campaign-related investigations.
Rex Tillerson
Trump ties:
Secretary of state
Russian ties:
Developed as CEO of ExxonMobile

The secretary of state is the former CEO of ExxonMobil, where he developed deep ties with Russia. In 2011, his company signed a $500 billion joint venture with Rosneft, the Russian state oil company, to drill for oil on the Arctic shelf and develop oil in Siberia. Soon after, Putin gave Tillerson the Russian "Order of Friendship" medal.

In his first weeks in office, Tillerson reportedly has stood for holding a hard line on the economic sanctions imposed on Russia after it invaded Crimea. Unlike Trump, Tillerson has said it's "well-established" that Russians meddled in the 2016 U.S. election. He met with Putin in April; the two reportedly found little agreement on issues such as sanctions and Syria.
Roger Stone
Trump ties:
Friend, adviser
Russian ties:
Communicated with suspected Russian operative

A self-proclaimed political "dirty trickster" going back to the Nixon years, Stone has been a longtime Trump friend and adviser and former associate of Paul Manafort's. Along with Manafort, Flynn and Page, Stone is one of four people whose calls and contacts with Russian officials are under investigation by U.S. law enforcement, according to The New York Times.

Among other issues, Stone has acknowledged he's communicated with "Guccifer 2.0," the online handle that has claimed responsibility for hacking Democratic emails. American officials believe the Guccifer handle is a front for Russian security operatives. But Stone has said the contact was after the hacked emails were released. "It's only fair that I have a chance to respond 2 any smears or half truths about alleged "Collusion with Russians" from 2day's Intel Hearing," Stone wrote on Twitter.
Felix Sater
Trump ties:
Works with Trump businesses
Russian ties:
Part of attempts to garner Russian business deals

The Russian-born immigrant (who has a home in Port Washington, records show) once did prison time for stabbing a man in a bar, was convicted in a Mafia-related racketeering scheme in which he later became a witness for the prosecution and has worked as an FBI informant. He also has worked with the Trump organization scouting real-estate deals for more than a decade.

He was part of several attempts by Trump to garner business deals in Russia, starting with a 2005 effort to build a "Trump Tower" in Moscow. In 2006, Sater reportedly accompanied Donald Trump Jr. and Ivanka Trump around the city to meet with potential business partners. The tower was never built. But later, Bayrock (which was headquarter in Trump Tower in New York) and Trump partnered to build properties in New York and Florida, financed by Russian and Kazakhstan money, according to a lawsuit, CNN reported.

In February, The New York Times reported that Sater and Michael D. Cohen, the president's personal lawyer, helped deliver to the Trump administration a Russia-Ukraine peace settlement proposed by a pro-Russia Ukrainian lawmaker. Trump, in a 2013 deposition, reportedly said he barely knew Sater.
Sergey Kisylak
Trump ties:
Contact with U.S. officials under scrutiny
Russian ties:
Ambassador to U.S.

He has been Russia's ambassador to the U.S. for 9 years, an uncommonly long tenure. U.S. intelligence officials have called him a spy and a recruiter of spies, according to reports — which Russia denies.

Conversations with Kislyak — prior to Trump taking office — are what led to Flynn's abrupt resignation and Session's decision to recuse himself from the various probes of Russian meddling in the U.S. election. His meeting with Trump son-in-law and adviser Jared Kushner also is under scrutiny.

U.S. forces in Afghanistan on Thursday struck an Islamic State tunnel complex in eastern Afghanistan with "the mother of all bombs," the largest non-nuclear weapon ever used in combat by the U.S. military, Pentagon officials said.

The bomb, known officially as a GBU-43B, or massive ordnance air blast weapon, unleashes 11 tons of explosives. When it was developed in the early 2000s, the Pentagon did a formal review of legal justification for its combat use.

The Pentagon said it had no early estimate of deaths or damage caused by its attack, which President Donald Trump called a "very, very successful mission."

The U.S. military headquarters in Kabul said in a statement that the bomb was dropped at 7:32 p.m. local time Thursday on a tunnel complex in Achin district of Nangarhar province, where the Afghan affiliate of the Islamic State group has been operating. The target was close to the Pakistani border.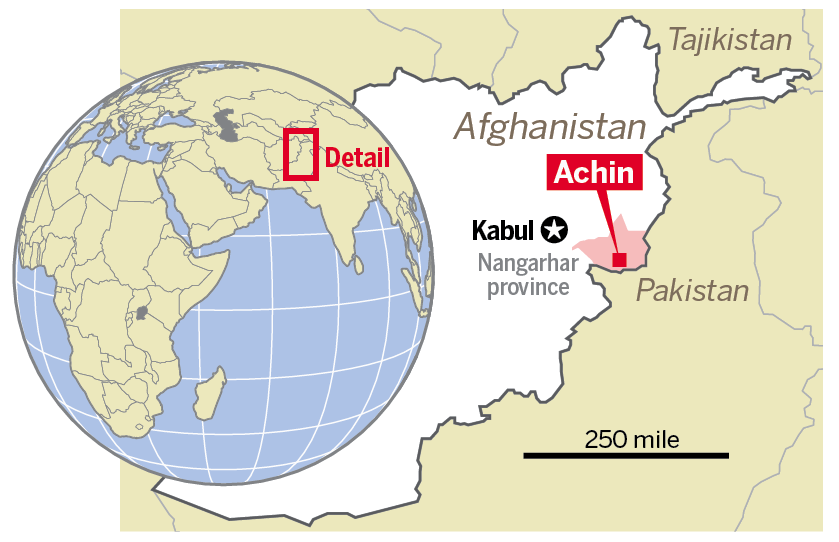 Newsday/Rod Eyer

The U.S. estimates 600 to 800 IS fighters are present in Afghanistan, mostly in Nangarhar. The U.S. has concentrated heavily on combatting them while also supporting Afghan forces battling the Taliban. Just last week a U.S. Army Special Forces soldier, Staff Sgt. Mark R. De Alencar, 37, of Edgewood, Maryland, was killed in action in Nangarhar.

The MOAB is a custom-made Air Force weapon that has been in the arsenal for more than a decade but never used on the battlefield, although it was available throughout the Iraq war. It is designed to hit softer targets such as surface facilities, tunnel entrances and troop concentrations. It is pushed out the rear of the launching aircraft, guided to its target by GPS and slowed by a parachute.

A separate non-nuclear weapon known as the Massive Ordnance Penetrator, or MOP, which is larger in its physical dimensions but carries a smaller load of conventional explosives, is designed to take out deeply buried targets like reinforced bunkers. The MOP has never been used in combat.

Washington Post video

In its 2003 review of the legality of using the MOAB, the Pentagon concluded that it could not be called an indiscriminate killer under the Law of Armed Conflict.

"Although the MOAB weapon leaves a large footprint, it is discriminate and requires a deliberate launching toward the target," the review said. It added: "It is expected that the weapon will have a substantial psychological effect on those who witness its use."

Adam Stump, a Pentagon spokesman, said the bomb was dropped from a U.S. MC-130 special operations transport. He said the bomb had been brought to Afghanistan "some time ago" for potential use.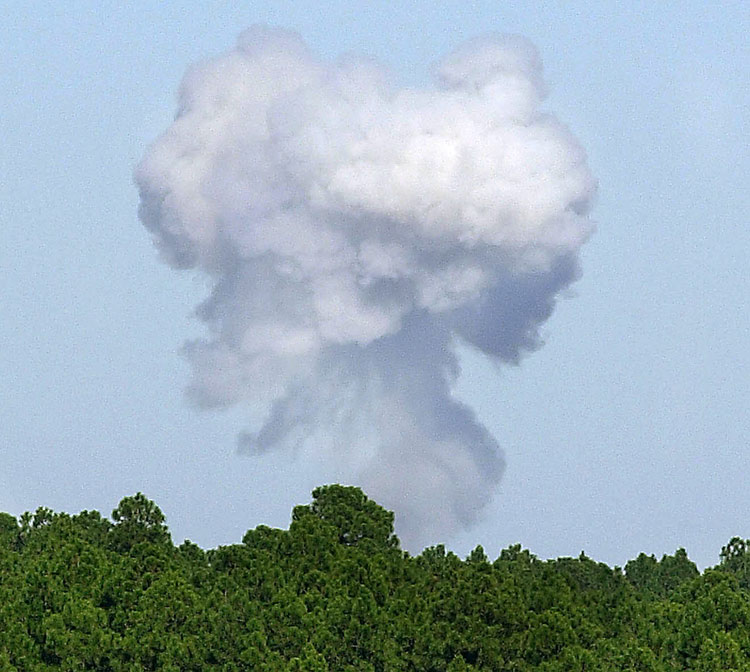 A plume of smoke from a GBU-43B test in May 2004. The cloud from the weapon can be seen up to 20 miles away. Northwest Florida Daily News photo via AP

Army Gen. John W. Nicholson, commander of U.S. forces in Afghanistan, said in a written statement that the strike was designed to minimize the risk to Afghan and U.S. forces conducting clearing operations in the Achin area "while maximizing the destruction" of IS fighters and facilities. He said IS has been using improvised explosive devices, bunkers and tunnels to strengthen its defenses.

"This is the right munition to reduce these obstacles and maintain the momentum of our offensive against ISIS-K," he added, using the U.S. military's acronym for the IS affiliate.
Ismail Shinwari, the governor of Achin district, said the U.S. attack was carried out in a remote mountainous area with no civilian homes nearby and that there had been no reports of injured civilians. He said there has been heavy fighting in the area in recent weeks between Afghan forces and IS militants.

White House spokesman Sean Spicer said IS fighters had used the tunnels and caves in Achin to maneuver freely.

"The United States takes the fight against ISIS very seriously and in order to defeat the group we must deny them operational space, which we did," Spicer said.

President Donald Trump ordered a missile strike early Friday on a Syrian air base in response to this week's chemical attack, which marked the first time the U.S. has directly targeted Syrian President Bashar Assad's forces.

The overnight missile attack was condemned by Assad's allies in Russia and Iran but welcomed by the Syrian opposition and its supporters, who expressed hope it signaled a turning point in the devastating six-year-old civil war.

The bombing represents Trump's most dramatic military order since taking office and thrusts the U.S. administration deeper into the complex Syrian conflict.

Here's what we know about the attack and its implications: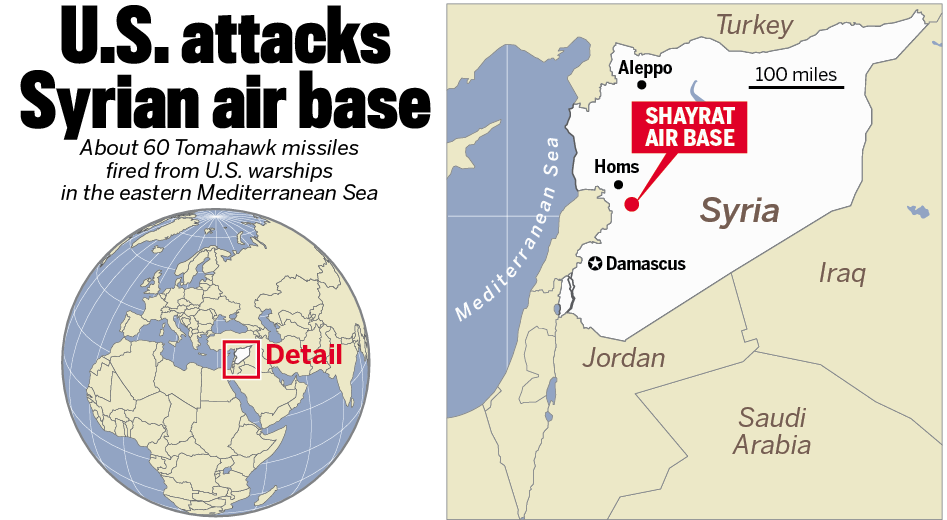 Credit: Newsday / Rod Eyer
The details of the attack
About 60 U.S. Tomahawk missiles hit the Shayrat air base, southeast of Homs, a small installation with two runways, where aircraft often take off to bomb targets in northern and central Syria. The U.S. missiles hit at 3:45 a.m. (0045 GMT) Friday morning and targeted the base's airstrips, hangars, control tower and ammunition areas, U.S. officials said.

They were fired from two warships in the Mediterranean Sea, in retaliation for Tuesday's deadly chemical attack, which officials said used chlorine mixed with a nerve agent, possibly sarin.

The Syrian military said at least seven people were killed and nine wounded in the strike.
Trump's statement
My fellow Americans:

On Tuesday, Syrian dictator Bashar al-Assad launched a horrible chemical weapons attack on innocent civilians. Using a deadly nerve agent, Assad choked out the lives of helpless men, women and children. It was a slow and brutal death for so many. Even beautiful babies were cruelly murdered in this very barbaric attack. No child of God should ever suffer such horror.

Tonight, I ordered a targeted military strike on the airfield in Syria from where the chemical attack was launched.
It is in this vital national security interest of the United States to prevent and deter the spread and use of deadly chemical weapons.
There can be no dispute that Syria used banned chemical weapons, violated its obligations under the Chemical Weapons Convention, and ignored the urging of the U.N. Security Council.
Syria's response
Assad's office called the U.S. missile strike "reckless" and "irresponsible." The Britain-based Syrian Observatory for Human Rights, an opposition monitor, also put the death toll at seven, including a general and three soldiers.

Syria has denied using chemical weapons.
Syrian civil war and U.S. response The U.S. attack on a Syrian air base came after years of heated debate and deliberation in Washington over intervention in the bloody civil war.
01 March 2011
March 2011
Protests erupt in the city of Daraa over security forces' detention of a group of boys accused of painting anti-government graffiti on the walls of their school. On March 15, a protest is held in Damascus' Old City. On March 18, security forces open fire on a protest in Daraa, killing four people in what activists regard as the first deaths of the uprising. Demonstrations spread, as does the crackdown by President Bashar Assad's forces.
01 April 2011
April 2011
Security forces raid a sit-in in Syria's third-largest city, Homs, where thousands of people tried to create the mood of Cairo's Tahrir Square, the epicenter of protests against Egypt's autocrat Hosni Mubarak.
18 August 2011
Obama responds
President Barack Obama calls on Assad to resign and orders Syrian government assets frozen.
20 August 2012
Summer 2012: Fighting spreads to Aleppo
Obama says the use of chemical weapons would be a "red line" that would change his calculus on intervening in the civil war and have "enormous consequences."
19 March 2013
Sarin nerve gas kills 26 people
The Syrian government and opposition trade accusations over a gas attack that killed some 26 people, including more than a dozen government soldiers, in the town of Khan al-Assal in northern Syria. A U.N. investigation later finds that sarin nerve gas was used, but does not identify a culprit.
21 August 2013
Another gas attack kills hundreds
Hundreds of people suffocate in rebel-held suburbs of the Syrian capital, with many suffering from convulsions, pinpoint pupils, and foaming at the mouth. U.N. investigators visit the sites and determine that ground-to-ground missiles loaded with sarin were fired on civilian areas while residents slept. The U.S. and others blame the Syrian government, the only party to the conflict known to have sarin gas.
31 August 2013
Obama lacks support for strikes
Obama says he will go to Congress for authorization to carry out punitive strikes against the Syrian government, but appears to lack the necessary support in the legislature.
27 September 2013
Syria ordered to destroy chemical weapons
The U.N. Security Council orders Syria to account for and destroy its chemical weapons stockpile, following a surprise agreement between Washington and Moscow, averting U.S. strikes. The Security Council threatens to authorize the use of force in the event of non-compliance.
14 October 2013
Syria becomes a signatory to the Chemical Weapons Convention, prohibiting it from producing, stockpiling or using chemical weapons.
23 June 2014
The Organization for the Prohibition of Chemical Weapons says it has removed the last of the Syrian government's chemical weapons. Syrian opposition officials maintain that the government's stocks were not fully accounted for, and that it retained supplies.
23 September 2014
U.S. airstrikes target IS
The U.S. launches airstrikes on Islamic State group targets in Syria.
07 August 2015
Reports of chlorine gas attacks
The U.N. Security Council authorizes the OPCW and U.N. investigators to probe reports of chemical weapons use in Syria, as reports circulate of repeated chlorine gas attacks by government forces against civilians in opposition-held areas. Chlorine gas, though not as toxic as nerve agents, can be classified as a chemical weapon depending on its use.
24 August 2016
Syrian government held responsible
The joint OPCW-U.N. panel determines the Syrian government twice used helicopters to deploy chlorine gas against its opponents, in civilian areas in the northern Idlib province. A later report holds the government responsible for a third attack. The attacks occurred in 2014 and 2015. The panel also finds that the Islamic State group used mustard gas.
28 February 2017
Russia, China stand with Syria
Russia, a stalwart ally of the Syrian government, and China veto a U.N. Security Council resolution authorizing sanctions against the Syrian government for chemical weapons use.
04 April 2017
Nerve gas attack kills dozens
At least 58 people are killed in what doctors say could be a nerve gas attack on the town of Khan Sheikhoun in the rebel-held Idlib province. Victims show signs of suffocation, convulsions, foaming at the mouth and pupil constriction. Witnesses say the attack was carried out by either Russian or Syrian Sukhoi jets. Moscow and Damascus deny responsibility.
04 April 2017
Trump rebukes Assad
President Donald Trump issues a statement saying that the "heinous" actions of Assad's government are the direct result of Obama administration's "weakness and irresolution."
05 April 2017
Trump says Assad's government has "crossed a lot of lines" with the suspected chemical attack in Syria.
06 April 2017
U.S. fires missiles into Syria
The U.S. fired a barrage of cruise missiles into Syria Thursday night in retaliation for this week's gruesome chemical weapons attack against civilians, U.S. officials said. It was the first direct American assault on the Syrian government and Trump's most dramatic military order since becoming president. Trump said strike on Syria in the "vital national security interest" of the United States.
Russia's response
The Kremlin said President Vladimir Putin believes the U.S. strike is an "aggression against a sovereign state in violation of international law." Spokesman Dmitry Peskov said Putin believes the U.S. launched the strikes under a "far-fetched pretext."

"Washington's move deals a significant blow to the Russia-U.S. relations, which are already in a deplorable shape," Peskov said. He added that the attack creates a "serious obstacle" for creating an international coalition against terrorism.

In the aftermath of the attack, Russia announced it would suspend the "deconfliction line" — the same information-sharing line the U.S. used to warn Russia about the attack ahead of time. It's the first time the line has been severed. Russia still has several dozen warplanes and batteries of air defense missiles at its base near Latakia, Syria.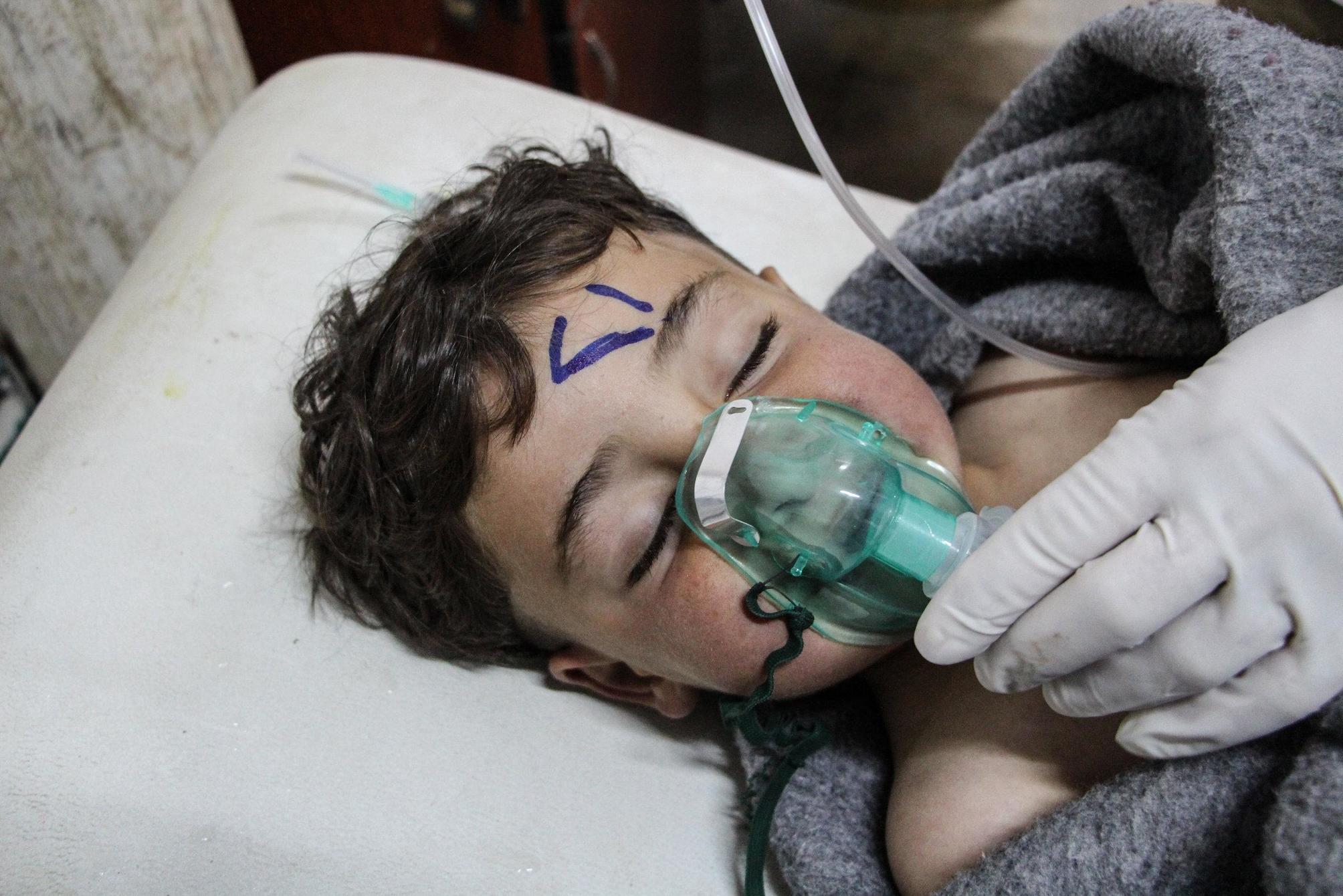 A Syrian child receives treatment after an alleged chemical attack at a field hospital in Saraqib, in Idlib province in northern Syria, on Tuesday, April 4, 2017. EPA photo.
What's next for U.S.-Russia relations
Lt. Col. Michelle L. Baldanza, a Pentagon spokeswoman, said the U.S. military wants to continue to talk to Russia. "It is to the benefit of all parties operating in the air over Syria to avoid accidents and miscalculation, and we hope the Russian Ministry of Defense comes to this conclusion as well," Baldanza said.

The U.S. maintains radar coverage and has other surveillance means to know who is in the air. However, ending the cooperation will mean U.S. and coalition pilots will be flying into Syrian airspace not knowing if Russian forces plan their own operations in the same places. Airwars, a nonprofit monitoring airstrikes in the war against the Islamic State group, noted that U.S.-led attacks typically focus on areas away from Russian activity, though ending the cooperation represents "a worrying development."
What's next in Syria?
The bombing represents Trump's most dramatic military order since taking office and thrusts the U.S. administration deeper into the complex Syrian conflict. The Obama administration threatened to attack Assad's forces after previous chemical attacks, but never followed through.

The U.S. had initially focused on diplomatic efforts, pressing the U.N. Security Council to adopt a resolution to condemn Syria's suspected use of chemical weapons. But the vote was canceled because of differences among the 15 members.

The Security Council plans to meet Friday morning for a briefing on the U.S. strike.

Secretary of State Rex Tillerson said before the airstrike Thursday afternoon that Assad should no longer have a role in governing the Syrian people and the U.S. is evaluating an appropriate response.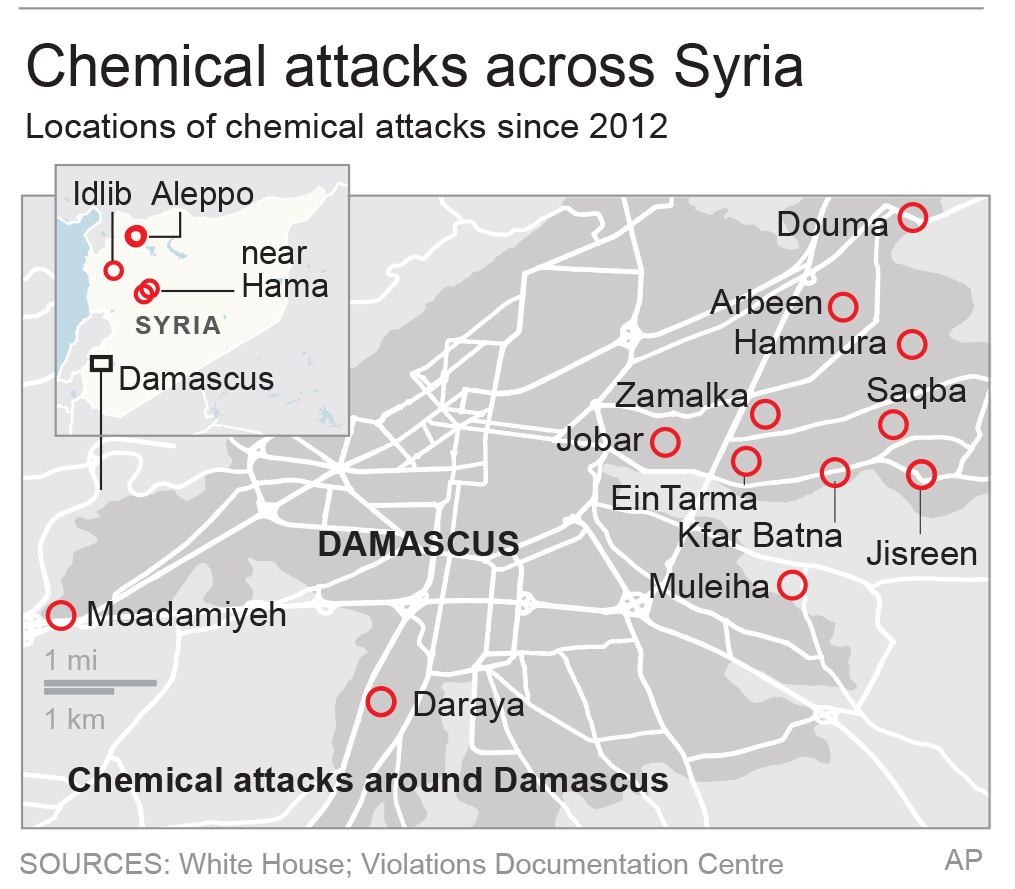 Response from around the world
World leaders rallied around the United States after it launched a missile strike. Saudi Arabia and Turkey, which support the Syrian opposition, welcomed the missile strike, with Riyadh calling it a "courageous decision" by Trump. Iran called it a "dangerous" unilateral action that would "strengthen terrorists" and further complicate the conflict.

The British government says it was informed in advance about the strike and firmly supports the American action.

Prime Minister Theresa May's office says the action was "an appropriate response to the barbaric chemical weapons attack launched by the Syrian regime, and is intended to deter further attacks." France, Italy and Israel also welcomed the strikes.
A measured response from U.S. politicians
Amid measured support for the U.S. cruise missile attack on a Syrian air base, some vocal Republicans and Democrats reprimanded the White House for launching the strike without first getting congressional approval.

The politically diverse group ranges from the libertarian-leaning Kentucky GOP Rep. Tom Massie to Sen. Tim Kaine, a Virginia Democrat and Hillary Clinton's running mate in 2016. They've told Trump the U.S. Constitution gives Congress sole power to declare war and said the president needs to convince them that they should.
Assad is a brutal dictator who must be held account for atrocities. But the President's failure to seek congressional approval is unlawful

— Senator Tim Kaine (@timkaine) April 7, 2017
Quoting citizen Donald Trump in 2013: "The President must get Congressional approval before attacking Syria–big mistake if he does not."

— Senator Tim Kaine (@timkaine) April 7, 2017
This would require the approval of Congress. Removing the leader of a country is an act of war. https://t.co/qjUHlqxiVi

— Thomas Massie (@RepThomasMassie) April 6, 2017
Rand Paul Is Right; Don't Launch War in Syria Without Congressional Approval https://t.co/xDj52a6IJp

— Rand Paul (@DrRandPaul) April 7, 2017
I support both the action and objective of @POTUS' strike against #Syria to deter the Assad regime from using chemical weapons again.

— Leader McConnell (@SenateMajLdr) April 7, 2017
.@POTUS's strikes in #Syria send impt msg US won't stand by as #Assad, aided by #Russia, slaughters innocent Syrians https://t.co/aWTeS9N7PK

— John McCain (@SenJohnMcCain) April 7, 2017
What Syrian civilians have said so far
A survivor of the chemical attack on Khan Sheikhoun told the AP he hopes the U.S. missile attack puts an end to government airstrikes, creating a safe area for civilians.

Alaa Alyousef, a 27-year old resident of Khan Sheikhoun, said the U.S. missile attack "alleviates a small part of our suffering," but he said he worried it would be an "anesthetic" that numbs their pain and saves face for the international community.

"What good is a strike on Shayrat air base alone while we have more than 15 other air bases," he said. Alyousef lost at least 25 relatives in the chemical attack.

WASHINGTON – Senate Democrats blocked Donald Trump's Supreme Court appointee Neil Gorsuch Thursday, setting up a showdown with Republicans so intent on confirming him that they have threatened to change Senate rules in what's called the "nuclear option."

After that vote, Senate Majority Leader Mitch McConnell on Thursday triggered the "nuclear option" to change long-standing rules to confirm Donald Trump's Supreme Court appointee Neil Gorsuch after Democrats successfully filibustered his nomination.

The Senate's decision to effectively end its members' ability to block a high court nomination with a filibuster will have long-term impact by heightening partisanship and politicization of both the Senate and the Supreme Court, lawmakers and experts said.

Keep scrolling for a guide to the steps they are taking, and what is at stake; or click here for today's full story.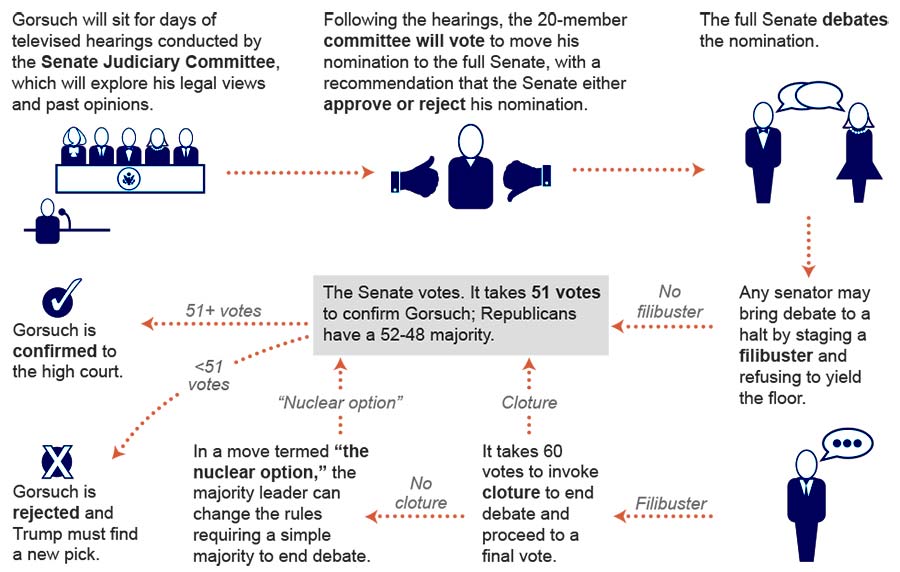 Credit: AP
What you need to know about the filibuster
What is a filibuster?
Named after the Dutch word meaning "pirate," the term describes how senators can hold the floor for unlimited debate to block legislation or, in this case, a Supreme Court nomination. It is not in the Constitution, but in Senate rules. The minority party uses it to block or shape the majority's legislative agenda.
Why does the Senate allow filibusters?
It is a distinctive feature of the Senate, allowing its members the right to take to the floor and speak as long as he or she wishes — as dramatized by actor Jimmy Stewart in the 1939 film "Mr. Smith Goes to Washington." In contrast, the House is run by majority rule, and the leaders of the majority control what happens on the floor.
Why are Democrats threatening a filibuster of Gorsuch?
Schumer said Gorsuch is too conservative and out of the mainstream. Democrats also remain angry that McConnell ignored President Barack Obama's nominee, Judge Merrick Garland, to hold open the vacancy left by Justice Antonin Scalia, who died in February 2016.
Why are Republicans digging in to confirm Gorsuch?
McConnell said Gorsuch is highly qualified and deserves to be confirmed. McConnell also said the vacancy occurred during a presidential election and voters chose Trump as president, so he gets to pick Scalia's replacement.
How can a filibuster be stopped?
The majority presents a motion under the cloture rule that allows 30 hours of debate before a vote to end the filibuster. It takes three fifths of the Senate, or 60 votes, to end a filibuster. McConnell made a motion to end the Gorsuch filibuster Tuesday evening, setting the stage for a vote Thursday. Republicans have 52 votes, Democrats 48.
Has a Supreme Court nominee been filibustered before?
In 1968, a bipartisan group threatened a filibuster when President Lyndon Johnson named Abe Fortas as chief justice. A cloture vote failed and Johnson withdrew the nomination. In 2006, some Senate Democrats tried to filibuster the nominee Samuel Alito, but the Senate defeated it in a bipartisan 72-25 vote.
What you need to know about the nuclear option
What is the nuclear option?
It is a change in the Senate rules to lower the threshold of votes needed to end filibusters of Supreme Court nominees from its current 60 to a simple majority of 51. This is done through a series of motions, points of order and votes over the objection of the minority party.
Why is it called a nuclear option?
It is explosive act in what is supposed to be a calm, deliberative body. Many senators say this tactic will create fallout that will stoke acrimony, erode the long-standing senatorial privilege of debate and make the upper chamber increasingly like the majority-rule House. It also means that presidents won't need a bipartisan majority to approve their Supreme Court nominees, tempting them to select justices even more aligned with their ideology or politics.
Why does McConnell think the nuclear option is needed?
McConnell said he doesn't seem to have the 60 votes needed to end the filibuster.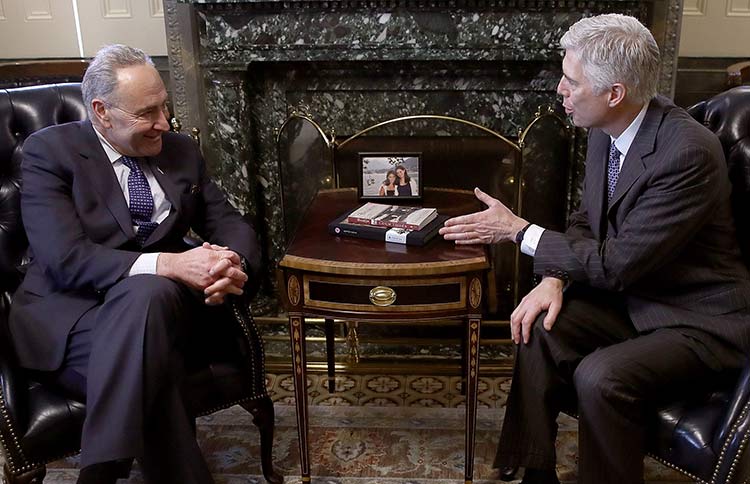 Gorsuch met with Sen. Chuck Schumer on Feb. 7, 2017. Getty Images photo.
Has the nuclear option been used before?
In 2013, the Democratic majority acted after the Republican minority filibustered many of Obama's nominees — changing Senate rules to cut off debate with 51 votes for presidential appointments with one exception: the lifetime appointments to the Supreme Court.
Are Schumer and McConnell seeking a compromise to avoid the nuclear option?
Schumer proposed Wednesday that Trump consult with members of both parties and try to come up with a consensus nominee who could meet the 60-vote threshold. But neither McConnell nor the White House took him up on the offer. McConnell said, "I hope Democrats reevaluate their position before the important vote we'll take tomorrow."
Where does the vote now stand?
Schumer said he has 41 Democratic votes, enough to filibuster Gorsuch, though three Democrats said they will vote for him. McConnell said he has the 51 votes necessary to trigger the nuclear option.