360 View: Walk the historic staircases of Sea Cliff
Watch as Sea Cliff administrator Bruce Kennedy tours the village's historic staircases that lead to the beach.
Sea Cliff administrator Bruce Kennedy tours the village's historic staircases that lead to the beach on Friday, July 21, 2017. Some staircases are under construction, part of a multiyear project to restore and rebuild the structures. (Credit: Newsday / Raychel Brightman, Danielle Siegel)
Note: On mobile devices, the 360-degree video experience can be viewed only in the YouTube app.
Grumman gets contract
In the late 1950s, America's chief arch-nemesis was the Soviet Union. Americans wanted to beat the Soviets at everything, including space exploration. Both countries were building systems to send into space and be brought back to Earth. Then, in October 1957, the Soviets launched Sputnik, a satellite that successfully orbited Earth.
The Soviets had one-upped America.
"NASA announced Grumman has won the lunar module. And of course Bethpage went berserk."— Sam Koeppel
Four years later, in 1961, President John F. Kennedy raised the stakes in America's space race with the Soviets. Appearing on national television, Kennedy declared that Americans would put a man on the moon before the 1960s ended. His proclamation lit a fuse under everyone interested in space exploration, including the executives at Grumman, an aerospace and defense technology company.
The company officially joined the race by submitting a bid proposal to build a moon spacecraft. Grumman was one of many companies competing for the NASA contract.
Sam Koeppel, 87, of Floral Park, was the technical editor who massaged every word of the company's bid proposal. He still remembers how particular NASA was about how the proposal should be submitted.
"They didn't want all the heavy detail of a lot of books," said Koeppel, who has been a museum docent for 15 years and worked at Grumman for 23 years. "They wanted 50 pages answering 20 questions specifically on certain things that NASA wanted to know about. Labor Day 1962, we delivered the proposal after a strenuous six weeks."
In November 1962, the good news came.
Koeppel and other Grummanites said they believe the company won because they pitched a unique method for getting astronauts to the moon called lunar orbit rendezvous.

Challenge accepted
The celebrations were short-lived, as the real work was about to begin. The president had issued a challenge, time was running out and no one at Grumman had ever built a spacecraft.
Kennedy made his declaration "in May 1961 and we all counted and it was only 8 1⁄2 years and we hadn't really even gotten a sketch yet," Koeppel said.
"It actually got to a point where we were working so many hours that people were leaving their [work] areas filthy because we didn't have an opportunity to do the cleaning."— Mike Lisa
Grummanites desperately wanted to meet Kennedy's deadline, so they worked long hours week after week.
Mike Lisa, 75, of Hicksville was an environmental test engineer on the team. One of his most vivid memories was the 50-hour workweeks. Working on the spacecraft was fun and everyone enjoyed the overtime pay, Lisa said, but the long days eventually caught NASA's attention.
"It got to a point where NASA came down," said Lisa, who worked for Grumman for 36 years until retiring in 2009. "I'll never forget this — NASA came down and said 'Hey, we know you guys have a goal, but you've got to get this place straightened out.' "
Designing a spacecraft
Most of the spacecraft design work centered on using lightweight materials. That's because a heavier spacecraft would require more fuel and NASA was hoping to save money on fuel costs, the Grummanites said.
With every addition or modification to the spacecraft, Ernest Finamore, 91, who worked for Grumman for 45 years and then became a museum volunteer in 1999, was in charge of inspecting it. He checked the tubes used for the hydraulic system. He checked all the electrical wires and the connectors attached to them. And when he was finished, he had to call a Navy engineer who would double-check his work.
This back-and-forth went on for months. Finamore and his team did quality assurance while Gran worked on a team that calculated how much fuel was needed for the spacecraft to complete different maneuvers.
Finally, the work was finished and out came the spacecraft — all 8,650 pounds of it. The Grummanites had beaten Kennedy's deadline with time to spare.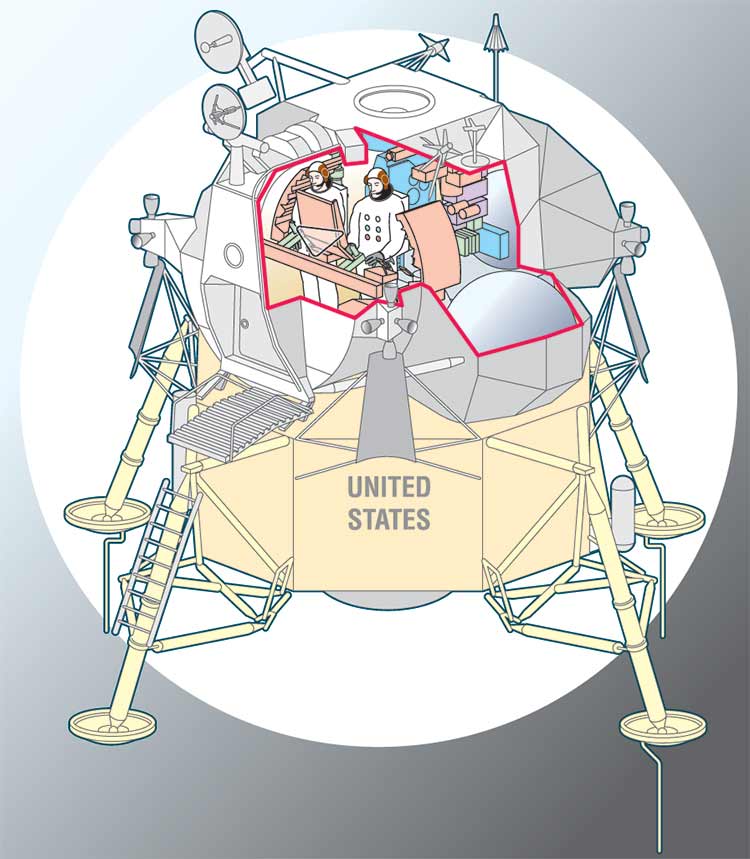 Newsday / Rod Eyer
Launched into orbit
The module was shipped to the Kennedy Space Center in Florida, where it was launched into space. It landed on the moon on July 20, 1969. The event aired on national television and captivated the world's attention.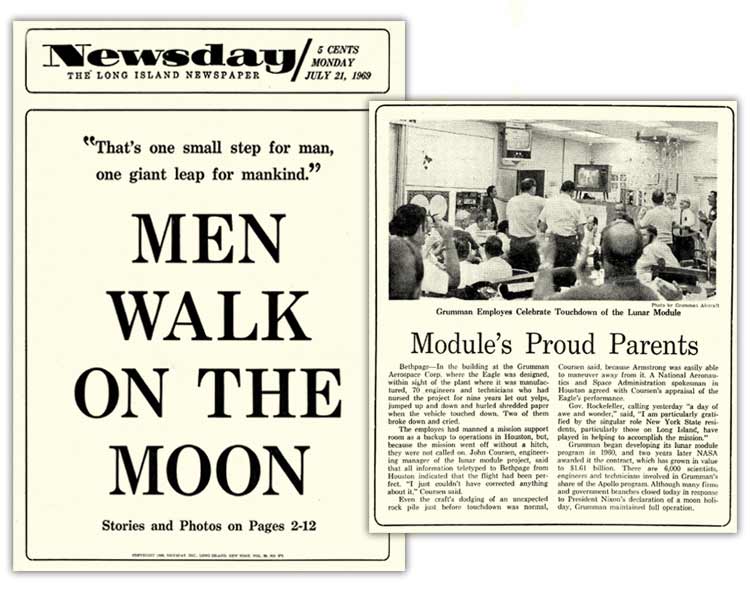 As it touched down, Grummanites watched with excitement and a hint of nervousness.
Armstrong and Aldrin's famous trip marked the end of a job well done for the Bethpage Grummanites. In 1969, Newsday reported that two Grumman employees broke down and cried during the moon landing.
"We were not only amazed at what was going on, we were worried that something [ wrong ] would happen."— Alan Contessa
No matter what role you had or how little you were involved, everyone from the lunar module team watched the men land with the same thoughts racing through their minds, said Contessa, 70, of St. James, who was a Grumman thermal insulation technician and worked for the company for three years.
"There was a little nervousness going on," he said. "We were sweating it out. Nobody wanted to be the guy who made the mistake that screwed this up."
Their stories
How I became a Grummanite
Mike Lisa, assistant manager of volunteer services for the Cradle of Aviation Museum
After graduating college I had worked for Hazeltine Corporation. That's located in Greenlawn. I was doing IFF engineering, which is Identification Friend or Foe. I did that for about two years, then I started to hear about Grumman.
It was really strange because Grumman was only one block from my house and I never, ever thought I'd be working for this place. Their planes used to fly over the house and I said, "You know, it's about time." So I went ahead and put in an application into Grumman and I was hired.
I was hired as an instrumentation environmental engineer, which was extremely interesting. It gave me the opportunity to crawl all over these spacecrafts and test probably 75 percent of the structures that make up the craft. And when I'm saying test, we used to go into a thing called the stress-to-overstress. The idea was to put them on shakers — these were electromechanical devices — and we'd actually shake the daylights out of them until they cracked or broke. And the idea was to find out exactly how much these things can take. Will they take the trip to the moon? What happens if we have a rough landing? But after a while, working with the instrumentation test group, I was asked to take over the environmental engineering test group.
That's where we did quite a bit of testing as far as high-vacuum testing, vibration testing, salt spray testing, acceleration, deceleration, all those crazy things. I worked on the LEM throughout its entire life span, which was, for me, from 1963 to around 1972.
After that, my stint with the space program, I then went into corporate and I got involved in real estate, acquisitions, breaking down departments, reducing the work staff. I did that until 36 years passed.
---
Alan Contessa, Lunar Module Restoration Volunteer at the Cradle of Aviation Museum
In 1966, I was 19 years old, single and in good health. That's what you call draft bait — 'cause we had a draft back then. Vietnam was going hot and heavy and I knew I was going to be drafted by the Army, so I joined the Air Force. I figured it was the safe way to go. As luck would have it, I got a medical discharge after being in the Air Force for less than a month.
Now I was home, my military obligation was complete and I needed a job. So I walked into Plant 28, which is on South Oyster Bay Road, and just walked in off the street and applied for a job at Grumman. And I was hired.
I was hired to make ground support cables, which meant crimping pins on the ends of these cables that they hook up. You can imagine the cables you need for electrical supply to spacecraft or a rocket. It was a very boring thing to sit there crimping pins and doing that sort of thing. So I actually quit.
I gave two weeks' notice. I was going to move on somewhere. But on the last day, I changed my mind and said, "Is it all right if I stay?" They said, "Fine. You can stay." About a week later, they transferred me out of that department. I guess they wanted to get rid of me, and into the upholstery department where they were making the thermal insulation for the lunar module.
So it was kind of a crazy way to get there. That was a total new world, to see people in smocks, hats, gloves, crinkling up insulation in a clean room. The lead man who was there, who was a dear friend of mine for years after this program, he could see the look in our eyes from me and a friend who came there. He said, "Guys, give it a chance. It's not a bad job."
So, we said, "OK. We'll stay." And the rest is history.
I wound up going to Plant 5 working on the LEM. I went to Houston for a year. I was in Cape Kennedy before the Apollo 11 launch to do an emergency update of the insulation, which had to be done on the launchpad on top of the Saturn 5 rocket.
For a guy who kind of fell into this, it was pretty good. That's how I got into this.
---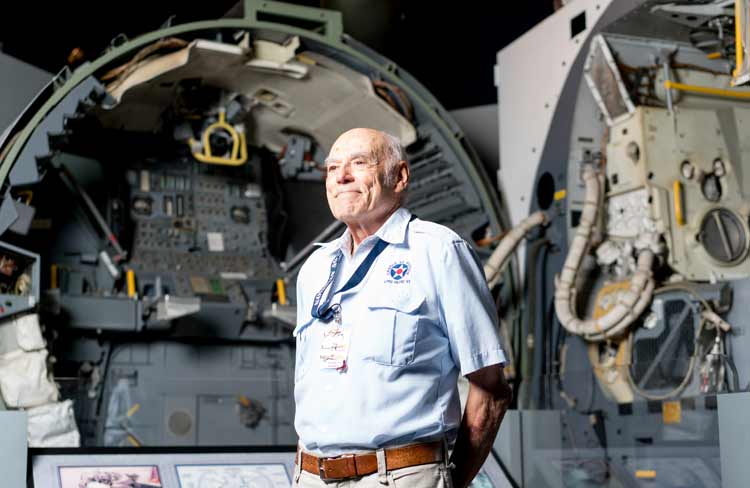 Sam Koeppel of Floral Park
I graduated from Brooklyn Polytechnic in 1951 as an aeronautical engineer. At the same time, I had become interested in writing for the newspaper and so, by that time, I had also become the editor of the college newspaper — The Reporter. That was the name of the paper, which won an All-American award that year.
I took a job with the United States Navy in Pennsylvania working on, believe it or not, F-6F Hellcats, which is a Grumman airplane, modifying them for drone targets after World War II. All of those airplanes were turned into pilotless drones to be shot down by Marine pilots in training. They were the first drones I ever saw.
I stayed there a little over a year and then was hired by Republic Aviation in Farmingdale, except that the office that I was hired to was in the Dun & Bradstreet Building in New York City where the F105 was being designed on the top two floors — not far from where the old World Trade Center was.
I became a wing designer and after 13 months there, the Army didn't give me any more deferments. They grabbed me and put me in the infantry in Fort Dix, and I wound up two years in the Army. Most of that was spent at Picatinny Arsenal in New Jersey, which now does not exist anymore. That was an ammunition test and design center.
On discharge, I went to Sperry Gyroscope Company here on Long Island as a technical writer and wrote the operating manuals for autopilot systems that were being built by Sperry Gyroscope Company. From there, after Sperry lost many contracts, a neighbor of mine told me to come in and say hello to Grumman, which I did and I was hired in the presentations department as an editor in August of 1960.
Since I had a degree and was one of the few editors that did have a degree, I was assigned as an engineering writer to assist the preliminary design group headed by, at that time, Tom Kelly. From there on, I spent the next two years working with all the preliminary reports that led to the proposal for the LEM.
---
Richard J. Gran
When I graduated from college in 1961, I had a degree in electrical engineering — bachelor's, of course. I wanted to go on and study some more, but I also didn't know exactly what kind of engineering I wanted to do, so I ended up working for a year at Brookhaven National Laboratory.
I lived in Farmingdale, and that was a one-hour commute one way. It was really wearing me down. But I got a chance to design a control system. And what a control system is — you know what you want to do and you have to figure out a way of forcing it to happen. That's a control system. And I liked it. It was really fun. I had never done an honest-to-goodness control system. You build it and you see it work and say, "Wow, that was really neat."
I realized that I was not probably going to see another control system design at Brookhaven again because it was not what they specialized in, obviously. So I left Brookhaven and I came to work at Grumman. I lived in Farmingdale; not even a five-minute drive to get to Grumman instead of an hour one way. I started designing little servomechanisms for the A-6 airplane. Did that for about nine, 10 months, then decided I wanted to do something more advanced.
I had heard about a group called Dynamic Analysis. They did all of the engineering design, which required sophisticated mathematics basically — structural vibration, dynamic guidance for guiding a vehicle, navigation and control.
So I went over and I interviewed with a fella named Ralph Whitman and he liked me and immediately assigned me to the LEM because they had just lost a person working on the LEM. So, literally, overnight, I went from being a servomechanism designer to an employee of the LEM. Initially, I was calculating the amount of fuel the jets would use when they made a turn to do what was called an alignment maneuver.
---
Ernest Finamore
My father, Antonio, worked in Plant No. 1 for about a year in 1942, forming sheet metal parts on a hydraulic press.
Just before Christmas of that year, Pop injured his arm while working the big press. Now he had no job and no income, with a wife and six children at home. Mom had a part-time job making dresses on a Singer sewing machine.
At that time, I was the oldest and, at 16, I delivered newspapers and the Saturday Evening Post magazine. I was also a Sunday afternoon golf caddie at Bethpage golf course. On Thursday evenings, I worked at John Pizzuti's restaurant by the Plant No. 1 gate. We served spaghetti dinners to the Grumman night crew. I made 28 cents an hour.
About two weeks later, Mr. Tom Rozzi, the new Grumman security chief and a neighborhood friend, came to the house to check up on Dad and his financial situation. Tom and my parents agreed to take me out of high school and Tom would hire me to work at Grumman.
On Feb. 22, 1943, I turned 17 years old and they let me leave school with a nice letter of recommendation as to my mechanical ability and integrity.
On March 8, 1943, I entered Plant 2 and learned how to buck rivets on the tail section of the TBF Avenger. They paid me 69 cents an hour. I worked until December. On January 4, 1944, I joined the U.S. Navy with five other friends, because we didn't want to be drafted into the Army.
I returned to Grumman in July of '46 and worked until the January 1947 postwar layoff. I was rehired in March 1948 and worked through all phases of major installations of engines, propellers, fuel tanks and flight controls. Because I had earned my private airplane pilot's license (via the Grumvet Flyers Club at Plant 4), Grumman promoted me to plane captain on production test flights in April 1948.
For 3 1⁄2 years, I flew as mechanic and co-pilot in the Albatross amphibian and the S2F submarine hunter with the Grumman test pilots. In 1956, they promoted me to the inspection department. I inspected detail parts, minor and major assemblies and final engineering and test on the A-6E, EA-6B, F-14, E-2C Hawkeye, and I spent six years on lunar modules numbers 5 to 13.
For the past 14 years, as a museum docent, I show and tell about the lunar modules and moon landings at the Cradle of Aviation Museum on Wednesdays.
We still have six Grumman retirees who do aircraft restoration and build exhibits for the Cradle, on Tuesdays.
Did you see the episode of "Barney" where the purple dinosaur performs Notorious B.I.G.'s "Big Poppa"?
It may not have aired on TV, but it played out in Adam Schleichkorn's mind and on his YouTube channel for hundreds of thousands of viewers as part of his library of viral hits.
The East Northport resident has built a reputation as a mashup video hitmaker, with half a dozen videos surpassing 1 million views on YouTube in the past two years alone.
This year, he won his first Webby — a well-known award for internet content — for his mashup of the Adult Swim show "Rick and Morty" and rapper Kendrick Lamar's 2012 song "Swimming Pools (Drank)."
Mashups, especially popular among younger internet users, combine a variety of video and sound clips from different sources into a single video.
"There are companies that turn out viral pieces, but not at this rate and certainly not by themselves," said Patrick Aievoli, Schleichkorn's mentor and an LIU Post professor in the design and digital technologies department.
He's a bit of an anomaly.
– LIU Post professor Patrick Aievoli on Schleichkorn's success
Schleichkorn, 35, combs through clips from cartoons, largely children's staples like "Doug," "The Muppets" and "Sesame Street," and sets them mainly to '90s hip-hop under the moniker IsThisHowYouGoViral, also known as Mylo the Cat to fans.
His work has earned him appearances on the Cartoon Network's Adult Swim and national media attention. And his latest YouTube hit, which uses "Sesame Street" clips to recreate the music video for the Beastie Boys' "Sabotage," has landed him in the spotlight again.
Schleichkorn spent about a week putting the video together with scenes from the 1985 Sesame Street film "Follow That Bird."
"I'll get myself a little worked up thinking I have a hit on my hands," he said. "This one, I could tell it was going to [be popular]. After the first 12 hours it had 50,000 views."
The video went live July 5, and within two days it had climbed into the top 50 trending videos on YouTube. As of July 15, it had more than 1 million views.
In response to the video, Rolling Stone magazine declared Schleichkorn a "viral master," while People magazine dubbed him an "internet genius."
But for Schleichkorn, a video editor and producer by day for a small Long Island marketing and advertising company, the hit is just another addition to his resume. He has been turning out viral videos for more than a decade, drawing inspiration from the music and cartoons he enjoyed while growing up in Huntington.
"In high school, we'd watch Cartoon Network and play rap music and [time the music to] make the voices match up," said Dan Taft, 36, a Los Angeles writer who grew up with Schleichkorn.
Schleichkorn finally began to explore video editing in college while attending the University at Albany, when a friend got a camera as a gift.
I didn't think about any of my classes, I just started making these little videos.
– Adam Schleichkorn
After graduation, he and Taft moved to Fort Lauderdale and began writing and filming comedy sketches. Schleichkorn put them on DVDs, the only way he could share them with friends in the early 2000s.
When YouTube started in 2005, Schleichkorn was drawn to the platform, even as others dismissed it as a repository
for "cat videos," Aievoli said.
"Adam understood this was going to be a platform to be dealt with later on," he said.
Then in 2006, a 25-year-old Schleichkorn, then an interactive media graduate student at LIU Post, got his first taste of viral fame. In an homage to the MTV show "Jackass," he had dared a friend to charge and knock down his cousin's hurricane-damaged fence in Florida.
The resulting YouTube video received more than 100,000 views and spawned an early internet meme called "fence plowing." Copycat videos followed and at least five teens on Long Island were arrested for destroying fences they didn't own.
Days into his second semester of graduate school, Schleichkorn was inundated with interview requests from media outlets ranging from Newsday to Fox News.
"That was the first video that put me out there," Schleichkorn said. "And then I was on this mission all those years ago because I don't want to be known as the fence plowing guy."
He cycled through several video genres with some success, until he discovered the magic combination of cartoons and '90s music about three years ago with a Muppets clip, just like in high school. The video took off.
Since then, the popularity of Schleichkorn's work has "taken on a mind of its own," he said.
One hallmark of his work is meticulous editing — Schleichkorn spends hours tying together clips so characters like Nickelodeon's Doug Funnie can appear to lip-sync Fetty Wap's 2015 hit song "Trap Queen," as he did for New York Magazine.
"It's all my free time over the course of a week once I decide to make one," he said.
That hard work pays off. One of Schleichkorn's most popular videos, a March 2016 post with "Sesame Street" characters lip-syncing Bone Thugs-n-Harmony's 1995 hit "Tha Crossroads," has 4.3 million views.
Despite his success, Schleichkorn remains humble. He thought his Webby win may have been a mistake, and he still gets a rush when a video goes viral, he said.
He has now started to work with larger media companies on the side, creating shorts for New York Magazine and Cartoon Network's Adult Swim.
"I made this channel really just to put out cool stuff, and that's what took me to the next level as a creator," Schleichkorn said. "All the time and hard work I put in all these years, something just clicked."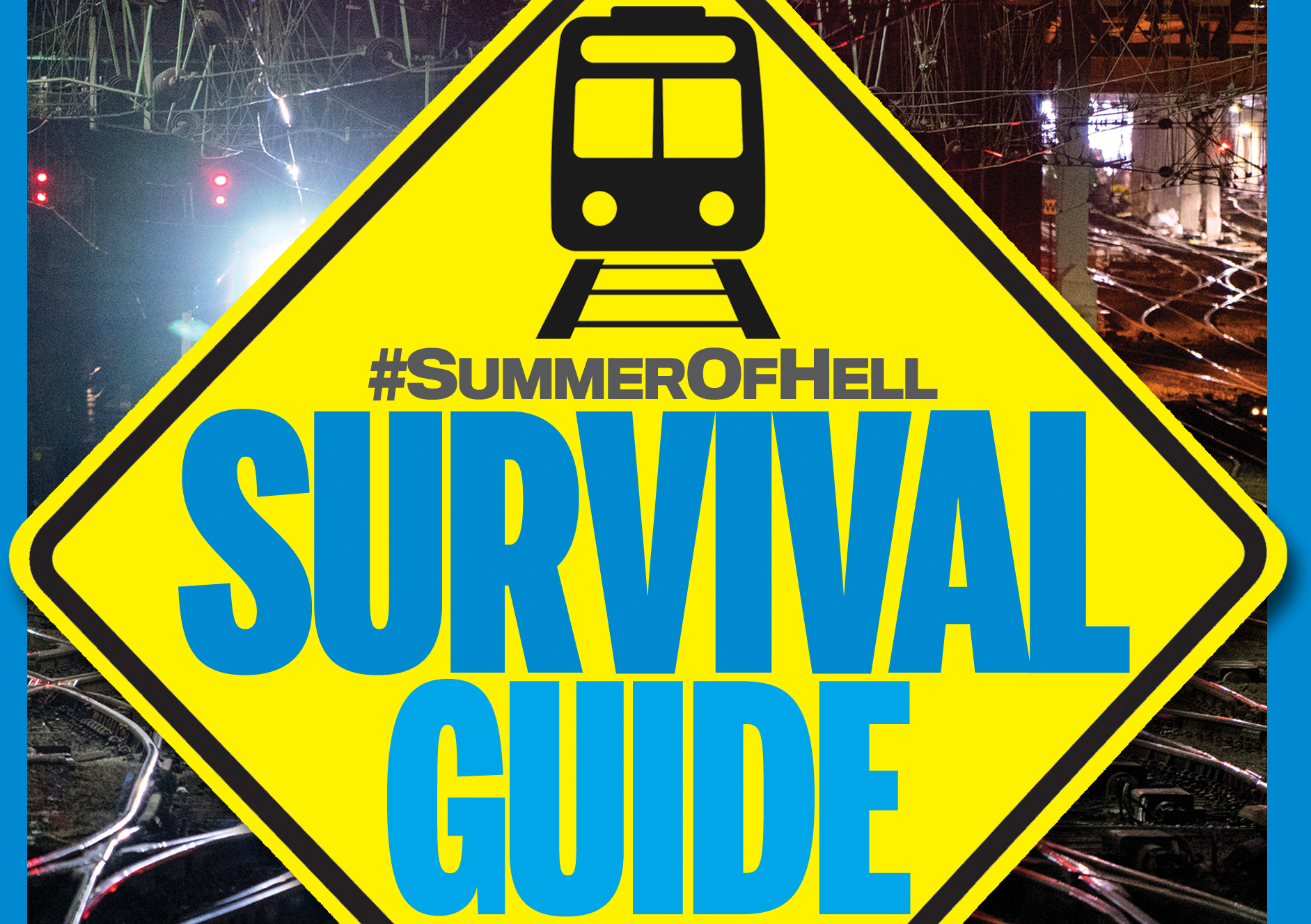 The two-month-long Long Island Rail Road service disruptions that Gov. Andrew M. Cuomo memorably dubbed the "summer of hell" follows decades of overuse, and underinvestment, in the nation's largest, busiest train terminal, and the LIRR's most important — Penn Station.
Amtrak, which owns Penn, announced plans in May to shut down part of the station, in the wake of a string of major service disruptions. According to the work plan, three out of 21 tracks are being taken out of service to replace aging track components.
The project is forcing the LIRR to reduce rush-hour service at Penn by 20 percent from July 10 until Sept. 1. The Penn Station outages have forced New York State and the MTA to take on a first-of-its kind service plan that includes running extra trains outside of the rush hours, adding train cars, diverting trains to different stations, supplementing train service with express coach buses and ferries, and taking several measures to reduce traffic on the roadways.
With work set to begin Monday, here's a look at everything you need to know — at least for now — to get through the "summer of hell."
-Alfonso Castillo
Thank you for your interest in contributing to Newsday's ongoing coverage of the LIRR's "summer of hell."
Here's what we need you to do: Please fill out this form each day that you are commuting, sharing your experiences and assigning a daily grade to your commute.
Your responses may be used in Newsday's reporting and a reporter may also contact you.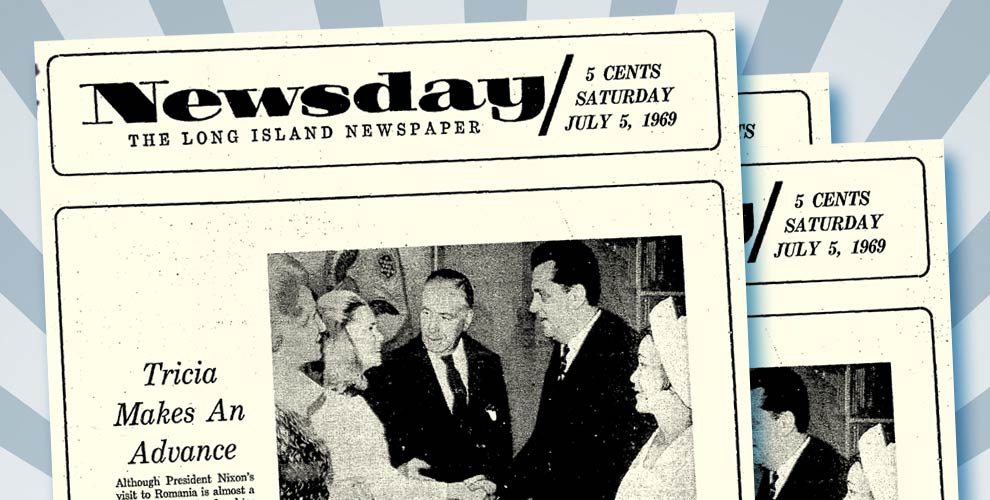 Newsday's recent "Day in the Life" project brought readers an intimate look at the joyous, mournful and complex moments that make up a day on Long Island.
Whether chronicling bagel makers and fishermen at work in the early hours of the morning or sharing in late-night celebrations at senior prom, Newsday staff sought to capture the unique perspective of life on Long Island.
The project raised the question – what would a day in the life on Long Island have been like 10, 30, 50 years ago?
As it turns out, it doesn't seem much different than it is now. On July 4, 1969, crowds flocked to local beaches, service problems on the Long Island Rail Road were the talk of commuters, and a horse partly owned by a famous singer made the news.
Here's a day in the life on Long Island from July 4, 1969, as told through the day's news.
A day in the sun
The forecast had promised perfect July Fourth weather, warm and sunny. As temperatures reached the upper 80s, thousands of people headed to the beach to swim, boat and soak up the sun.
At Tobay Beach in Massapequa, dozens of people docked their boats and set up chairs to sunbathe beneath waving American flags.
July Fourth, on duty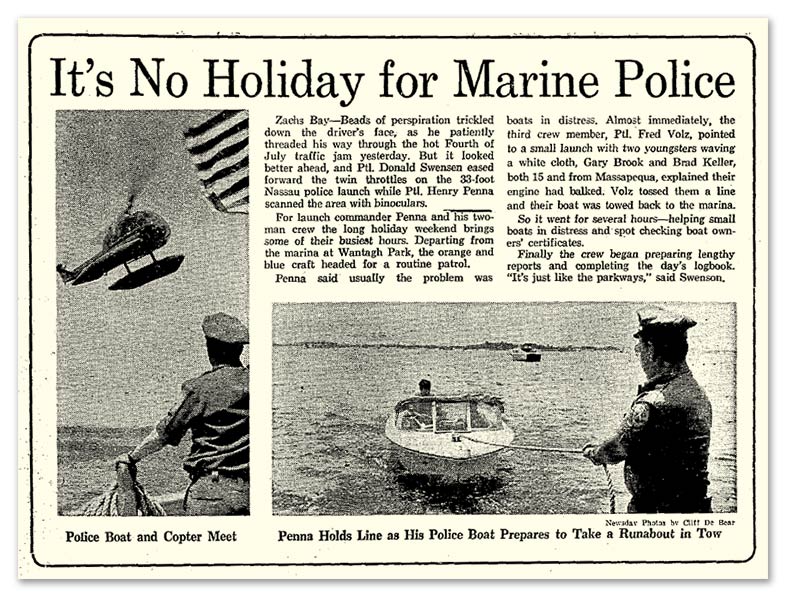 In Zachs Bay, near Jones Beach, Nassau County police were stationed on boats, ready to respond if tragedy happened. The holiday meant "some of their busiest hours," they told a Newsday photographer.
Ptl. Donald Swenson and Ptl. Henry Penna manned a 33-foot police boat, searching for boaters in distress. The pair mostly responded to smaller boats, including one driven by two Massapequa 15-year-olds, Gary Brook and Brad Keller.
The teenagers' engine had died and they were waving a white cloth. The officers towed them back to the marina.
The rising toll of war

July 4, 1969, marked nearly a week since the family of Spec. 4 Gerald C. Daley received word from the army that Daley, 21, of Uniondale, had been wounded in battle west of Danang, Vietnam.
Daley was shot in the back, shoulder and spine, and died the next day, making him the 400th Long Island soldier to die in Vietnam.
"He was an honest, decent kid with a lot of friends," his mother Grace Boyer said. "He felt he was needed over there. My son was proud and said that was what he wanted to do. It was not what his mother wanted him to do . . ."
Boyer said Daley had dropped out of Uniondale High School to enlist in the Army. He spent 11 months in Germany and four in Vietnam before deciding to continue as a soldier there.
Long Island Rail Road woes
July 4 wasn't a positive day for the Long Island Rail Road. Newsday reported that nearly half of 94 new train cars – with a price tag of $216,000 each – had electrical issues that required them to be pulled from the tracks.
About 25 experts were called in to diagnose the specific issue with the Budd manufactured cars. Suspected issues ranged from pinched wires to "grounded train lines," which could cause electricity, brakes and air conditioning to fail.
The MTA had hoped to replace all cars with the Budd model, having placed a $134 million order for 620 of them.
After a hospital visit, a game of slowpitch
Softball teams from Hicksville and Wantagh were declared finalists in the winner's bracket for the Long Island Invitational Slowpitch Softball Tournament, the culmination of 15.5 hours of play on July 4.
The Astros had not expected to fare well in the tournament. One important factor in their victory was pitcher Ron Mekalavage, a high school football coach who played in the July 4 evening game after receiving treatment in the hospital for a kidney condition just hours before. The Astros went on to beat the Climactic Air Rams 7-5 to secure a spot in the final round.
The Hicksville Astros and Wantagh Hotel were scheduled to play late the next day.
A horse owned by Sinatra has its day
Frank Sinatra and his attorney Martin Rudin had more to celebrate than just Independence Day. Sinatra and Rudin each owned a one-third stake in a 6-year-old horse named Mr. Right, who ran to victory in a July 4 race at Aqueduct Racetrack in Ozone Park.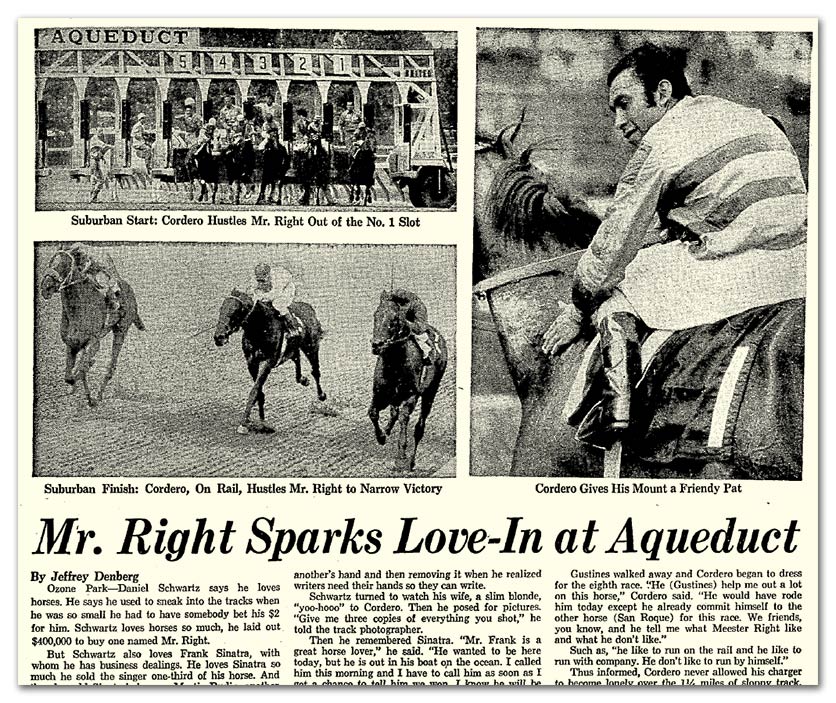 Mr. Right, also partly owned by a businessman named Daniel Schwartz, won his owners $69,550. Jockey Angel Cordero said it was the first time he'd ever ridden the horse.
"He was galloping easy, you know," Cordero said. "I only thought I was in trouble one time."
In tense times, Americans look to the sky
As President Richard Nixon prepared to head to Romania to help foster goodwill between the two countries, he faced criticism domestically for his handling of school desegregation in the south.
Nixon had relaxed a previously hard deadline on desegregation, prompting the National Education Association and civil rights groups to denounce the decision.
The country was also gearing up for the launch of the Apollo 11 space mission, scheduled to take off from what is now known as Cape Canaveral on July 16. The mission famously landed astronauts Buzz Aldrin and Neil Armstrong on the moon, the first men to set foot there.
Poppies, poppies
Newsday's gardening section recommended planting oriental poppies, a "robust and dazzling" flower sure to "brighten a garden" with low maintenance. However, for gardeners seeking something blue – "one of the most wanted colors in gardens" – editor Bea Jones suggested planting veronicas.
Bringing the lab outside
Budding scientists in the State University at Stony Brook's natural sciences summer program examined some crustaceans.
Helicopter parents?
A generational divide emerged with a question in Newsday's opinion section: Are kids these days too coddled?
"How can (parents) expect their children to know the value of a dollar when allowances are handed out regularly and nothing is expected in return?" an "old timer" wrote to columnist Ann Landers. "When I see my grandsons growing up to be loafers it makes me sick."
In the syndicated column, Landers wrote back: "There's more to this problem than meets the eye." Child labor laws are complicated and the world isn't the same as it was decades before. "So don't put the blame on the parents, grandpa."
See more from Newsday's recent Day in the Life of Long Island project.

The Navy and Grumman set up manufacturing, research and testing facilities on a more than 600-acre plot in Bethpage beginning in the late 1930s.
The facility turned out Hellcat, Tigercat, Albatross and other planes that helped turn the tide during World War II and the Korean War. It was also home to the Apollo moon lander.
But that legacy came with contaminated soils and groundwater. Wells on Grumman property were tainted by the late 1940s, volatile organic chemicals had been found in water by the 1970s, and in 1983 the state added the site to its hazardous waste Superfund list. Several cleanup plans are in place, primarily focused on volatile organic chemicals.
Here's a look at the history of the site.
1930s
Grumman Aircraft Engineering Corporation moves to Bethpage in 1937. Over time the Navy and Grumman set up manufacturing, research and testing facilities on a more than 600-acre plot in Bethpage.
1940s
In the early 1940s, Grumman gets contracts for Hellcat and Tigercat planes after the U.S. enters World War II.
But a few years later, by the late 1940s, wells on Grumman property were tainted. Chromium contamination was discovered in groundwater south of Grumman site in 1949.
1970s
Concerns about contamination continue, as several Grumman wells test positive for volatile organic chemicals. In the late 1970s, Grumman is hooked up to Bethpage Water district water because of contamination issues.
1980s
In 1983, the Naval Weapons Industrial Reserve Plant and Grumman sites are added to the state's hazardous waste Superfund list.
Three years later, the Nassau County Department of Health and U.S. Geological Survey study reveals that a shallow plume of contamination is sinking and moving south and southeast. The plume is traced back to the Grumman plant, Naval Weapons Industrial Reserve plant and Hooker Chemical/Ruco Polymer site.
1990s
In 1994, Northrop purchases Grumman and the company becomes Northrop-Grumman. Manufacturing at the site ends in 1996.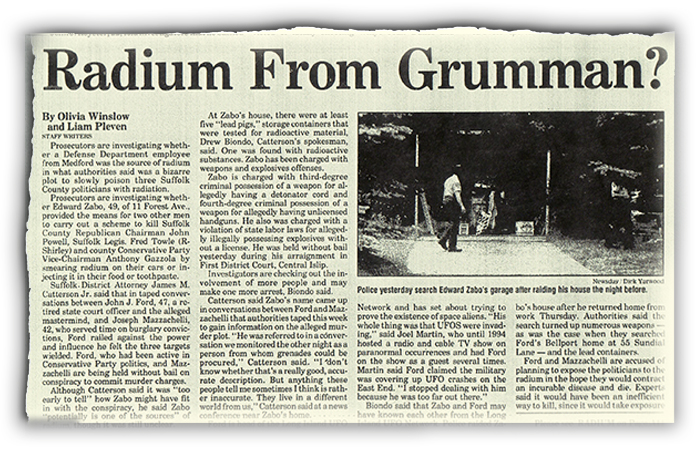 Also in 1996, A federal government employee working at one of Grumman's buildings in Bethpage was implicated in an unsuccessful plot to poison local officials with radium.
The employee was found to have given radium to a UFO conspiracy-theorist who wanted to use it on Suffolk County officials and take over the local Republican Party.
2000s
In 2001, the State Department of Environmental Conservation develops cleanup plan for the shallow plume.
In 2009, a more contaminated and deeper plume is found coming from Bethpage Community Park. The New York State Department of Health also starts investigating cancer cases in a Bethpage residential neighborhood with groundwater contaminated from decades of chemical pollution from the Grumman and Navy sites.
Since 2010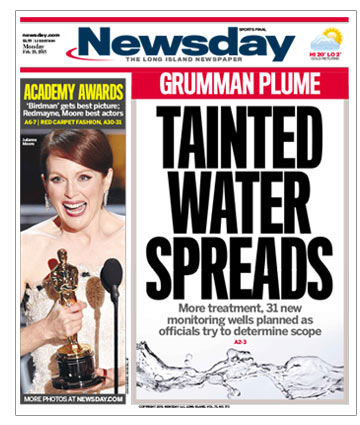 In 2012, the State DEC releases a proposed cleanup plan for the park plume.
The following year, radium surfaces as a possible issue when the Bethpage Water District shuts down a drinking water well off Sophia Street, where it detected elevated levels of the element.
In 2016, the DEC orders Northrop Grumman to report on radiological use.
That same year Hempstead Town sues the Navy, Northrop Grumman, operators of a former dry cleaner and others in federal court for a minimum of $50 million over groundwater contamination that forced the closure of water wells in Levittown.
ICYMI: @HempsteadTown sues Navy, @northropgrumman, others over groundwater contamination in #Levittown pic.twitter.com/7HHxRvk3Yr

— Emily C. Dooley (@eDooleyNoted) July 7, 2016
In 2017, elevated levels of radium are found in groundwater samples from shallow monitoring wells on the Bethpage High School campus. The state Department of Environmental Conservation plans to take more samples and scan field and soil areas there for more radioactive elements, although state officials stressed they don't believe people students or faculty are at risk.
Newsday later reports that Grumman through the years handled radium, tritium, polonium, uranium and other radioactive isotopes, according to a document filed with the state DEC.

State DEC officials, who have previously said there was no evidence of radioactive materials used at the site, say they are now seeking more information from Northrop Grumman.
In honor of the first day of summer, Newsday chronicled what a day in the life of Long Island looked like. We traveled across Nassau and Suffolk, from Elmont to Montauk, capturing the scenes of the day and speaking with Long Islanders. Scroll down to see updates spanning the entire day from our journalists, influential Instagram users and people all over LI. For more photos, click here. For a video of the day's events, click here.
8 p.m.
8:00 swim. #DayintheLifeLI pic.twitter.com/IVsCtsKvlT

— Michael Lyons (@mjlyons7) June 22, 2017

https://www.instagram.com/p/BVnuM8ml_r5/

Josephine Rotolo, who died just before turning 108, told her family the secret to a long life is escarole and broccoli rabe #dayinthelifeLI pic.twitter.com/DUiUhZKvwG

— Rachel Uda (@Rachel_Uda) June 21, 2017

https://www.instagram.com/p/BVnsh79jsCG

---
7:30 p.m.
Windy #DayInTheLifeLI now 4 George+Gracie+2 in East Marion 85 ft hi https://t.co/bI8QrfpC3z #osprey live 24/7. Crab, flounder was on menu pic.twitter.com/et2d7hZ5iT

— ellen yan (@NEWSDAYatNITE) June 21, 2017
LOOK AT THIS 👀 I AM STILL DROOLING #DayInTheLifeLI pic.twitter.com/hpun5r552e

— Anahita Pardiwalla (@anahitakp) June 21, 2017
In honor of the first day of summer, Newsday chronicled what a day in the life of Long Island looked like. We traveled across Nassau and Suffolk, from Elmont to Montauk, capturing the scenes of the day and speaking with Long Islanders. Scroll down to see updates spanning the entire day from our journalists, influential Instagram users and people all over LI. For more photos, click here. For a video of the day's events, click here.
---
7 p.m.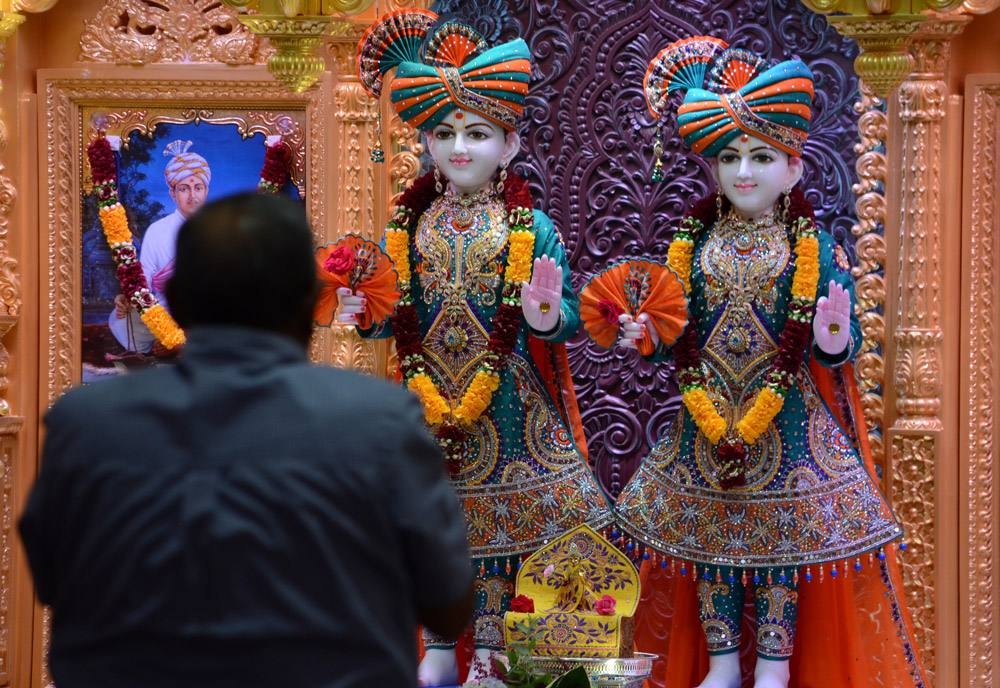 A devotee attends aarti, a traditional Hindu prayer service, at the BAPS (Bochasanwasi Shri Akshar Purushottam Swaminarayan Sanstha) Hindu temple in Melville on June 21, 2017. (credit: Mandy Hofmockel)
Happy birthday Sarah and Sean #9 #twins #dayinthelifeLI pic.twitter.com/6QekmqUFqX

— Elizabeth Hashagen (@Elizabethnews12) June 21, 2017
---
6:30 p.m.
Walking to prom Shoreham-Wading River High School students arrive for their senior prom at Giorgio's in Baiting Hollow.
Rainbow! #DayInTheLifeLI pic.twitter.com/TiAc3HhOPX

— Joye Brown (@NewsdayJoye) June 21, 2017
---
6 p.m.
---
5:30 p.m.
Full-time resident Marty Bailes enjoys the first day of summer in Ocean Beach, Fire Island, on June 21, 2017. Bailes bought his home in 1970 and has been there ever since. (credit: Yvonne Albinowski)
In honor of the first day of summer, Newsday chronicled what a day in the life of Long Island looked like. We traveled across Nassau and Suffolk, from Elmont to Montauk, capturing the scenes of the day and speaking with Long Islanders. Scroll down to see updates spanning the entire day from our journalists, influential Instagram users and people all over LI. For more photos, click here. For a video of the day's events, click here.
---
5 p.m.
---
4:30 p.m.
#DayInTheLifeLI #momlife #play #lovemykids pic.twitter.com/l3g5Fpl6gL

— Elizabeth Hashagen (@Elizabethnews12) June 21, 2017
Hicksville LIRR construction… which starts with some destruction. #LIRRcommuter #DayInTheLifeLI @Newsday pic.twitter.com/vn0XEntino

— Betty Kane (@bktonks) June 21, 2017
---
4 p.m.
It's summer — let's catch some rays!!! #DayInTheLifeLI pic.twitter.com/Lh0EI8b9zZ

— re:DESIGN (@PaulBiedermann) June 21, 2017
---
3:30 p.m.
Jason De Sousa, 18, of Mineola, shares his happiness with his mother Lysette De Sousa after passing his first road test for a full license at the New York State Department of Motor Vehicles road test site in Garden City Park on Wednesday, June 21, 2017, at 3:17 p.m. (Credit: Craig Ruttle)
---
3 p.m.
Agnieszka Kulagowski, from Lindenhurst, with her newborn baby, Thomas, born at 8:12 a.m at Good Samaritan Hospital Medical Center in West Islip, Wednesday, June 21, 2017. (Credit: Linda Rosier)
Trainer Caroline Walsh gets a kiss from Java the sea lion at the Long Island Aquarium in Riverhead at 2:32 p.m. on Wednesday, June 21, 2017. Weighing 370 pounds, Java, a California sea lion, is the star of the aquarium's sea lion show. Java turns 16 on Sunday. (Credit: Newsday / John Paraskevas)
OLs had a lot of fun playing on the quad today! Puppies are brought to you by the Dean of Students Office! #HofWelcome2021 #DayInTheLifeLI pic.twitter.com/c16oeZkKUM

— Hofstra Student Life (@HofstraStudents) June 21, 2017
Nursing students practicing their skills @AdelphiU #DayInTheLifeLI pic.twitter.com/cqHP2n48SB

— Adelphi U Magazine (@AdelphiUMag) June 21, 2017