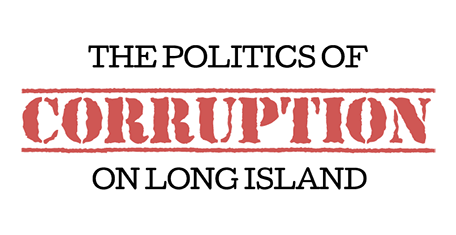 Criminal cases against 10 politicians and public officials
Over the past few years, prosecutors have charged Long Island politicians and public officials with crimes ranging from tax evasion to bribery. Some of these cases resulted in convictions, while others are ongoing. Follow Newsday's latest coverage on the most prominent cases here.
(Last updated: Oct. 3, 2018)
The County Executive
Charges: Conspiracy to commit federal program bribery; federal program bribery; conspiracy to commit honest services wire fraud; honest services wire fraud; extortion; conspiracy to obstruct justice
Edward Mangano, Nassau's county executive, was indicted in October 2016 and accused by federal prosecutors of receiving "bribes and kickbacks" from businessman Harendra Singh, who has pleaded guilty to providing them. Mangano's wife, Linda, was charged with obstruction of justice, conspiracy to obstruct justice and making false statements involving "work she claimed to have performed" in an alleged no-show job from Singh, according to the indictment and prosecutors. Both Manganos pleaded not guilty. A judge on May 31 declared a mistrial in both their cases and their retrial is set for October. Federal prosecutors filed a new indictment against the Manganos in August, adding details of statements to investigators by Linda that prosecutors allege are lies. The Manganos pleaded not guilty to the indictment at an arraignment.
More Stories
The District Attorney
Charges:Conspiracy to tamper with witnesses and obstruct an official proceeding; witness tampering and obstruction of an official proceeding; obstruction of justice; accessory after the fact to the deprivation of John Doe's civil rights
Thomas Spota, the Suffolk County district attorney, was indicted in October 2017 on federal charges that he was involved in a cover-up of ex-Suffolk Police Chief James Burke's 2012 assault of a suspect. U.S. attorneys say Spota, along with longtime aide Christopher McPartland, intimidated and pressured witnesses not to cooperate with federal investigators in order to protect Burke. Spota pleaded not guilty to the charges. A day after his plea, he announced he would leave the office he has held since 2002. His last day in office was Nov. 10, 2017.
More Stories
The Town Supervisor
State charges: Corrupt use of position or authority; official misconduct; conspiracy; defrauding the government
John Venditto, Oyster Bay supervisor, was indicted on federal corruption charges in October 2016. Venditto pleaded not guilty and resigned in January. His trial started on March 12, 2018. In June 2017, the Nassau DA indicted Venditto, who prosecutors said was involved in a real-estate deal and orchestrating a hiring. Venditto pleaded not guilty. A superseding federal indictment was announced Nov. 21 adding 21 charges involving allegations of securities fraud. Venditto was acquitted of all federal charges on May 24. He still faces state charges.
More Stories
The Councilman
Charges: Wire fraud; tax evasion; making and subscribing false corporate tax returns; failure to file return
Edward Ambrosino, a Hempstead Town Board councilman, was indicted in March 2017 and accused of failing to pay more than $250,000 in federal taxes on income, much of which federal prosecutors said came from jobs performed for Nassau County. Prosecutors said Ambrosino, a lawyer, siphoned off money for two years to a company he incorporated and underreported his earnings. In the week following Ambrosino's arrest, the county Industrial Development Agency and Local Economic Assistance Corp. dropped him as one of their attorneys. He pleaded not guilty to the charges.
More Stories
The Police Chief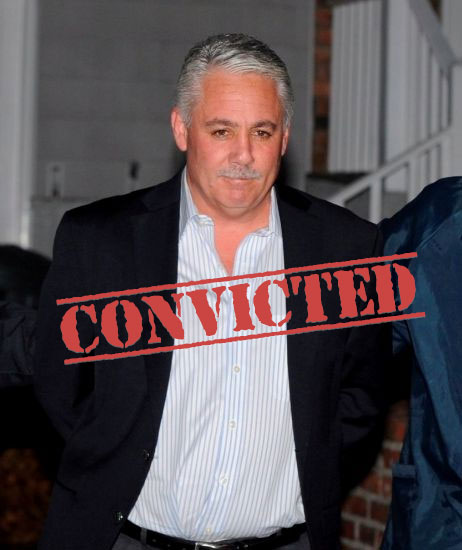 Convicted of: Deprivation of civil rights; conspiracy to commit obstruction of justice
James Burke, the Suffolk County Police Department's former top uniformed officer, was indicted in December 2015 and charged by federal prosecutors with orchestrating an elaborate scheme to conceal his own crime. Burke, who was named Suffolk police chief in 2012, beat a handcuffed prisoner who had been charged with stealing a duffel bag from Burke's police-issued vehicle, officials said. Burke pleaded guilty in February 2016 to conspiracy to commit obstruction of justice and violating the victim's civil rights and was sentenced in November 2016 to 46 months in prison. Burke has filed papers to appeal his sentence.
More Stories
The State Senator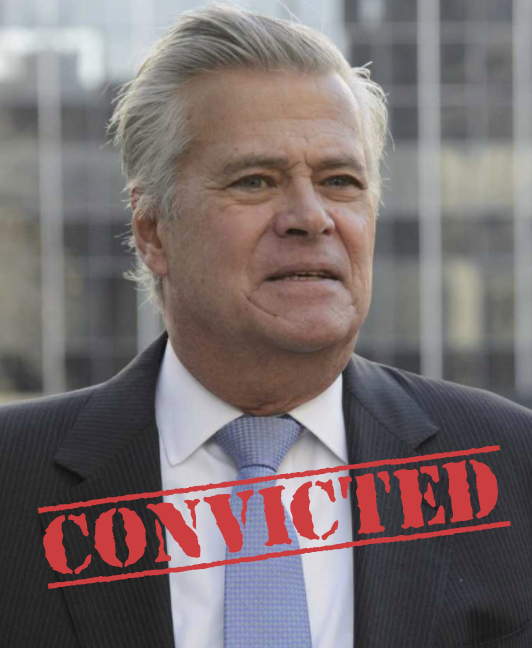 Charges: Conspiracy to commit extortion under color of official right; conspiracy to commit honest services fraud; extortion under color of official right; solicitation of bribes and gratuities
Dean Skelos, former Republican State Senate majority leader, was convicted in December 2015 of using his power to help his son, Adam, get jobs and payments from businesses. Federal prosecutors said the senator pressured three companies to give jobs, fees and benefits worth $300,000 to Adam, doing favors in Albany for the companies in return. He also intervened with Nassau County to help one of them on a contract, prosecutors said. His son was indicted on the same charges. In May 2016, Skelos was sentenced to 5 years, and his son was sentenced to 6½. In September 2017, an appeals court overturned the convictions. They were retried in the summer of 2018, and a federal jury convicted them on eight counts of conspiracy, extortion and bribery.
The Conservative party leader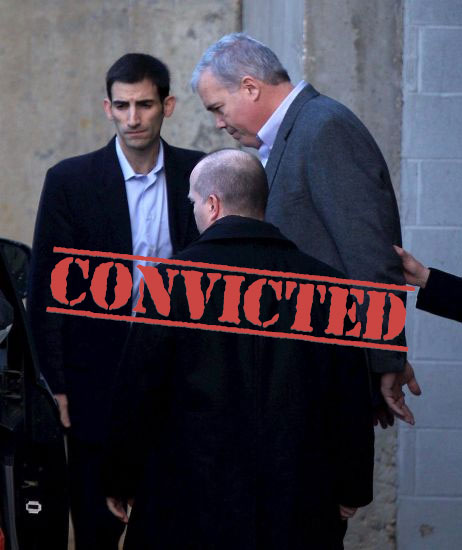 Convicted of: Converts to own use property of another; fraud by wire, radio or television
Edward Walsh, then a lieutenant in the county sheriff's office, golfed, gambled and politicked on the county's dime, federal prosecutors said, while at the helm of Suffolk County's Conservative Party. Walsh pleaded not guilty in March 2015 but was convicted in March 2016 for illegally collecting more than $200,000 in pay and overtime pay he didn't earn. His conviction sparked a battle over leadership within the party he once led. In June 2017, Walsh was sentenced to 2 years in prison and was ordered to make $245,811.21 in restitution and forfeit an additional $245,811.21.
More Stories
The Town Commissioner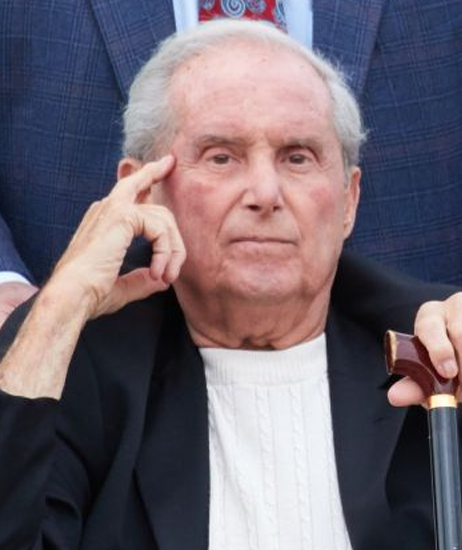 Federal charges: Attempt to evade or defeat tax
State charges: Money laundering; defrauding the government; official misconduct; bribe receiving; receiving reward for official misconduct; theft of services.
Frederick Ippolito, an Oyster Bay town official, pleaded guilty in January 2016 to a federal tax evasion charge in connection with $2 million in outside consulting fees he received while working as the town's planning and development commissioner. He resigned two days after his plea. He was sentenced in September 2016 to 27 months in prison and ordered to pay $550,000 in restitution. Ippolito died in prison in June 2017. On Dec. 12, 2017, a federal appellate court vacated the conviction because he died while appealing his conviction. In June 2017, Ippolito was charged by Nassau County prosecutors; a judge ended that case in September 2017.
More Stories
The Town Democratic leader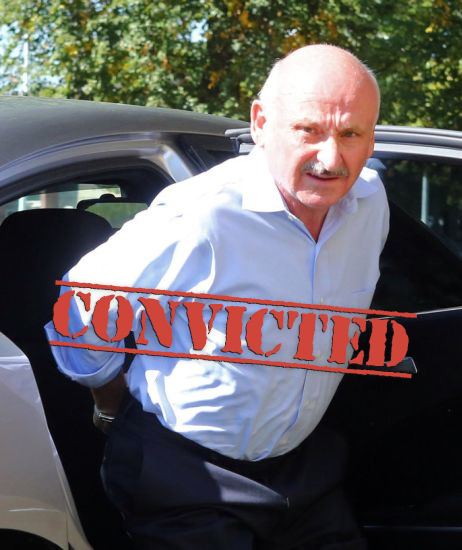 Convicted of: Felony tax fraud (state), tax evasion (federal)
Charges: Tax fraud (state); tax evasion (federal)
Gerard Terry, the former North Hempstead Democratic Party leader, was charged in April and August 2016 with tax fraud after Nassau prosecutors said he compiled more than $1.4 million in tax debts while receiving hundreds of thousands of dollars in government work. He also was charged federally in February 2017 and pleaded not guilty. He resigned or was terminated from multiple public positions. In September 2017, Terry pleaded guilty in Nassau County to fourth-degree felony tax fraud. Terry pleaded guilty in October 2017 in federal court to tax evasion. He was sentenced on May 29 to serve three years in prison on the federal charges. On June 4, he was sentenced to 6 months in the state case.
More Stories
The District Attorney's Aide
Charges: Conspiracy to tamper with witnesses and obstruct an official proceeding; witness tampering and obstruction of an official proceeding; obstruction of justice; accessory after the fact to the deprivation of John Doe's civil rights
Christopher McPartland, one of Suffolk County District Attorney Thomas Spota's chief aides, who ran the office's political corruption unit, was indicted along with Spota in October 2017 on federal charges related to allegations the two were involved in a cover-up of ex-Suffolk Police Chief James Burke's assault of a suspect. McPartland pleaded not guilty to the charges. A spokesman for the district attorney's office said McPartland since has been reassigned "to duties unrelated to his former responsibilities."
More Stories