100 Facts About President Trump's First 100 Days
Donald J. Trump was inaugurated as the 45th president of the United States on a rainy afternoon in Washington, D.C.
One hundred days later, we reflect on how the businessman and former reality-TV star turned president has held up to his promises, approached his role and affected the world.
Here we look at Trump's 100 days in 100 facts.
1
President Donald Trump donated $78,333.32 — representing his first-quarter salary — to the National Parks Service.
2
He is also the first billionaire president. Forbes magazine puts his net worth at $3.5 billion.
3
Trump's 100 days were guided by the "Contract with the American Voter," an action plan to "Make America Great Again." It included 38 specific promises Trump pledged to achieve.
4
Nearly half of those promises have not been addressed, according to an AP analysis.
5
Among those promises kept: The Keystone XL pipeline is revived and construction of the Dakota Access is completed. The big trans-Pacific trade deal is toast, climate change action is on the ropes and various regulations from the Obama era have been scrapped.
6
It's also a safe bet President Donald Trump hasn't raced a bicycle since Jan. 20, keeping a vow he made after John Kerry broke his femur in May 2015 while riding a bicycle.
7
One page of his 100-day manifesto is devoted to legislation he would fight to pass in 100 days. None of it has been achieved.
8
Trump signed his first executive order the very night he was inaugurated, aimed at "minimizing the economic burden" of Obamacare.
9
His inauguration speech was 16 minutes long. It depicted an America whose best days have gone by.
10
31 million people watched the inauguration on TV, according to the Nielsen Co. (though that does not prove press secretary Sean Spicer's claims that it was the most viewed in history).
11
He launched his re-election campaign the day after the inauguration and held his first campaign rally in Florida four weeks later.
12
The Dow Jones industrial average closes above 20,000 for the first time ever Jan. 25. The milestone is crossed amid optimism on Wall Street that executive actions and policy goals announced by the new administration will be good for corporate America.
13
He's made most of his policy impact through executive orders — 28 so far. Obama passed 11 new laws in his first 100 days; George W. Bush passed seven and Bill Clinton passed 24. Harry Truman passed 55.
14
His early and controversial executive orders called for the construction of a border wall with Mexico, an expanded force to find and deport undocumented immigrants and a travel ban on citizens from seven predominantly Muslim countries.
15
The order on the border wall caused a standoff between Trump and Mexican President Enrique Pena Nieto, who canceled his January meeting with Trump. The two later spoke by phone and called it productive.
16
Two travel ban executive orders have been blocked by judges. A federal judge in New York blocked part of the first order a day after it was signed.
17
Trump fired acting Attorney General Sally Yates after she told the Justice Department to stop defending his first travel ban.
18
Trump was successful in getting his Cabinet picks confirmed, including Betsy DeVos (thanks to the historic tie-breaking vote of Vice President Mike Pence).
19
Trump got all of his cabinet secretaries in place just before his 100th day in office. Senators voted to confirm secretary of labor nominee Alexander Acosta on April 27.
20
Below his Cabinet and top posts, many of his administration's key jobs are unfilled.
21
His Cabinet is worth about $4.5 billion, according to Forbes.
22
Trump held onto ownership of his businesses when he took office, meaning he makes money when his properties do well. This is a break with presidential precedent.
23
He lifted federal protections that allowed transgender students to use school bathrooms and locker rooms matching their gender identities.
24
His presidency sparked protests around the nation, including the Women's March and protests against the travel ban.
25
The signature of the Women's March was a knitted pink hat with cat ears. The cat theme alludes to comments made by Trump 12 years ago in leaked "Access Hollywood" footage that went viral.
26
Trump's first budget outline was a $1.1 trillion spending plan that proposed boosting defense funds and deep cuts at other agencies, like the Environmental Protection Agency and housing department.
27
Trump has put military generals in several important positions in his administration, such as Jim Mattis as Secretary of Defense and H.R. McMaster as National Security Adviser.
28
Despite the fact that Trump said during his campaign he would not allow generals to be interviewed on TV, McMaster, as Trump's national security adviser, appeared on a Sunday news show. Several senior military officers have done Pentagon news conferences in the past few months that are taped by the networks. Gen. John Nicholson, the top general in Afghanistan, appeared at a news conference.
29
Michael Flynn, Trump's initial national security adviser, was fired after The Washington Post revealed that he misled Vice President Mike Pence about the nature and extent of his contacts with Russian Ambassador Sergey Kislyak.
30
Trump has spent at least seven weekends of his presidency at Mar-a-Lago and met with foreign leaders there. Trump and his aides had begun referring to the private club owned by Trump as the "Winter White House."
31
Mar-a-Lago doubled its membership fee to $200,000 after he was elected.
32
Trump tops former presidents in golf and private getaways so far, according to a New York Times anaylsis.
33
He has made 17 trips to three of his golf courses (two in Florida and one in Virginia) and twice dined at his new hotel in Washington, just down Pennsylvania Avenue from the White House.
34
Trump ordered 46 prosecutors to resign, including Preet Bharara, the U.S. attorney who said he would have to be fired.
35
Trump first named, and later removed, chief strategist Steve Bannon from the National Security Council.
36
Two of the president's relatives work in the White House. Trump made his daughter Ivanka Trump an unpaid White House adviser. She has security clearance and a White House office. Her husband, Jared Kushner, is a top adviser and also unpaid.
37
In February, Nordstrom department stores said it was dropping the Ivanka Trump line because of low sales.
38
Days later, the president lashed out at the company on Twitter. Trump has used Twitter to criticize other companies such as Lockheed Martin, Ford, General Motors and Amazon.
My daughter Ivanka has been treated so unfairly by @Nordstrom. She is a great person — always pushing me to do the right thing! Terrible!

— Donald J. Trump (@realDonaldTrump) February 8, 2017
39
On Feb. 28, Trump delivered his first speech to a joint session of Congress, marking a shift in tone from an inaugural address widely considered bleak. It included 24 instances of the word "great," including "greater," "greatly" and "greatness."
40
It costs an average of $127,000 to $146,000 per day to protect first lady Melania Trump and her and the president's son, Barron, while they continue to live in Trump Tower on Fifth Avenue instead of moving into the White House, according to the NYPD.
41
The Trumps are, so far, the first White House family in over a century without a pet.
42
Alec Baldwin continues to impersonate Trump on "Saturday Night Live," leading the president to tweet that "the Baldwin impersonation just can't get any worse." Baldwin responded by tweeting, "Release your tax returns, and I'll stop. Ha."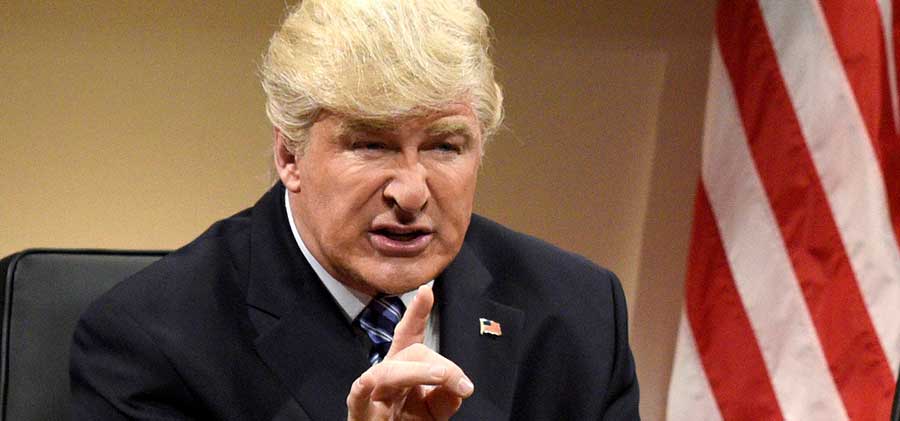 43
Trump paid $38M in taxes on $150M in income in 2005, according to a leaked page of his tax returns obtained by MSNBC host Rachel Maddow in March.
44
Trump has not released his tax returns breaking with decades of tradition.
45
House Republican leaders abruptly pulled their healthcare bill — aimed at replacing and repealing President Barack Obama's Affordable Care Act — from the House floor in March because they did not have the votes.
46
Justice Neil Gorsuch was confirmed, filling the ninth Supreme Court seat with a conservative.
47
Gorsuch was confirmed with just 54 votes after Majority Leader Mitch McConnell triggered the "nuclear option," changing long-standing Senate rules.
48
Trump's childhood home in Jamaica Estates, Queens, was sold for $2.14M, about half-a-million more than the original listing price.
49
He has traveled to 10 states, none west of the Mississippi River.
50
Trump has made 0 trips abroad.
51
Trump has met with a total of eight foreign leaders.
52
He did not ignore German Chancellor Angela Merkel's handshake attempt. In fact, he said he shook her hand four times and Trump told The AP they have great chemistry.
53
Trump has revoked nine of President Barack Obama's executive orders.
54
He also rescinded Obama-era climate change regulations, including the Clean Power Plan; a ban on coal leasing on federal lands; and rules to curb methane emissions from oil and gas production.
55
Trump has switched approaches on several foreign policies.
56
The United States launched 59 cruise missiles on the troops of Syrian President Bashar Assad, who the United States blamed for a chemical weapons attack on civilians. This was contrary to Trump's tweets in years past that the United States shouldn't intervene in the Syrian civil war — but generally well received from politicians at home and abroad.
57
Trump said he was moved by images of the dead in the chemical attack on civilians, including "beautiful little babies."
58
In a second show of force, Trump later ordered an aircraft carrier and several other warships toward the Korean Peninsula after North Korea tested another intermediate-range missile.
59
The number of migrants caught trying to enter the country illegally across the Mexican border hit a 17-year low in March, the head of the Department of Homeland Security said.
60
Trump alarmed U.S. allies during the election campaign by calling NATO "obsolete." In mid-April he lavished praise on NATO and said it is not obsolete.
61
Trump's trademark talk is not like anything the United States has come to expect from its presidents, according to linguists who analyzed an AP interview transcript. With Trump, the mold of focus-group-tested, carefully selected words has been broken.
62
His base of supporters is sticking with him.
63
But he continues to stump the pollsters.
64
A Washington Post/ABC News poll showed 96 percent of voters who backed Trump said they would do it again. The same poll placed Trump's overall job approval rating at 42 percent, the lowest recorded near the 100-day mark of any presidency since Dwight Eisenhower's.
65
He fires off tweets at odd hours of the morning and night, sending Washington into a stir with just a few words.
66
Among his most popular tweets is this one about the Women's March on Jan 22. It had about 480,000 likes and retweets combined:
Peaceful protests are a hallmark of our democracy. Even if I don't always agree, I recognize the rights of people to express their views.

— Donald J. Trump (@realDonaldTrump) January 22, 2017
See more of Trump's noteworthy tweets as president here.
67
MS-13, the gang that has been linked to the recent deaths of at least 11 people on Long Island, is on Trump's radar, according to his Twitter feed.
The Democrats don't want money from budget going to border wall despite the fact that it will stop drugs and very bad MS 13 gang members.

— Donald J. Trump (@realDonaldTrump) April 23, 2017
The weak illegal immigration policies of the Obama Admin. allowed bad MS 13 gangs to form in cities across U.S. We are removing them fast!

— Donald J. Trump (@realDonaldTrump) April 18, 2017
68
U.S. Attorney General Jeff Sessions discussed Long Island's gang violence problem in Central Islip on April 28.
69
Intelligence agencies have concluded that Russian hackers had meddled in last year's election on President Trump's behalf, according to reports, though the extent still isn't clear.
70
The House congressional intelligence committee is expected to begin hearings on Russian meddling on May 2 — just after Trump's 100-day mark.
71
The actions and words of at least nine people connected to Trump with reported ties to Russia could play a role in the hearings.
72
Trump ordered a review to identify national monuments that can be rescinded or resized as part of a push to open up more federal lands to drilling, mining and other development. Legal challenges are expected.
73
At 70, Trump was the oldest man sworn into the presidency.
74
He's stopped watching what he perceives as his negative coverage on CNN and MSNBC, he said. "I don't watch things, and I never thought I had that ability," he said. "I always thought I'd watch."
75
Trump called the news media "the enemy of the American people," and labeled The New York Times, CNN and NBC as fake news.
The FAKE NEWS media (failing @nytimes, @NBCNews, @ABC, @CBS, @CNN) is not my enemy, it is the enemy of the American People!

— Donald J. Trump (@realDonaldTrump) February 17, 2017
76
He lamented the end of "The Apprentice."
Arnold Schwarzenegger isn't voluntarily leaving the Apprentice, he was fired by his bad (pathetic) ratings, not by me. Sad end to great show

— Donald J. Trump (@realDonaldTrump) March 4, 2017
77
After trailing Jimmy Fallon's "Tonight Show" in the ratings for years, Stephen Colbert's "Late Show" has taken over the top spot, which many (including Colbert himself) attribute to the show's Trump satire.
78
Trump declined the Washington Nationals invitation to throw out the first pitch on Opening Day, citing a scheduling conflict.
79
The United States dropped the "mother of all bombs" on ISIS tunnels in Afghanistan in April. It is the military's most powerful non-nuclear bomb.
80
U.S. Defense Secretary Jim Mattis said he does not intend to discuss damage estimates from the bomb.
81
In April, Trump sought funds to build a border wall from a stopgap spending package Congress debated, and he tweeted that U.S. taxpayers will be reimbursed "eventually … in some form."
82
Mexican President Enrique Pena Nieto said as early in Trump's presidency as Jan. 25 that Mexico would not pay for the wall under any circumstances.
83
About 21,000 visitors attended Trump's first Easter Egg Roll, a major White House social event.
84
Press secretary Sean Spicer did not dress up like the Easter Bunny, which he did back when he was an aide in the George W. Bush administration.
85
Trump welcomed the Super Bowl champion New England Patriots to the White House. He is longtime friends with Patriots owner Robert Kraft.
86
He signed legislation that lets states deny federal family planning money to Planned Parenthood and other abortion providers, erasing a rule finalized shortly before Obama left office.
87
All 100 senators were invited by the administration to a classified briefing on the threat posed by North Korea. A briefing with all of the senators is extremely rare.
88
Trump himself does not consider the 100-day mark significant "It's an artificial barrier. It's not very meaningful," he said.
89
He hasn't had a major legislative victory in his first 100 days.
90
A federal judge blocked his order to withhold federal funding from so-called sanctuary cities, which offer safe harbor to undocumented immigrants.
91
House Republicans continue to try to hash out a compromise on health care.
92
On Day 97, Trump unveiled his tax reform plan, which would cut rates and eliminate deductions used by the rich. It was unveiled without details and in advance of what will be a drawn-out battle in Congress.
93
The investigations into ousted national security adviser Michael Flynn intensified as the Pentagon's watchdog joined lawmakers in scrutinizing the legality of payments he accepted from foreign sources including a Russian state-sponsored television network.
94
The Trump administration slapped a 20 percent tariff on softwood lumber entering the United States from Canada. In response, Prime Minister Justin Trudeau warned the two countries could suffer a "thickening" border.
95
The White House leaked the possibility that the Trump administration would simply abandon the North American Free Trade Agreement rather than start to renegotiate it. The Mexican peso fell against the U.S. dollar. American farm groups, which credit NAFTA with lifting U.S. agricultural exports to Mexico, howled.
96
Hours later, Trump called it all off. He said he would seek to revamp the trade pact with Canada and Mexico.
97
On the 100th day of his presidency, Trump plans to skip the annual White House Correspondents' Dinner and hold a rally in Pennsylvania instead.
98
He will also mark his 100th day in office with the government operating under a short-term spending bill.
99
More than 900 Newsday readers have graded Trump. He's averaging a D. See all the responses here.
100
He has tweeted 957* times (and counting, of course).
*as of April 27
Photos: AP
Sources: Newsday reporting; AP; The New York Times; AFP; Center for American Politics; RealClearPolitics; The Nielsen Co.; Forbes; The Washington Post