A look back at Grumman contamination on Long Island

The Navy and Grumman set up manufacturing, research and testing facilities on a more than 600-acre plot in Bethpage beginning in the late 1930s.
The facility turned out Hellcat, Tigercat, Albatross and other planes that helped turn the tide during World War II and the Korean War. It was also home to the Apollo moon lander.
But that legacy came with contaminated soils and groundwater. Wells on Grumman property were tainted by the late 1940s, volatile organic chemicals had been found in water by the 1970s, and in 1983 the state added the site to its hazardous waste Superfund list. Several cleanup plans are in place, primarily focused on volatile organic chemicals.
Here's a look at the history of the site.
1930s
Grumman Aircraft Engineering Corporation moves to Bethpage in 1937. Over time the Navy and Grumman set up manufacturing, research and testing facilities on a more than 600-acre plot in Bethpage.
1940s
In the early 1940s, Grumman gets contracts for Hellcat and Tigercat planes after the U.S. enters World War II.
But a few years later, by the late 1940s, wells on Grumman property were tainted. Chromium contamination was discovered in groundwater south of Grumman site in 1949.
1970s
Concerns about contamination continue, as several Grumman wells test positive for volatile organic chemicals. In the late 1970s, Grumman is hooked up to Bethpage Water district water because of contamination issues.
1980s
In 1983, the Naval Weapons Industrial Reserve Plant and Grumman sites are added to the state's hazardous waste Superfund list.
Three years later, the Nassau County Department of Health and U.S. Geological Survey study reveals that a shallow plume of contamination is sinking and moving south and southeast. The plume is traced back to the Grumman plant, Naval Weapons Industrial Reserve plant and Hooker Chemical/Ruco Polymer site.
1990s
In 1994, Northrop purchases Grumman and the company becomes Northrop-Grumman. Manufacturing at the site ends in 1996.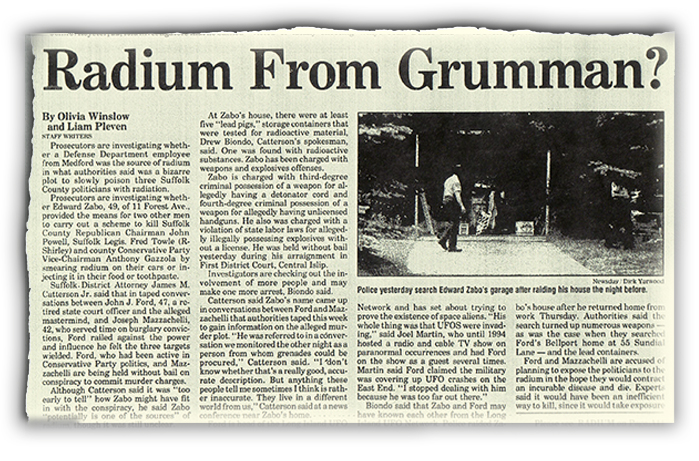 Also in 1996, A federal government employee working at one of Grumman's buildings in Bethpage was implicated in an unsuccessful plot to poison local officials with radium.
The employee was found to have given radium to a UFO conspiracy-theorist who wanted to use it on Suffolk County officials and take over the local Republican Party.
2000s
In 2001, the State Department of Environmental Conservation develops cleanup plan for the shallow plume.
In 2009, a more contaminated and deeper plume is found coming from Bethpage Community Park. The New York State Department of Health also starts investigating cancer cases in a Bethpage residential neighborhood with groundwater contaminated from decades of chemical pollution from the Grumman and Navy sites.
2012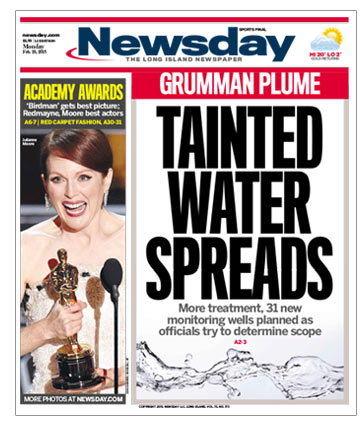 In 2012, the State DEC releases a proposed cleanup plan for the park plume.
The following year, radium surfaces as a possible issue when the Bethpage Water District shuts down a drinking water well off Sophia Street, where it detected elevated levels of the element.
2016
In 2016, the DEC orders Northrop Grumman to report on radiological use.
That same year Hempstead Town sues the Navy, Northrop Grumman, operators of a former dry cleaner and others in federal court for a minimum of $50 million over groundwater contamination that forced the closure of water wells in Levittown.
ICYMI: @HempsteadTown sues Navy, @northropgrumman, others over groundwater contamination in #Levittown pic.twitter.com/7HHxRvk3Yr

— Emily C. Dooley (@eDooleyNoted) July 7, 2016
2017
In 2017, elevated levels of radium are found in groundwater samples from shallow monitoring wells on the Bethpage High School campus and later at Central Boulevard Elementary School in Bethpage. Officials stress they don't believe students or faculty are at risk.
Newsday later reports that Grumman through the years handled radium, tritium, polonium, uranium and other radioactive isotopes, according to a document filed with the state DEC.

State DEC officials, who have previously said there was no evidence of radioactive materials used at the site, say they are now seeking more information from Northrop Grumman.
ICYMI Document: Radioactive materials handled at Grumman, @NYSDEC commish says he doesn't believe @northropgrumman https://t.co/mBPMPSAiPw pic.twitter.com/Du2g8rdkJr

— Emily C. Dooley (@eDooleyNoted) June 23, 2017
In December, Newsday reports the U.S. Navy has agreed to pay $6.78 million for upgrades to a Bethpage Water District treatment plant that the Navy Secretary had previously visited as part of a trip to examine local water-contamination issues.
Toward the end of 2017, Gov. Andrew M. Cuomo says the state is prepared to spend $150 million to build a system of wells and treatment facilities to clean up the large groundwater plume in Bethpage and to stop it from traveling farther south, which could threaten additional drinking water supplies.
2018
A clean-water group, Long Island Pure Water Ltd., files a lawsuit against Gov. Andrew M. Cuomo, his state Department of Environmental Conservation, the U.S. Navy and the United States saying that authorities have failed to properly investigate radioactive contamination in Bethpage. The group asks a judge to order an investigation of radiological materials detected in the area.