In the days leading up to Oct. 29, 2012, Long Islanders were warned of "a once-in-a-lifetime storm" hurtling toward the Northeast.
It was called "Frankenstorm" for both its timing right before Halloween and the mash up of weather elements expected to worsen its impact. People were urged to prepare for punishing rain and high winds as well as flooding made worse by the full moon.
Sandy made landfall in New Jersey around 8 p.m. on Monday, Oct. 29. That morning, Long Islanders awoke to states of emergency already declared in most Long Island towns, 100 people already in Red Cross shelters, and 400 members of the National Guard activated. Here is how the storm's effects unfolded over the next 30 hours.
Monday, Oct. 29 – 8 a.m.
Flooding underway
Nearly the entire beach at Robert Moses State Park is flooded as Sandy inches closer.
Waves on the Long Island Sound are cresting at 10 feet in Bayville ahead of the 11:30 a.m. high tide.
Across Long Island, trees are down from high winds overnight.
In Freeport, water is "spilling over the bulkheads" of local canals even before high tide at 8:41 a.m., said Richard Holdener, Freeport's director of emergency management.
Freeport, NY already has major coastal flooding with this morning's high tide. Expected to become worse. #Sandy pic.twitter.com/b9Uc9rwT

— Michael J Reilly (@DrMichaelReilly) October 29, 2012
9 a.m.
Roads closed
Flooding closes the Merrick Road entrance ramps in both directions to the Seaford Oyster Bay Expressway, Route 135, Nassau County police said.
Water from the Port Jefferson Harbor creeps its way up the village's Main Street and local roads are closed.
9:15 a.m.
Flooded streets on both shores
Extensive flooding is reported in communities throughout the south shore.
In Northport, people and cars move through rising waters on streets.
9:45 a.m.
'Worse than we thought'
The National Weather Service outlook presents an increasingly bleak look for the area. Suffolk County Executive Steve Bellone quotes the services as telling officials, "this is worse than we thought," as he tours Smith Point Beach.
Bellone at Smith Point, says NWS "telling us this is worse than we thought." #Sandy #Newsday pic.twitter.com/uvLCVJ6t

— Paul LaRocco (@paullarocco) October 29, 2012
10 a.m.
North Shore sees downed trees, flooding starts
In Wading River and Port Jefferson, flooding begins in earnest with water rising quickly. In Miller Place, a local businesses large metal sign topples and large tree branches block back roads in nearby Mount Sinai.
Significant coastal flooding has occurred on the south shore of LI, the Batttery #NYC and is beginning to occur on north shore of LI. #nywx

— NWS New York NY (@NWSNewYorkNY) October 29, 2012
Roads closed, warnings
Officials remind residents to stay away from potentially dangerous areas.
Flooding at Ocean Beach. Stay away from marinas and beaches! #islipsandywatch pic.twitter.com/qDRh73Ig

— Town of Islip (@TownofIslip) October 29, 2012
Road's CLOSED/FLOODING: Wantagh State Parkway & Meadowbrook State Parkway S/B at Merrick Road and Robert Moses Causeway http://t.co/uCzeocJM

— Suffolk County FRES (@SuffolkCoFRES) October 29, 2012
12:30 p.m.
Storm-related fire destroys Freeport home
A house fire on Branch Avenue in Freeport destroys a single-family home. Flooded streets in the area hindered the rescue crew, though officials said no injuries were reported.
Freeport,NY- As if flooding isn't bad enough…how about a house fire in the middle of a flooded out area. #sandy pic.twitter.com/pCC6UTVI

— Stringer News (@Stringernews) October 29, 2012
Storm's effects seen in Northport
Residents still in the streets gawk at rising water.
2 p.m.
Nassau cops rescue woman from home in Massapequa
Police using an Army Humvee rescue an 82-year-old woman from her house on Cedar Lane.
"These guys drove up on her lawn and I went in with a neighbor and helped her out," said Officer Vincent Bellissimo from the back of the Humvee, after he and the soldiers driving the vehicle came back to check on the house.
2:40 p.m.
High winds seen in Lindenhurst
3 p.m.
The worst of the storm reaches the Island
The brunt of the storm begins to batter Long Island, with heavy rain and recorded wind gusts of 76 mph at Plum Island.
Hempstead official: 'Absolutely unsafe' to go to town marinas
Highway workers report 79 downed trees in Hempstead through 3 p.m., according to Hempstead Town spokesman Mike Deery.
It's "absolutely unsafe" to go to town marinas, Deery said.
About 120 people still on Fire Island
In the center of Ocean Beach, water rises to thigh high. Suffolk County officials make one last attempt to evacuate Fire Island residents. Five people are rescued, but nine could not be reached. Police abandon an SUV in the process. "The water picked the car up and turned the vehicle over," County Fire Rescue and Emergency Services Commissioner Joe Williams said.
In all, 120 residents ignore the evacuation order and ride out the storm.
Residents of Fire Island were ordered to evacuate #islipsandywatch pic.twitter.com/UGAD19s3

— Town of Islip (@TownofIslip) October 29, 2012
4 p.m.
Cuomo activates 1,000 additional National Guard troops
Gov. Cuomo speaking at Farmingdale Armed Forces Readiness Center on Long Island during #Sandy briefing pic.twitter.com/8Zk26kZf

— Andrew Cuomo (@NYGovCuomo) October 29, 2012
"The worst is still coming," Gov. Andrew Cuomo says at a news briefing. "Don't be fooled. Don't look out the window and say, 'Well, you know, it doesn't look so bad.' "
One thousand additional National Guard troops are activated to bolster the 1,000 called up earlier, and the bulk of the additional call-up will be deployed to Nassau County, where the village of Bayville and the City of Long Beach are already hit hard, he said.
5 p.m.
Rescuers in Riverhead
Riverhead, NY- Rescuers using motorboats to navigate downtown Riverhead looking for residents. pic.twitter.com/jcUb89sa

— Stringer News (@Stringernews) October 29, 2012
Low-lying areas inundated
Before darkness falls the North and South shores and low-lying areas are inundated and in some cases — such as Bayville — cut off completely from the mainland.
Fires break out in Island Park, Freeport, Lindenhurst and Babylon, with firefighters hindered by flooded streets.
6 p.m.
Destruction in Long Beach
The Long Beach boardwalk wall is breached in places, with water flowing in streets.
City Manager Jack Schnirman says "it's too late to leave" and orders police to move spectators indoors.
Streets now flooded in Long Beach, # Sandy surge. pic.twitter.com/ZzBFOR6V

— Michael H (@mphnyc) October 29, 2012
Lifeguard Headquarters has floated into the boardwalk

— Long Beach, New York (@LongBeach11561) October 29, 2012
Downed trees a problem
"We've seen tons of downed trees," Suffolk County Executive Steve Bellone said, "and the scary part is that we haven't really had the major part of the storm hitting yet."
In the days prior, officials had cautioned that with many leaves still on the trees, branches were more susceptible to being ripped off and whole trees toppled.
7 p.m.
Sandy no longer a hurricane
Per NHC: #Sandy is now POST-Tropical and is expected to make landfall very soon. ALL WARNINGS ARE STILL IN EFFECT. High tide is yet to come.

— NWS New York NY (@NWSNewYorkNY) October 29, 2012
The National Hurricane Center announces that Sandy is no longer considered a hurricane but a "post-tropical storm."
The change in classification is made because of the storm's shape and its mix of cold and warm temperatures. Its winds also weakened slightly from 90 mph to 85 mph.
A wind gust of 82 mph was recently reported at Islip, New York. #Sandy

— NWS (@NWS) October 29, 2012
7:30 p.m.
Two killed during storm
John Miller, 39, of Lloyd Harbor, is preparing to drive his wife and two daughters, ages 3 and 5, to a neighbor's house two blocks away when is was killed by a falling tree at about 7:25 p.m., Suffolk police said.
Around the same time, Safar Shafinoori, 84, goes outside to move his vehicle and is killed by a falling tree on Engineers Road in Roslyn, Nassau police said.
Waves batter the shore in Glen Cove
8 p.m.
Sandy makes landfall in New Jersey
The storm makes landfall in Atlantic City, New Jersey, which brings high winds, including a wind gust recorded at 90 mph.
Roadways closed
All state parkways on Long Island are closed due to Hurricane Sandy until further notice, according to state police. The Metropolitan Transpiration Authority closed all of its bridges and tunnels shortly before 9 p.m.
Streets flooding in #Freeport – just past high tide on Guy Lombardo Ave. Hoping to go live soon #Sandy @News12LI pic.twitter.com/uLCocfbF

— Andrea Grymes (@AndreaGrymesTV) October 30, 2012
9 p.m.
No-drink order issued
The Nassau Health Department declares a no-drink order for water from the Long Beach and Mills Neck Estates water districts, officials said.
Additionally, County Executive Ed Mangano said there is "significant" flooding at Long Beach Hospital, which had already been evacuated.
At this time, water from your faucet is not safe to drink or use for cooking unless boiled.

— Long Beach, New York (@LongBeach11561) October 30, 2012
10 p.m.
Guardsmen called to fight house fires
National Guard troops are called to fight multiple working fires that break out in Lindenhurst and the surrounding areas, Suffolk County Executive Steve Bellone said.
House in Massapequa NY on the canal #fox5 #SANDYONFOX pic.twitter.com/sZEdvoO3

— $wankMasterFlex (@ILO2391) October 30, 2012
@NassauCountyOEM flames shooting out of a house south of merrick road in massapequa by Florance ave beach between division and forest! Help

— D-Tor (@DTor21) October 30, 2012
10:30 p.m.
Major roadways closed
Newsday is reporting all ways off of Long Island are closed off. The time to leave is over, guys #longisland #sandy

— Topher👻But Spoopier (@TopherXPwns) October 30, 2012
Oh geez. Update on Long Island roads. EVERY road closed in Nassau. Suffolk- all the Parkways closed and the LIE is closed end to end. #Sandy

— Nikki Hesse (@NikkiOnAir) October 30, 2012
More than 640,000 customers are without power, but conditions remain too dangerous for Long Island Power Authority to send out crew.
In Freeport, a storm tide of more than 10 feet is recorded. In Kings Point, it's over 14 feet.
11 p.m.
A fire breaks out in Breezy Point, Queens. Its flames are fed by the storm's winds and firefighters are helpless to get through the flooded streets. Entire blocks of homes and businesses are engulfed.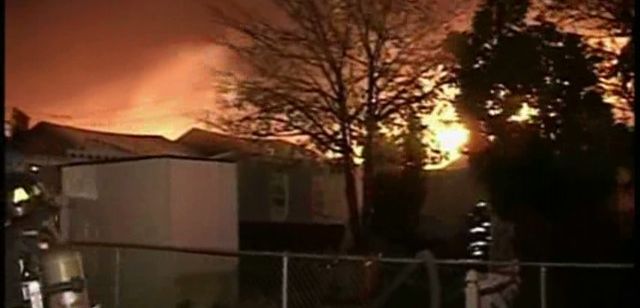 Tuesday, Oct. 30 – 1:30 a.m.
Woman killed in Port Jefferson Station
Vishwaha Muppa, 21, of Edison, New Jersey, is killed in a car accident at the intersection of Route 347 and Route 112 where Sandy had knocked out traffic and streetlights. A Suffolk police car struck the vehicle in which Muppa was a passenger, police said.
Rescues continue through the night
Firefighters make more than 100 rescues overnight in Lindenhurst, according to village officials.
First responders rescue residents stranded by floodwaters until 4 a.m. in Babylon Town. Babylon public works use bucket trucks to save some residents and payloaders to push water into house fires, Babylon Town spokesman Tim Ruggeri said.
8 a.m.
Crews clearing trees in Hempstead
Hundreds of fallen trees are blocking roadways in Hempstead town, spokesman Mike Deery said in a statement.
"Priority is being given to trees on primary roadways so emergency vehicles have access throughout the town," the statement said.
#Sandy #LI 8AM – over 900,000 customers w/o power. Damage assessment is ongoing. Call 800-490-0075 to report downed wires via @LIPAnews

— New York VOST (@NYVOST) October 30, 2012
8:30 a.m.
Long Beach devastated, rescues continue
Residents rise to find the wooden planking across the entrances to the beach have washed away, allowing water to rush under the boardwalk and into city streets.
Up to six inches of sand cover areas of parking lots and streets, slabs of asphalt are uprooted and glass in the lobbies of some buildings are smashed.
"I've never seen anything like this. I've lived here all my life," Robert Hitchens, 63, said as he surveyed the damage outside his condo building on West Broadway.
Long Beach makes plans to evacuate remaining residents later today, city spokesman Gordon Tepper said in a statement.
Chopper 12 over Long Beach. #Sandy pic.twitter.com/gl45TfQq

— News12LI (@News12LI) October 30, 2012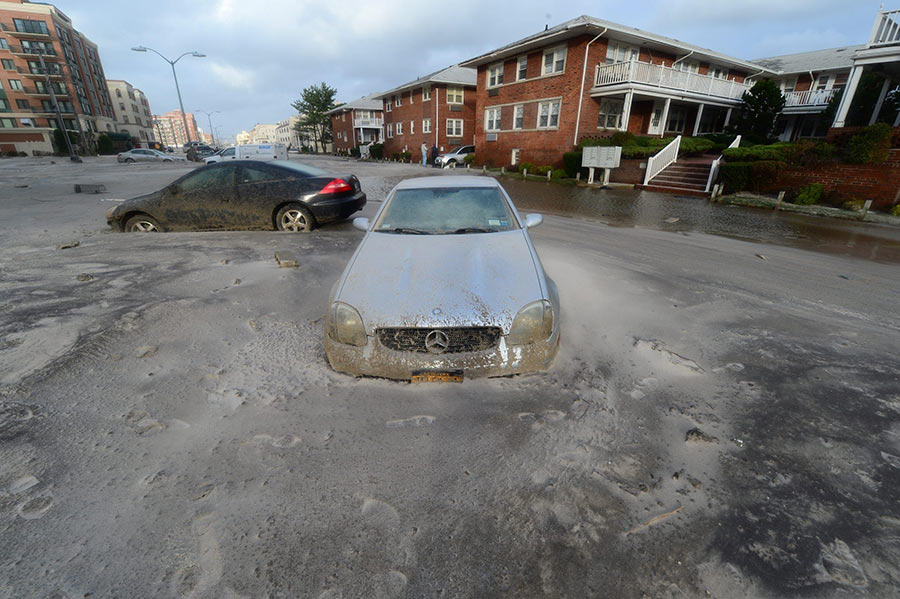 In Lindenhurst, rescues continue. The 106th Rescue Wing of the Air National Guard rescues about 200 people.
10 a.m.
Homes destroyed in Fire Island
At least four houses in Atlantique are destroyed and at least one in Ocean Beach has washed away completely.
Confirmed: 5 homes washed away in Atlantique 2 homes in Ocean Beach and unconfirmed 7 homes washed away in Davis Park. pic.twitter.com/1RlwKCdr

— fireisland (@fireisland) October 30, 2012
Some residents start to assess damage
In areas not as hard hit, like Riverhead, some people start to emerge to assess the damage and begin to clean up.
In Montauk, residents wake up to houses hanging precariously over the beach.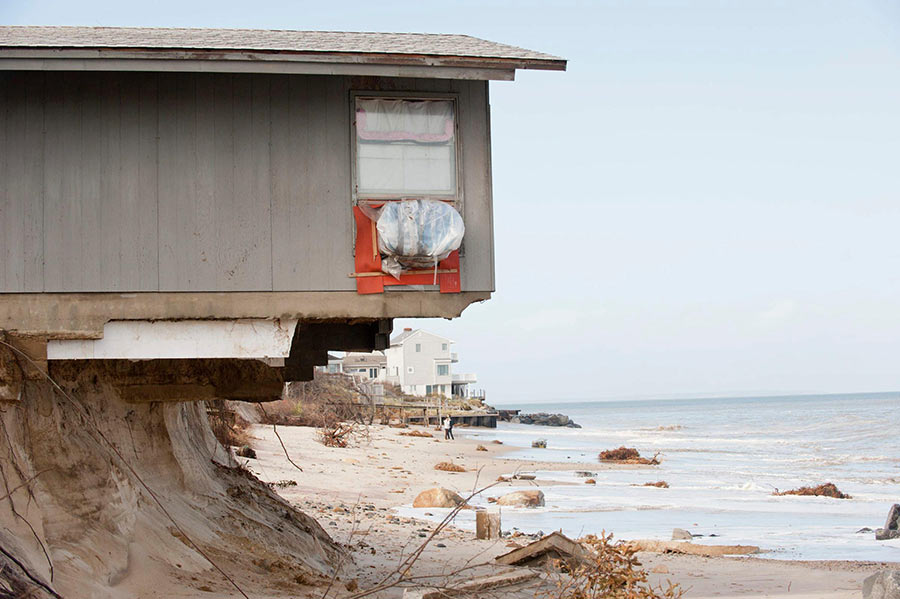 11 a.m.
Rescues continue in Patchogue, waterfront communities devastated
In places like Patchogue and Island Park, roads look like rivers and boats are pushed onto land.
#Patchogue FD Scott Parris rescues two sisters and their dog Abby from flooded Bayview Ave home #Newsday #Sandy pic.twitter.com/07rWTOjt

— Sophia Chang (@bysophiachang) October 30, 2012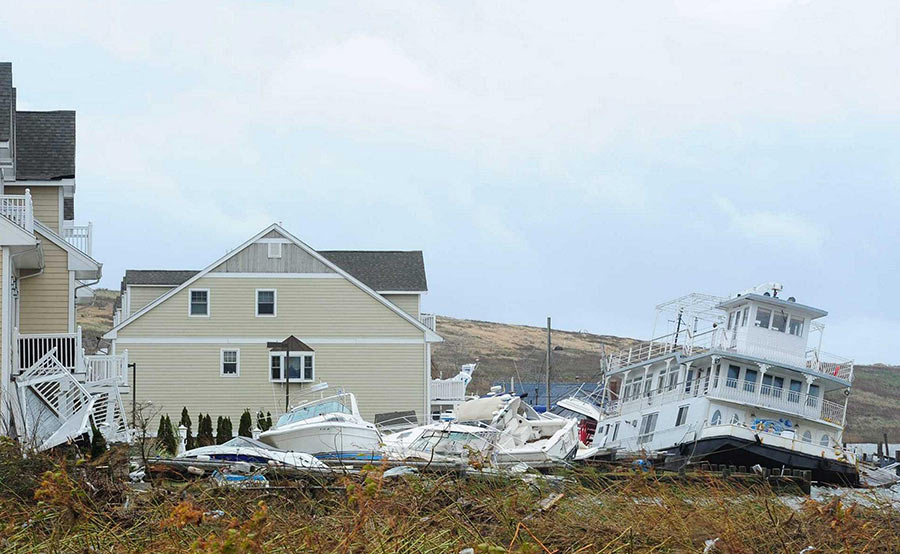 1 p.m.
National Guard sending choppers to Long Island
The National Guard is deploying helicopters to Long Island — both for rescue missions and so public officials can get an aerial view of the damage, said Eric Durr, spokesman for the state's Division of Military and Naval Affairs.
That's in addition to the 275 National Guard vehicles already transporting police officers and emergency responders around the Island.
After Hurricane #Sandy, just took this pic few mins ago, lots of damage & losses. NYC pic.twitter.com/00Vc2xpE

— Sage (@AlfredAzer) October 30, 2012
Unbelievable storm news coverage of the
different LI towns on News 12 .
Here is town of Mastic Beach . . pic.twitter.com/ql8WM2CO

— Ronnie Pinkowitz (@ronchick1) October 30, 2012
In Lindenhurst, National Guard Humvee teams drive through streets filled with nearly 8 feet of water. Cars are underwater.
The ruins of 100 homes still smolder in Breezy Point, and NYPD flatbed trucks cut through floodwaters carry residents away.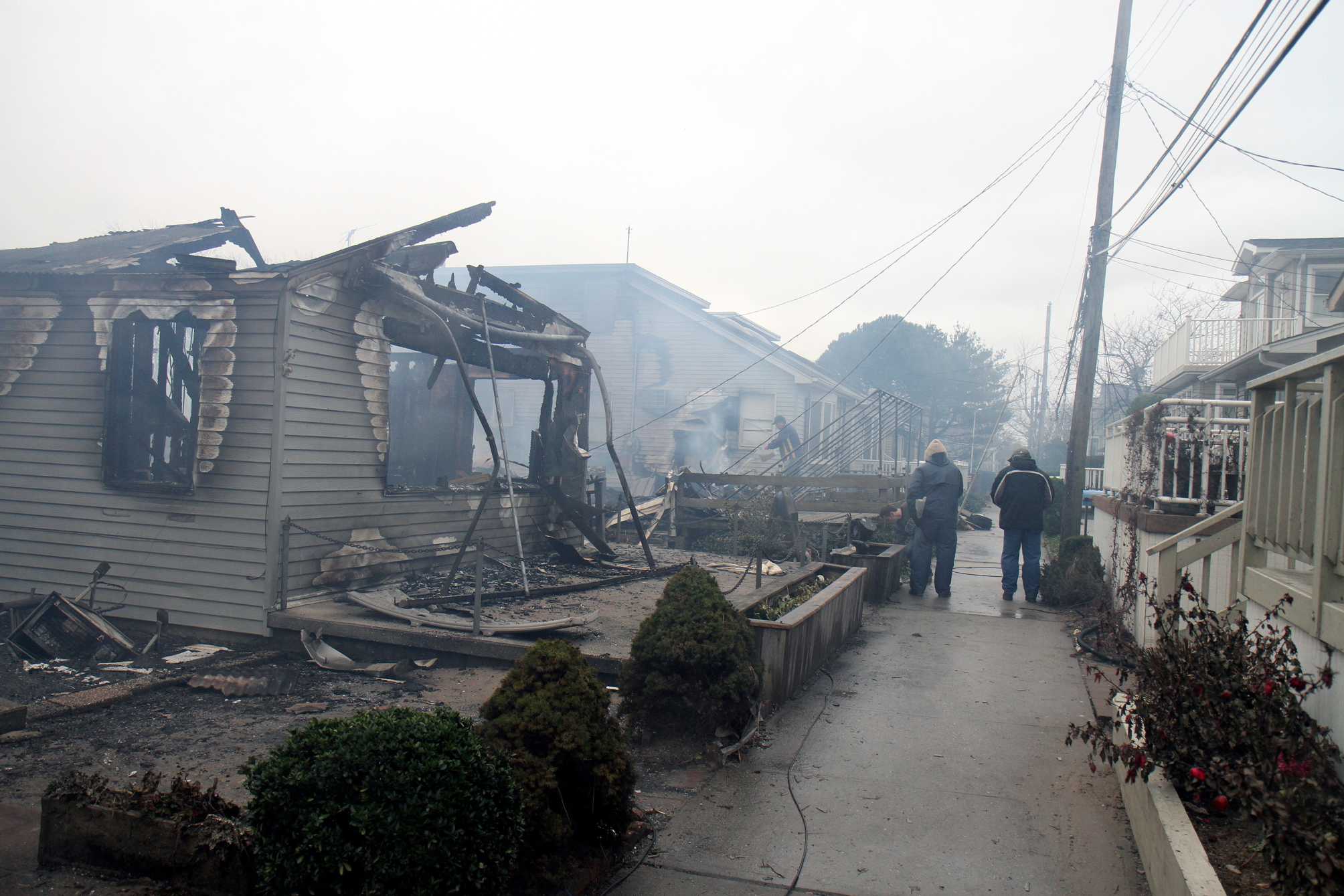 954,000 without power
By the storm's end, about 945,000 of LIPA's 1.1 million customers are without power, surpassing the previous record of 750,000 during Hurricane Gloria in 1985.
2 p.m.
The worst of the storm has passed Long Island and residents in the hardest-hit areas assess the devastation and deal with the storm's lingering affects.
In Massapequa, a home explodes.
Massapequa home morning after explosion during #Sandy. No injuries. #Newsday #OysterBay pic.twitter.com/Ku3XCAAt

— Jennifer Barrios (@barrioscq) October 30, 2012
This is my block in Long Beach, NY after #Sandy. pic.twitter.com/F1Lu8Y3J

— DosageApp (@DosageApp) November 2, 2012
Sandy continues to move over the northeast throughout the day, not losing its punch until long after nightfall. By 11 p.m., Sandy was 50 miles northeast of Pittsburgh, tracking toward Canada and with sustained winds down to 40 mph.