Given up for dead nearly two decades ago, the village on Brookhaven Town's South Shore has reinvented itself as a trendy destination featuring sleek apartments, artists' lofts, boutique shops and pulsating music clubs.
Patchogue's stunning renaissance has made it the model for suburban renewal on Long Island, as communities from Mineola to Ronkonkoma to Riverhead launch their own revitalization efforts.
The village attracts old and young alike. Retirees looking to downsize have moved into new condominiums, while millennials have left the comforts of their childhood bedrooms for apartments close to Patchogue's iconic "Four Corners" intersection. Patchogue's streets vibrate with music coming from clubs such as 89 North and Stereo Garden.
Diners go pub-hopping at more than a dozen eateries that line East Main Street. And downtown Patchogue is welcoming its latest attraction: the relocated headquarters of the Blue Point Brewing Co., which is moving from its longtime home on River Avenue.
Join us for a tour of Patchogue, old and new, as we dig through the village's pictorial archives – and get a glimpse of its present and future.
New Village rising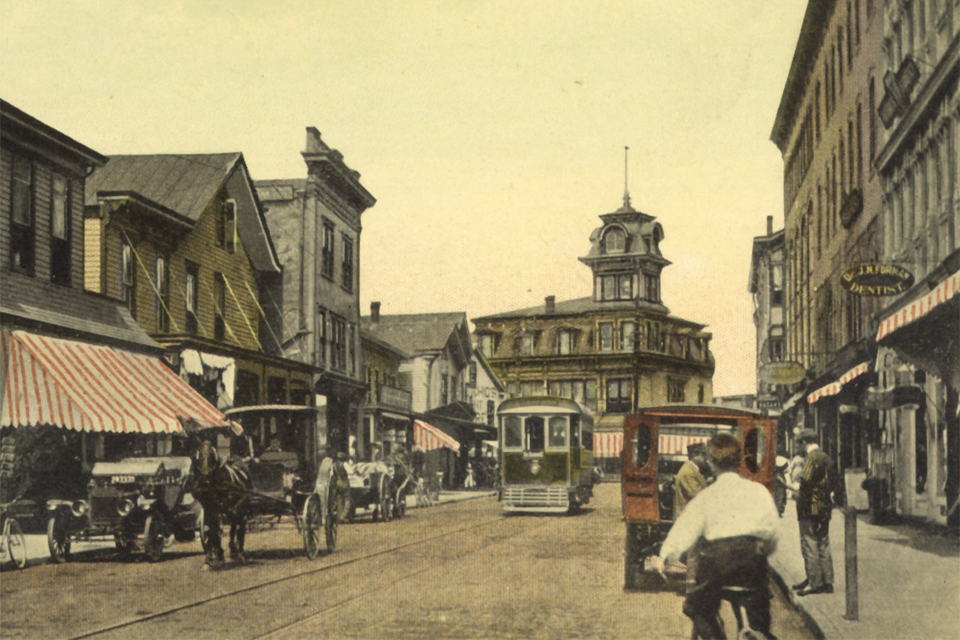 The $100 million New Village project, which includes 291 apartments, 17,000 square feet of office space and 46,000 square feet of stores on Main Street, features a five-story tower — a replica of the Swezey's Department Store spire that once rose from the same Four Corners spot before it was destroyed by a fire in 1946. This is a view looking north on South Ocean Avenue toward Main Street.
Photo credit: Undated historical image / Randee Daddona (June 11, 2018)
Patchogue Theatre for the Performing Arts
The Patchogue Theatre for the Performing Arts has played a major role in the revitalization of downtown Patchogue. The village-owned theater opened in 1998 following a $3.35 million renovation of the old Patchogue Theater, which closed a decade earlier. The renovation brought the back the splendor of the site's first theater, which opened in 1923 and hosted first-run movies and vaudeville shows. The current theater attracts about 150,000 a year to live shows and concerts and feeds business to local shops and restaurants, officials say.
Photo credit: Thomas R. Koeniges/John Paraskevas (June 1, 1989 and Feb. 17, 2014)
Havens Avenue and Main Street
Part of the New Village project extends west of Havens Avenue, taking up lots once occupied by a delicatessen, a bowling alley and the Duffel Bag store.
Photo credit: George Argeroplos (Sept. 8, 1983)/Randee Daddona (June 11, 2018)
Lake Street
Part of the New Village project now sits on the site of the former Patchogue Library on Lake Street. The Carnegie Library building, a neoclassical structure built in 1908 with funds from steel magnate Andrew Carnegie, has been moved to the former parking lot of the Sixth District Court building on West Main Street.
Photo credit: David Pokress (Aug. 18, 1982)/Randee Daddona (June 11, 2018)
Sixth District Court and Carnegie Library
Boarded up buildings along West Main Street have been torn down and replaced with the Sixth District Court building. The Carnegie Library was moved to the court's parking lot from Lake Street to make room for the New Village project. The library, empty since 1998, has been restored and serves as a youth center, with tutoring, research and after-school programs.
Photo credit: Cliff De Bear/John Paraskevas (Feb. 17, 1981 and April 1, 2014)
Briarcliffe College
Patchogue's sprawling lace mill, shown in this vintage photograph, became a Swezey's department store before the retailer went out of business. It later became Briarcliffe College, which has closed. Blue Point Brewing Co. is rebuilding the site as its new headquarters, which will include a restaurant and tasting rooms.
Photo credit: Undated historical image / Randee Daddona (June 11, 2018)
William J. O'Neill's
The northeast corner of North Ocean Avenue and Main Street on Patchogue's famous Four Corners is shown in this vintage photograph from the early 1900s. The structure on the corner was eventually replaced with a newer building currently occupied by William J. O'Neill's Sales Exchange. The New Village project is on the northwest corner of the street.
Photo credit: Courtesy Phil Trypuc/John Paraskevas (Undated and Feb. 25, 2014)
Beehive / Burlington Coat Factory
Many buildings in downtown Patchogue have been revived or changed hands over the years, including East Main Street's iconic Beehive store, which is now a Burlington Coat Factory.
Photo credit: File photo / John Paraskevas (May 24, 1960 and Feb. 24, 2014)
Patchogue River
A view of the eastern shore of the Patchogue River near Argyle Lane. The "Dead End" sign seemed an apt description of Patchogue in 1981, when stores began to close and the village was defined by the charred remains of the old lace mill. Today the Patchogue waterfront is home to parks, restaurants and upscale apartment complexes.
Photo credit: Mike Dombroksi/John Paraskevas (Nov. 5, 1981 and April 8, 2014)