Long Island weather history gets a shock with new records

Long Island's weather history got a shot in the arm when 20 more years of daily data were recently added to the area's official records.
Weather data for Long Island MacArthur Airport now goes back nearly 54 years to September 1963.
This means that some previous records, such as for highest or lowest temperatures, have been displaced, as well as the reconfiguring of some the "top 10" lists for weather extremes.
Here's a look at some of the new dates that have cracked the Long Island weather charts.
New hottest day: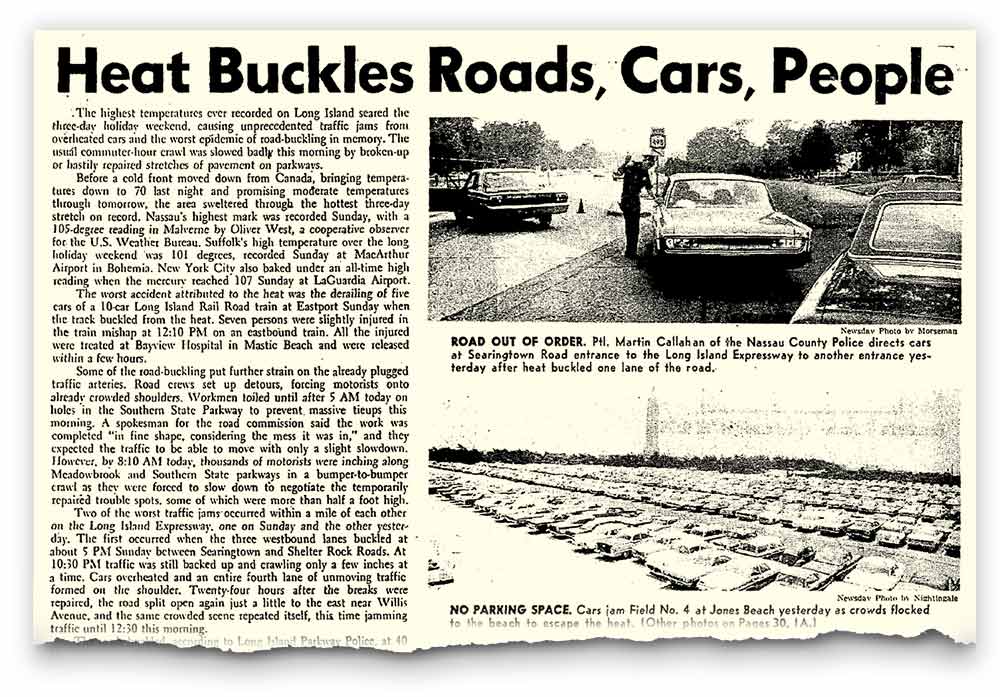 July 3, 1966: The temperature hit 104 degrees on this day, booting out July 5, 1999, previously considered Long Island's hottest day at 102 degrees.
The record-breaking temperatures caused five cars of a Long Island Rail Road train to derail at Eastport, when the track "buckled," according to a Newsday article.
That July 4 holiday weekend was part of Long Island's hottest 3-day stretch on record at the time, resulting in "unprecedented traffic jams from overheated cars and the worst case of road-buckling in memory," a July 5, 1966 Newsday article said.
New coldest day: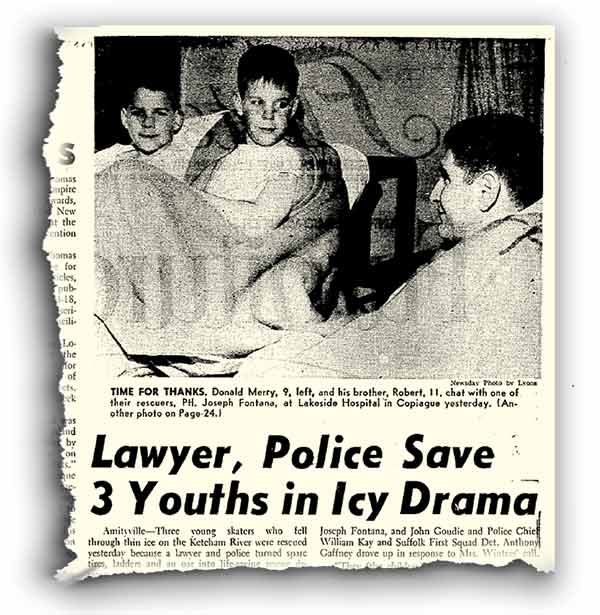 Feb. 13, 1967: Long Island experienced a frigid minus 14 degrees on this day. The new weather data also replaced the second-coldest day, which is now Jan. 18, 1965, when the temperature fell to minus 8 degrees. Before that, the record was minus 7 degrees on Jan. 22, 1984 and Jan. 15, 1988.
On this record-setting day, Newsday also reported on a heroic rescue. Three young skaters fell through thin ice on the Ketcham River and were rescued by a lawyer and police officers who turned spare tires, ladders and an oar into life-saving rescue devices, Newsday reported. The three children were transported to a nearby hospital.
Coldest month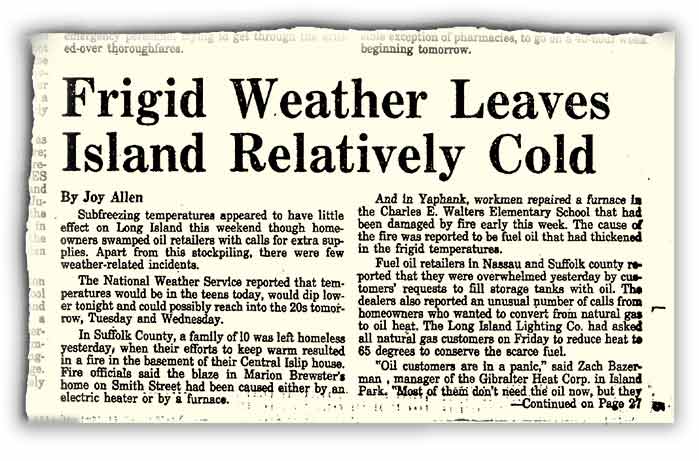 January 1977: This month saw an average monthly temperature of just 20.8 degrees, displacing the previous record of February 2015, which had an average temperature of 21.6 degrees.
The frigid temperatures at the start of 1977 overwhelmed heating-oil retailers with orders, according to Newsday articles that month. Oil dealers also reported an unusual number of calls from homeowners who wanted to convert to natural gas. And the Long Island Lighting Co. was advising natural gas customers to keep the heat at 65 to conserve the scarce fuel.
A warmer, wetter Long Island
While the added data from MacArthur breaks some daily records, overall it also falls in line with a trend toward warmer, wetter conditions in the region.
Despite a slew of new record-setting days and months, overall, there were still more records set for heat and rain in the past 25 years than the years prior to that.

Here are the top 10 dates for warmest and wettest months. Dates that were part of the newly added 1963-1983 data set are in bold:
WARMEST MONTHS
July 1999
July 2013
July 2010
July 2011
August 1980
August 2016
July 1994
August 2005
July 2016
July 1966
WETTEST MONTHS
August 2014
October 2005
August 1990
August 2011
June 2003
June 1998
January 1979
May 1989
June 1982
May 1984
A chilly history
However, MacArthur's revised top 10 list for the coldest temperatures skew toward the earlier years — the '60s through the early '80s. The list of snowiest months also includes a good representation from that time frame.

COLDEST MONTHS
January 1977
February 2015
February 1979
February 1978
January 1970
January 2004
January 1968
December 1989
January 1981
February 1968
SNOWIEST MONTHS
January 2011
February 2013
January 2015
February 1969
February 1978
January 1978
February 1983
December 2009
January 2014
January 2016
Read more about Long Island's weather history here.
Research: Newsday library, Northeast Regional Climate Center