MS-13 on Long Island: What we know about the gang
Where does the gang originate?
MS-13's home base is in El Salvador.
Experts say the violent culture of the gang comes out of the at-times lawlessness of the country, where police and the army and street gangs in poorer neighborhoods have waged fights for control with almost no holds barred.
When did they show up on Long Island and where have they spread?
For the most part, MS-13 gang members who come to the United States settle in areas where there are already Salvadoran communities — on Long Island in Brentwood, Central Islip, Huntington Station, Hempstead and Freeport.
The street gang has existed for decades, but the recent uptick in activity on Long Island has been linked by officials to the surge in immigrant teens who have come into the country as unaccompanied minors since 2015. Suffolk County ranks near the top in the nation for the number of children who cross the border illegally, according to recent statistics. The gang sees them as potential recruits.
Officials stressed that not all unaccompanied minors are gang members.
How many members are there on Long Island?
Authorities in Nassau County have identified close to 500 MS-13 members, 300 of whom are still active, police said.
Suffolk County currently has about 300 confirmed members of the gang, along with another 200 associates identified, police said.
How many have been charged with crimes?
The situation is fluid. In January, 17 MS-13 members were arraigned in Nassau County and charged in connection with crimes that ranged from murder and drug trafficking to conspiracy and weapons possession. Swept up in the 21-count indictment was Miguel Angel Corea Diaz, the man who Nassau County District Attorney Madeline Singas identified as the leader of East Coast operations for the gang.
Suffolk police have made 330 arrests of 220 individuals since the Brentwood murders of two teenage girls in September 2016, according to District Attorney Timothy Sini, the county's police commissioner until early January.
How has the gang evolved?
Experts believe the recent eruption of gang violence on Long Island is due to a new and more deadly profile of MS-13. At the heart of that profile are newcomers from Central America eager to make their mark within an immigrant gang already known for its code of brutality and violence and its weapon of choice, the machete.
These newcomers have found a niche in MS-13 on Long Island — replacing those who have been arrested — and are focused on proving themselves to be even more violent than established gang members.
Experts say MS-13 members commit violence for its own sake, in large part as a way to carve out and control the turf they consider theirs, purging it of rival gang members and others perceived as having disrespected MS-13.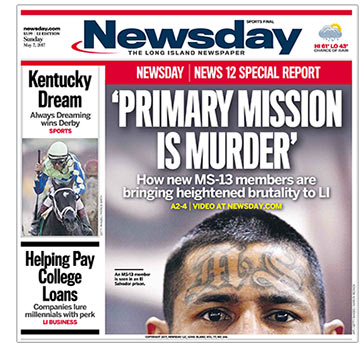 What is the profile of an MS-13 gang member?
Increasingly, new recruits to the gang are young.
The machete is their principal weapon, in part because of its savagery, but also because it is commonly available and used for agriculture in Central America, authorities say. It is cheaper to purchase both there and in the United States, where guns are harder to obtain and more expensive, several experts say.
How do they make money?
A member of MS-13 usually puts in an eight-hour day at a low-paying job, sources say — but then is required to go out at night and "put in work," or hunt down perceived enemies.
Recently arrested members of the gang have been employed as restaurant workers, car washers, landscapers, salad makers and sheet-metal platers, sources said.
But the gang cannot survive without money, Homeland Security Special Agent in Charge Angel M. Melendez said. The gang has a "sophisticated financial network that supports nefarious activities" through prostitution, extortion and collection of dues.
Who does MS-13 target?
The gang is thought to target perceived rivals in immigrant communities. They can either be those perceived to have disrespected the gang, rival gang members, witnesses to crimes and anyone believed to cooperate with law enforcement, Nassau District Attorney Madeline Singas has said.
Most of the victims on Long Island have been young Latinos and blacks, many of school age, authorities say.
Who have their victims been so far?
MS-13 is responsible for 25 fatalities since January 2016, according to Suffolk and Nassau police.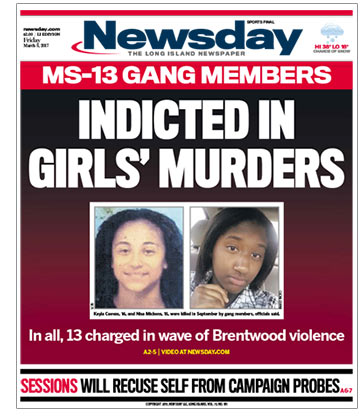 The brutal beating deaths of two teenage girls in Brentwood in September 2016 shone a light on the violent nature of MS-13.
Kayla Cuevas, 16, was "involved in a series of disputes" in person and over social media with MS-13 members and associates in the months before the killings, prosecutors said in court papers. She and her best friend, Nisa Mickens, 15, were killed by four MS-13 gang members who had gone "hunting for rival gang members to kill" when they came across Cuevas and Mickens, court papers said.
At least one recent victim, Jose Pena, 18, was a member of the gang. He was suspected of being an informant.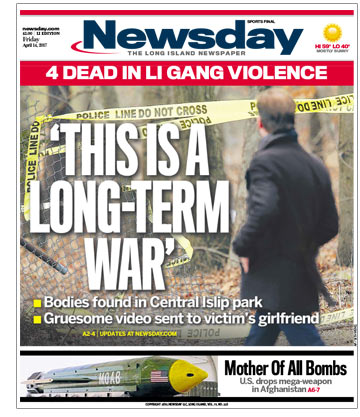 In January 2017, the body of Julio Cesar Gonzales-Espantzay, 19, of Valley Stream, was found in the Massapequa Preserve stabbed with machetes and shot, according to court records.
In April 2017, a quadruple homicide in Central Islip was linked to the gang. The victims were Justin Llivicura, 16, of East Patchogue; Jorge Tigre, 18, of Bellport; Michael Lopez Banegas, 20, of Brentwood; and his cousin, Jefferson Villalobos, 18, of Pompano Beach, Florida, who had arrived on Long Island for a visit just days earlier.
The four were targeted by MS-13 because they had disrespected the gang and belonged to a rival organization, according to court documents. But only one of the four victims was friendly with MS-13 members and associates and was the main target, Suffolk police officials said.
The body of Angel Soler, 16, of Roosevelt, was found Oct. 19 in woods in the Roosevelt-Baldwin area. Federal and local investigators believe Soler was killed by MS-13 members, according to sources.
The remains of Kerin Pineda, 20, were found in thick woods near the Merrick-Freeport border and the remains of Javier Castillo, 16, of Central Islip, were found in Cow Meadow Park and Preserve in Freeport, also in October, authorities said. The FBI identified the remains of two men in November, officials said.
What can be done to curb the gang?
The gang has been identified as a top priority for the FBI.
Officials have said gathering intelligence is key to the effort. But prevention is also critical including in schools, and officials are focusing on that as well.
Suffolk police, the FBI and other law enforcement agencies have responded to suspected gang killings by beefing up their presence in Central Islip, Brentwood and other Long Island communities where MS-13 is active, since the quadruple homicide in April. State and county leaders, meanwhile, have poured millions of dollars into social services and gang-intervention programs aimed at eliminating MS-13's most important asset, its recruits.
The 2019 budget approved by state lawmakers includes $16 million for social service programs to combat gangs in Nassau and Suffolk, including $3 million to Catholic Charities for case management of unaccompanied immigrant children who move to Long Island and are vulnerable to MS-13 recruitment.
Where else in the country is MS-13 a problem?
MS-13 has 10,000 members in at least 40 states, according to Attorney General Jeff Sessions, who spoke about the gang on Long Island in April 2017.
Originally published: Tuesday, June 20, 2017 | REPORTING BY: Nicole Fuller, Bart Jones, Robert E. Kessler, Mark Morales, and Victor Manuel Ramos