Did you feel that? A history of earthquakes on Long Island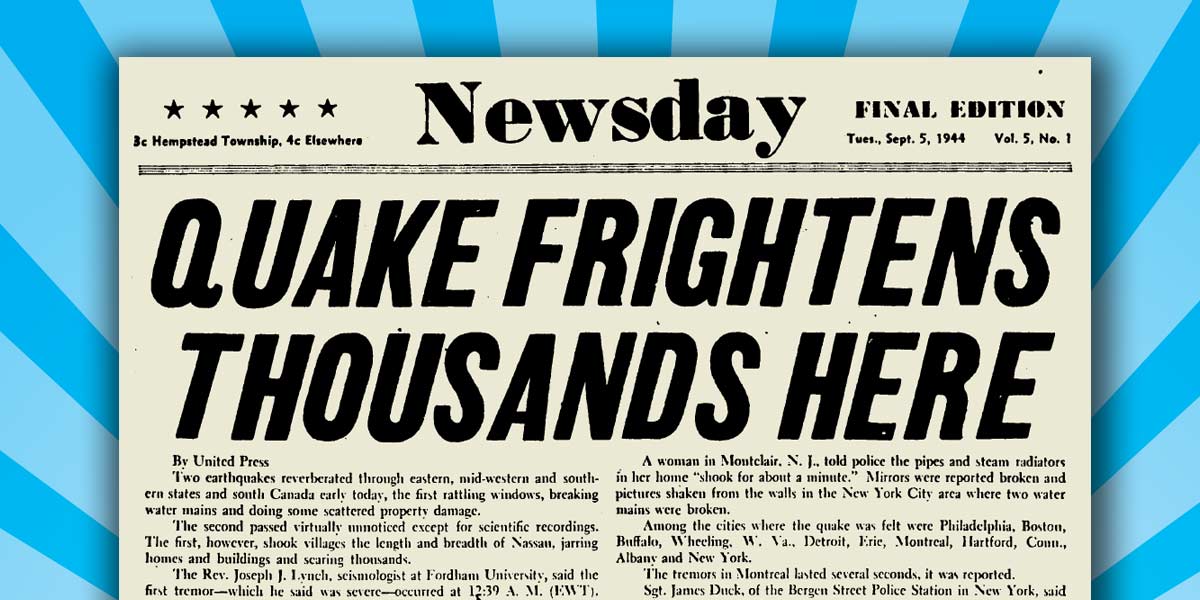 Long Island has seen its share of natural disasters: hurricanes, tornadoes, blizzards. But an earthquake? Yes, actually.
The most recent shock to reach Long Island was in November, when a 4.1 magnitude earthquake struck near Dover, Delaware, and the rumbles were felt in the mid-Atlantic region. Earth's surface is made up of a number of puzzle pieces that move – that's how it's described by the United States Geological Survey's Earthquake Hazards Program. The pieces can stick and grind against each other, releasing the shock waves known as earthquakes.
Earthquake strength is measured in magnitude, which assigns a score based on ground motion.
Earthquakes are frequent along the West Coast of the United States and Mexico because those borders hug the edge of a tectonic plate. But shifting of the plates can also trigger quakes and tremors in areas like Long Island, too.
The Ramapo Fault System, for example, is a "braid" of smaller faults that run roughly from eastern Pennsylvania to the Hudson Valley, according to Columbia University's Earth Institute. The New York City metro area is considered stable but there are smaller fault lines – cracks in the earth's crust known as seismic stress points – that run through the area.
In general, university researchers said the New York City/Long Island area sees a 5.0 quake every hundred years or so and is due for one this century.
Here's a look back at some of the area's notable earthquakes.

---
Aug. 10, 1884
Believed to be the most powerful earthquake to strike the New York City area, this one was believed to be around a 5.5 magnitude with an epicenter near Coney Island.
Newsday wasn't founded until 1940, but New York Times reports said the quake rattled buildings from Manhattan to Suffolk County.
In Amityville, the earthquake interrupted a funeral. As the minister knelt to pray, the building began to shake, according to The New York Times. A large mirror shattered, the walls cracked and the flowers fell off the coffin, frightening mourners.
A handful of people, including the minister, reportedly fainted and the rest of the group fled in a stampede.
---
July 18, 1937
New Yorkers were skeptical they had felt this earthquake.
Several dozen people in Brooklyn, Queens and Nassau County called The New York Times to report they'd felt shaking and rumbling at about midnight. The Times and Nassau County police declared in the next day's paper that it was not an earthquake, but a particularly dramatic Long Island fireworks show held near Belmont Park.
Seismologists and Harvard University's data disagreed. In a lengthy update, The Times wrote the deep rumblings of the "moderately strong" quake were recorded as far away as Boston. It lasted three minutes, originated in the western Long Island area and was somewhere around a 4.0.
---
March 29, 1950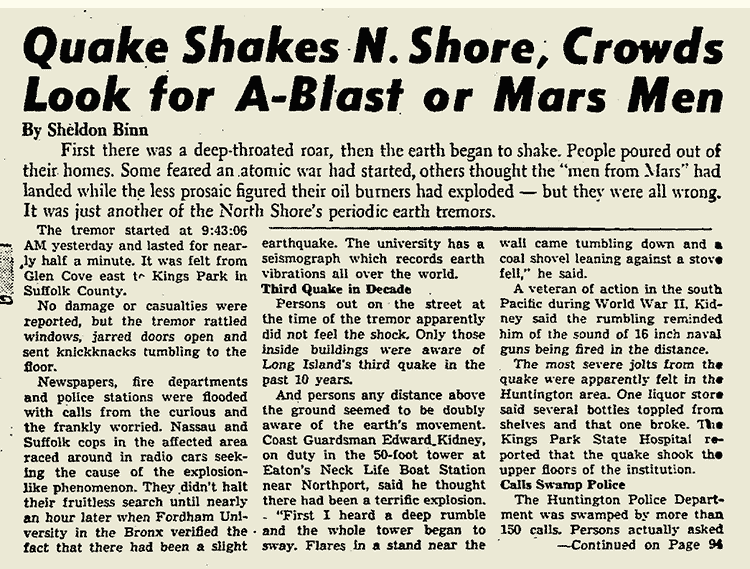 ---
The 1980s
Three earthquakes shook Long Island within the decade, but all without significant effect.
On Oct. 22, 1981, a 3.5 magnitude quake occurred just over the North Fork, with its epicenter in the Long Island Sound. On land, windows rattled, but little damage and no injuries were reported after the 12:49 p.m. event.
Almost two years later, on Oct. 7, 1983, tremors were felt on Long Island again when a 5.2 magnitude earthquake shook upstate Blue Mountain Lake. The epicenter was about 85 miles northwest of Albany and it occurred at about 6:18 a.m., so most people slept through it.
Again – though for less than a minute – on Oct. 19, 1985, Long Island residents were shaken by an earthquake that came closer to home. At 6:07 a.m., a 4.0 magnitude earthquake with its epicenter in the Westchester County village of Ardsley, shook the Northeast.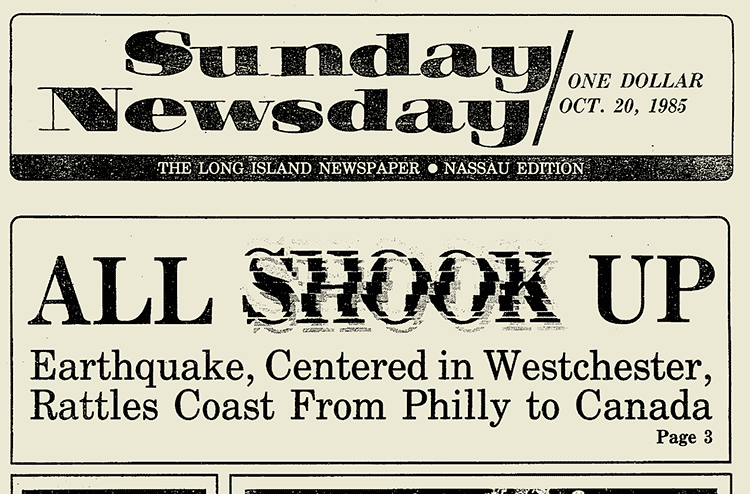 The only reported casualty was a Selden parakeet. The bird panicked and flew into a wall, the Zarkadas family told Newsday at the time.
"Don't tell me we're having an earthquake. We just had a hurricane," said Huntington Station resident Marianne Brown, referring to the 1985 Hurricane Gloria, which struck about a month earlier. "I was thinking about the food in the freezer. I just filled it up."
---
April 20, 2002
Long Island felt rumblings when a 5.1 earthquake hit in Plattsburgh, New York, near the Canadian border, at about 7 a.m. Upstate, drivers were warned to be cautious until officials in Essex County could check local bridges.
On Long Island, there was little concern.
Robert Berkle, 30, of Wantagh, said his computer began to shake and he thought it might be his cat, who liked to jump on top of the warm computer.
"When the cat jumps up there, it shakes a little, but nothing like this," Berkle said. "The cat was nowhere to be found."
---
June 22, 2010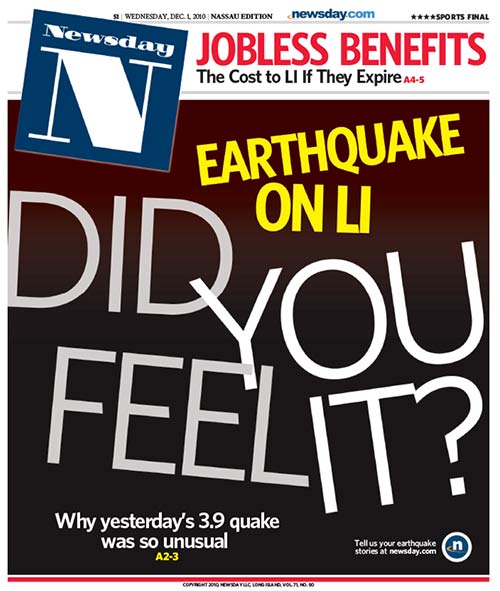 At about 10:49 a.m., a 3.9 magnitude quake deep in the Atlantic rattled Long Island. It was determined to have originated about 80 miles southeast of Quogue and Southampton, Newsday wrote.
No injuries or damage were reported, but scientists told Newsday they were intrigued because the epicenter did not appear to fall on any known fault line. The U.S. Geological Survey reported the quake could be felt as far away as Vermont and West Virginia.
"Nothing fell but there was a really heavy vibration," said Rose Swezey, 55, of Watermill. "It was just things vibrating – the lamp shade, that kind of thing."
---
Aug. 23, 2011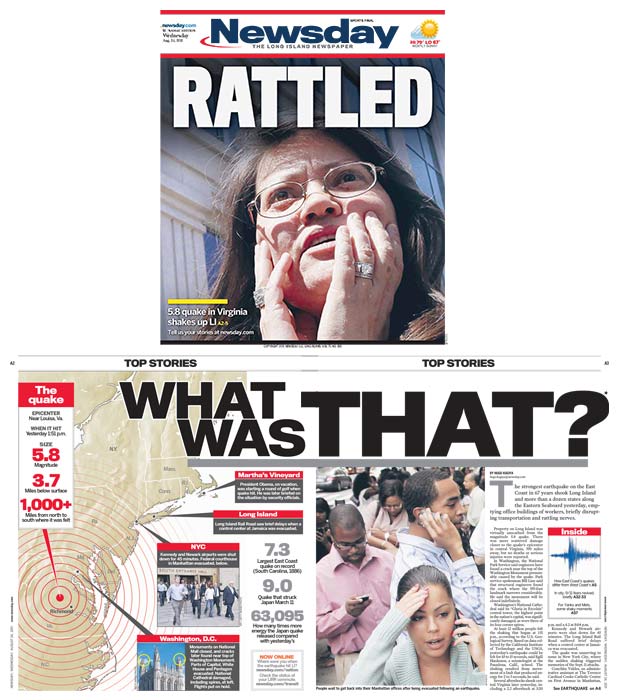 This 5.8 magnitude earthquake that originated in Virginia caused buildings to sway for 20 seconds or more on Long Island at about 1:51 p.m.
Cellphone networks slowed due to the volume of calls shortly after the quake. Little damage was reported – a downed tree, a crack in the drywall at Brookhaven National Laboratory – but it brought Long Islanders outdoors en masse.
David Dominski, 61, co-owner of Scoops Ice Cream Parlor in Cutchogue, told Newsday the cones started shaking on the shelves, and he realized something was happening when "the women across the street ran out the building waving their arms."
The Long Island Rail Road briefly evacuated its Jamaica Control Center.
"You can be on an amusement park ride, but you're in a building swaying back and forth and it's something else," then Suffolk County Executive Steve Levy said in Hauppauge.