Born on Sept. 11, 2001: 'A bright spot on such a sad day'
For families who gave birth on the day of the World Trade Center attacks, it was also a joyous personal moment and a reminder of hope. 
It was one of the happiest days of their lives and also one of immense suffering.
Even 17 years after the terrorist attacks on the World Trade Center, families with children born on Sept. 11, 2001, look back with conflicting emotions.
Andrew Robinson of Long Beach remembers holding tight to his miracle — a baby girl born four weeks early who bore an uncanny resemblance to his sister, who was working at the World Trade Center complex that day.
"Things became jumbled, mentally," Robinson said. "You have thoughts of death and birth and what it could all mean for her."
Other families, too, had relatives whose safety they feared for, and most say they felt guilt that they had something to celebrate when others had lost so much. All of them described the flicker of hope the newborns gave communities in mourning on that dark day.
Some of the children say they've grown accustomed to the sound of bagpipes and the reading of the victims' names, like a soundtrack played on their birthdays. They try and celebrate like any of their peers would, but in their 17 years have learned that the day will never be just about them.
"You learn that there are a lot of people that are going to be grieving and you just learn to respect that," Casey McLehose said of her Sept. 11 birthday.
"It was like half a celebration until we actually knew [my sister] was safe."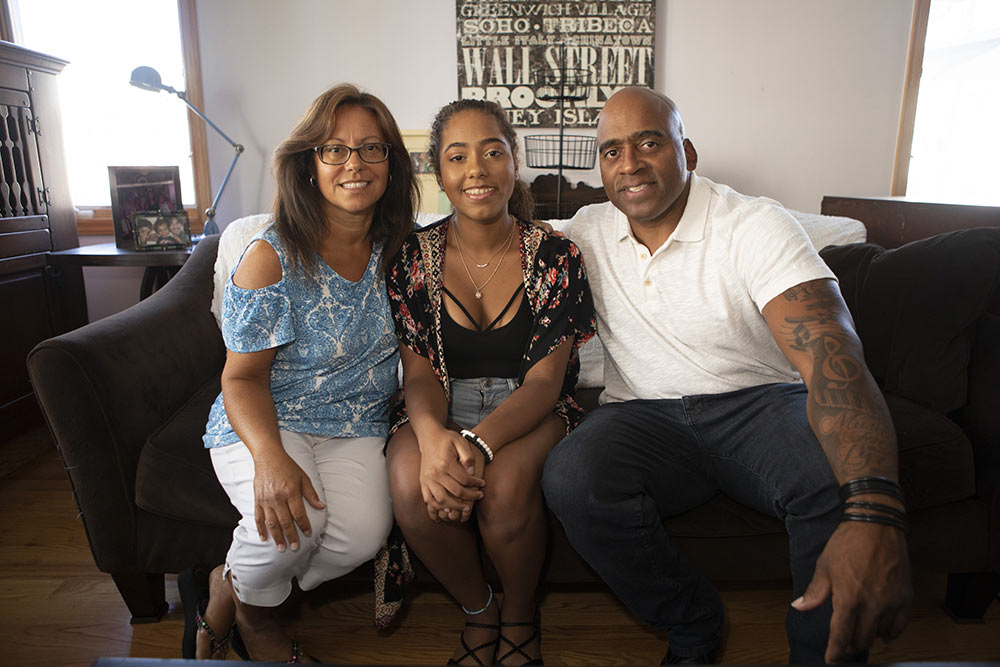 Skyla Robinson, 12:07 a.m.
Born to Linda and Andrew Robinson of Long Beach
After his daughter was born, one of the first calls Andrew made was to his sister, Wendy. He rang her up at 1 a.m. and she stayed on the phone with him, deciding then that she'd go to work late that morning at 5 World Trade Center.
Wendy Robinson saw the first plane strike the north tower just as she stepped out of the Chambers Street subway stop. Andrew and Linda, both 37 at the time, watched it happen on a TV in their hospital room as their baby, Skyla, slept in the nursery down the hall. They wouldn't learn Wendy was safe until hours later.
"We were trying to celebrate the birth, but my sister was missing," Andrew said. "It was like half a celebration until we actually knew she was safe."
Linda still refers to Skyla as their "sunshine on a cloudy day," a lyric from the Temptations tune she used to sing to her daughter as a child.
"That's what she was to us," she said. "A reason to be happy on that day."
Skyla said she learned from an early age that her birthday would never be just about her. She's tried to be respectful of others, and has asked friends not to present her with balloons or birthday grams on the day.
"I only started to really comprehend the significance of it in the ninth grade," she said. "Once I started to understand, I knew that this was gonna be with me my whole life."
---
"Life didn't stop and wait for us."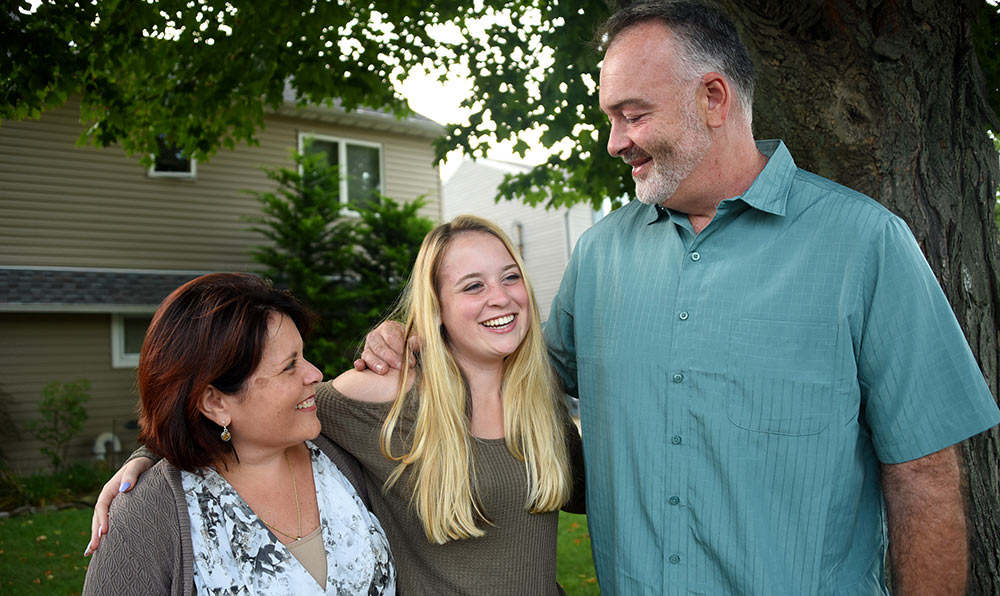 Sarah Martin, 10:27 a.m.
Born to Jacqueline and Randy Martin of Levittown
Sarah Martin's birthday still makes her feel uneasy. Growing up, she'd ask her parents to let her stay home from school and until recently has shied away from learning more about the event. It always upset her to watch the reading of the names or documentaries on the terrorist attacks in class.
"It's a really hard mix there," she said. "So many people died, and I was born."
For her family, that difficult mix of emotions began when the first tower was hit. Sarah's grandmother, Carole Maguire, was in 5 World Trade Center at the time. It would be several hours before the family knew she was safe.
Randy Martin was in the waiting room at Good Samaritan Hospital Medical Center in West Islip. He watched the attacks live on television and as he tried to call his mother his body began to feel numb, the color left his face and his 6-foot-5-inch frame crumpled.
It was just minutes before his wife, Jacqueline, was scheduled to have her C-section. Randy, then 33, had to be revived with smelling salts while Sarah, his third child, was delivered.
"It was my time," said Jacqueline, also 33 at the time. "We had to do it right then and there. Life didn't stop and wait for us."
As Randy held his newborn, he vacillated between joy and fear.
The phone lines were jammed for hours after the attacks and he couldn't reach his mother. Though he tried to be focused on the birth of the baby, his mind kept wandering to Ground Zero.
"A lot of it was a blur to me," he said. "I just couldn't believe this was happening to our country."
On her 16th birthday, Sarah opened a letter her grandparents had written to her about everything that had happened the day she was born. That same year she decided to visit the Sept. 11 memorial for the first time.
Sarah Martin still gets upset on the day, for what it could have cost her family, but not like she used to.
---
"He was a bright spot."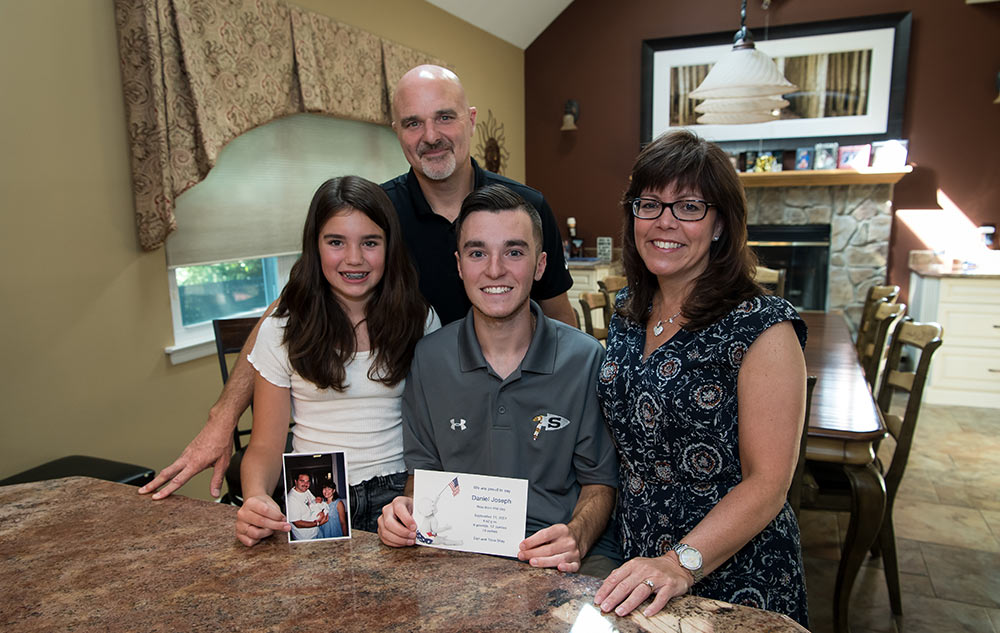 Danny Shay, 8:42 p.m.
Born to Tricia and Dan Shay of Holtsville
The day after having their first child, Tricia and Dan Shay tried to quarantine themselves in their hospital room. They wanted to let themselves feel excited as new parents, and that meant a media blackout and a little distance from the grief that gripped the country.
But they were soon flooded with guilt.
"It was a very weird feeling," Dan said. "We were so happy, but at the same time the whole world felt like it was mourning."
Dan, 34 at the time, was working in human resources for a development company in midtown Manhattan when his wife, then 31, went into labor with their son three weeks early.
Tricia called her husband as soon as she realized she was ready to deliver. "I think it's happening," she told him.
Dan didn't know what she was talking about. When his wife called he was sitting on the floor of a packed Long Island Rail Road car to Ronkonkoma with hundreds of commuters fleeing the city.
"It was a long and scary day in a lot of ways," he said. "It didn't dawn on me she was talking about Danny."
Over time Danny's birth served as a "bright spot" for their family and friends, Tricia said. For years, Tricia said she received emails from co-workers about how the birth had helped lift their spirits.
Two months after he was born, Danny's aunt gave him a copy of Life magazine that had on its cover a first responder beside an American flag. Taped inside, she left a note that read in part: "Your birthday represents the promise of a new tomorrow in a time that is darker than any we've ever seen."
Danny read the note for the first time last month, stunned that the fact of his existence had done so much to inspire his aunt.
"It makes you think how you can be such a bright spot on such a sad day," Danny said. "It's really cool."
---
"We were all dealing with the horror of what happened and the beauty of what happened on that day."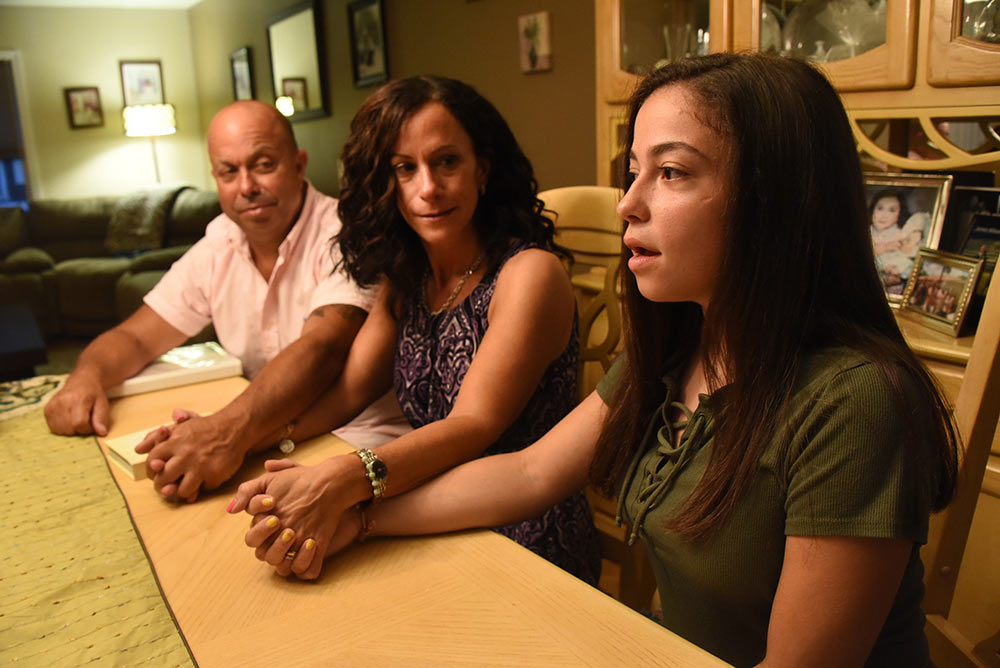 Casey McLehose, 10:26 p.m.
Born to Greg and Linda McLehose of Bayport
Groggy from medication and hours of induced labor, Linda awoke on the morning of Sept. 11 in her hospital bed and watched on a small television as a jet collided with the south tower.
She was stunned when her husband, Greg, who had been closely following coverage of the attacks, briefed her on what he knew.
Half an hour later, when they watched coverage of a plane crashing into the Pentagon, Linda, who was 29 at the time, said the fear began to set in.
"I remember feeling very, very scared, and just uncertain of the direction of the country and what it meant to bring a child into the world at this time," she said.
She also had to contend with the difficult delivery of her first child, which lasted 40 hours and ended in a C-section. When they finally brought Casey home they found their happiness diluted by the national tragedy which had affected many of the first responders in their community.
Linda remembers holding Casey in their living room and watching a line of firetrucks slowly pass down their street, memorializing a neighbor who had died responding to the attacks. The sadness seemed inescapable, she said.
"We were all dealing with the horror of what happened and the beauty of what happened on that day," she said.
It was a hard thing to explain to a child, the somber mood that fell over the nation every year on her daughter's birthday, Linda said. Now that Casey is older, she said she's tried to celebrate her birthday like any other teenager, but she had to come to terms with the circumstances.
"I understood it wasn't my fault, but I really felt a little bad about it at first," she said.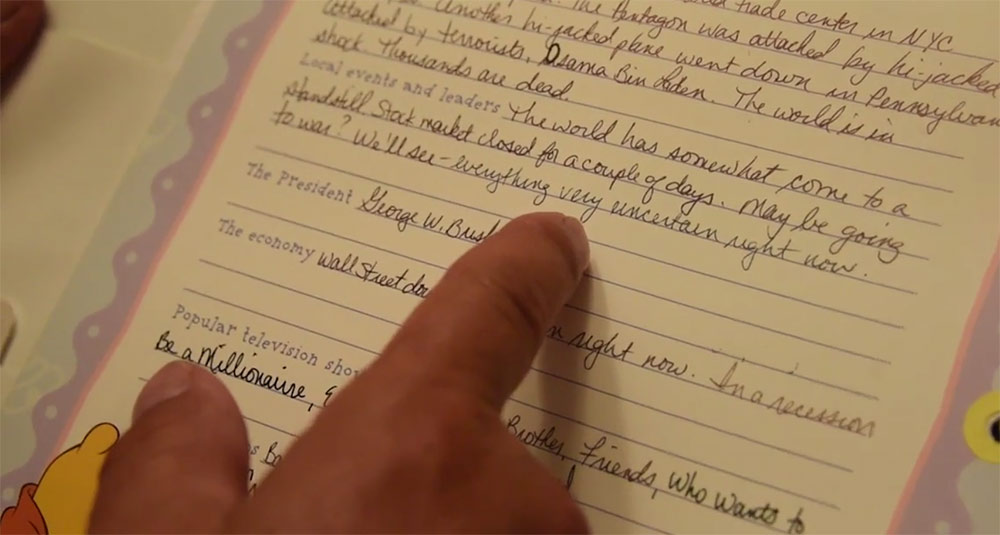 Top video credit: Newsday / Daniel Goodrich, Danielle Silverman