Faces of Westbury Village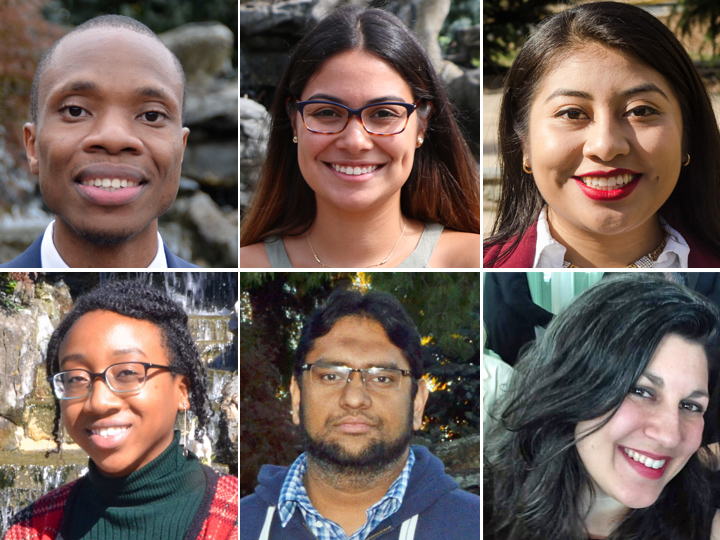 Take a walk down Post Avenue in Westbury Village, and it's easy to see why the area is known as a hotspot for millennials. In the past, Money Magazine named Westbury Village one of the best places for young singles to live, and The New York Times has listed the village among several areas on Long Island that are ideal for 20- and 30-somethings looking to strike out on their own. The downtown area is also in the midst of a $10 million development project, as town officials look to create a more commerce-friendly area for residents and visitors.
Westbury Village is a snapshot of what demographers say the United States will increasingly look like over the next several decades. Its 15,146 residents, according to the 2010 census, is 43.8 percent Caucasian (non-Hispanic) and 27.2 percent Hispanic or Latino, with Black or African-American residents totaling 20.6 percent of the population. Five percent of residents identify as Asian.
Westbury Village is also made up of roughly 28 percent millennials, according to the census. This denotes people born between 1982-2004.
Scroll down to hear from six Westbury millennials who think the area is unique on Long Island and believe in the importance of cultural diversity in their hometown.
---
Robert Miller, M.D., 30
Robert Miller is a lifelong Westbury resident and was recently hired as a doctor of internal medicine at Stony Brook University Hospital, his alma mater. He attended Westbury High School and currently lives near Park Avenue Elementary School.
How do you see Westbury Village changing in the next 10 years?
"I can see it changing in a few different ways, but probably the most important is you will start to see a lot more millennials with their new families. I think that initially Westbury Village was a place where you had a lot more immigrants… But you'll start to see a switch in terms of their children starting to take up residence here."
What does diversity in Westbury Village mean to you?
"Diversity for me is not just the people who live somewhere, but diversity of thought. If you live around people who all think the same like you, you're not really diverse. You may have diversity in how you look, but you also need diversity in thinking and activities. That's what makes a community unique."
---
Azhar Bhatt, 32
Azhar Bhatt has lived in Westbury Village for six years. He was born in India and went to school in Saudi Arabia before coming to America 15 years ago. He currently manages IT development for Prepaid Ventures in New Hyde Park and received his master's degree from NYIT. Bhatt lives near Brush Hollow Road with his wife and three daughters.
What don't people know about Westbury Village?
"I was very skeptical [of the public schools] but I did go and meet the principal. She said to me, 'How will schools get better if people don't put their kids in and get involved and don't check the system out?" My daughter is now going to Westbury public school and it's been really great. The STEM program is amazing and their resources are much greater than the private school [where she was attending]. They respect diversity and there is good focus. She was an average student [in private school] and now she is one of the top students in the public school."
Do you plan to stay in Westbury Village? Why or why not?
"What really made me realize that this is where I want to stay is the mosque. There was a letter that came about a hearing and it was about the mosque expansion… There was a lot of opposition to it because they were trying to take down two houses and build a parking lot. (The mosque expansion was later approved.) But in general … The Islamophobia and all that was missing and it was refreshing. It's reflective of a good community."
---
Gabrielle Rodrigo, 21
Gabrielle Rodrigo moved to Westbury from Brooklyn when she was in the second grade, and currently lives with her family near Post Avenue. She attended Westbury High School and is pursuing her graduate degree at NYU in industrial organizational psychology.
What don't people know about Westbury Village?
"The schools have gotten such bad publicity for one reason or another and that's a big misconception. I did really well there, and they offered me a lot of opportunities. It's because of Westbury High School that I was able to graduate [from] Stony Brook University a year early. There is obviously a lot that does need to be fixed …but people don't necessarily see all the good parts within the school."
Do you plan to stay in Westbury Village? Why or why not?
"I would like to stay here. If I did have kids, I think this is a nice place to raise them. There's been a lot of changes within the community and the people on the board of education… and I think it's moving in a positive direction."
---
Danielle McDougall, 20
Danielle McDougall, a Westbury High School graduate, has lived in Westbury Village her entire life and studies english literature at Adelphi University. McDougall lives in the Westbury Hills section of the village.
How do you see Westbury Village changing in the next 10 years?
"Westbury is becoming more of a stop for people who can't afford to live in the city but don't want to move out to the more rural parts of Long Island. It's becoming more urban and it seems like more people want to move out here for that purpose."
What does diversity mean to you?
"Diversity does not just evoke an image of a group of people whose identities differ by race, religion or sexual identity. Diversity becomes more powerful when it is linked with inclusivity, referring to efforts put in place to ensure that all the people within a community are on a level playing field."
---
Liz Asta, 33
Liz Asta is a librarian at the Westbury Children's Library, and moved to Westbury Village in 2013 from Forest Hills, Queens when she was hired. Asta, who is originally from Farmingdale, lives near Post Avenue.
What don't people know about Westbury Village and the surrounding area?
"The history of the town is what I find really special. We employ an archivist [at the library] and going through the history of the library includes reports from the original librarian who worked here. She talked about the community at large, and it's always been a diverse place."
Do you notice a lot of diversity in Westbury?
"Yes, very much so. Especially with my job, the whole community comes here. I think it improves the town, to have people from so many different places."
---
Gabriela Ventura, 19
Gabriela Ventura and her family moved to New Cassel, which borders Westbury Village, when she was a child, after her parents emigrated to the United States from El Salvador. She graduated from Westbury High School in 2015 and is studying law at American University in Washington, D.C.
What don't people know about Westbury Village?
"We don't necessarily [have] the most well-funded schools. People tend to think we are not either graduating at the same rate as other schools or achieving the same things as other schools. But a lot of times we are excelling. A lot of people don't realize how much is happening in Westbury in terms of education."
What makes Westbury Village unique?
"I think that there's definitely a focus on education and a focus on each individual culture and trying to see what that can bring to the table. I think it truly values the idea that 'it takes a village to raise a child.'"
---
The History of Westbury
The area now known as Westbury Village was purchased from the Algonquian tribe of the Massapequa Indians in 1657, and soon after several Quaker families settled there, according to the village's website.
In 1776, the Quakers freed their slaves, who subsequently established homesteads of their own and called the farming community Grantsville, according to Newsday's "Home Town Long Island." Grantsville was also one of the first communities on Long Island and in New York State consisting of freed black slaves. Westbury further diversified after the Revolutionary War, when German mercenaries who had been stationed in Nassau settled in the area and established New Cassel.
In 1840, following the construction of an LIRR station, Irish, Italian, German and Polish immigrants came to Westbury for work in the farms and fields. African-American families began settling in Westbury after the area became a popular stop on the Underground Railroad, as northerners sought to bring freed slaves to Canada. The area has also played host to Long Island's elite, beginning in the early 20th century with the building of Gold Coast mansions in Old Westbury and the construction of Roosevelt Raceway, a popular destination for harness racing. Westbury was incorporated as a village in 1932, and many Caribbean and Latin American families began moving to the area beginning in the 1960s.
Source: Westbury Village Government History page
---
Snapshot of Westbury Village
The average household income between 2012 and 2016 was $115,831, according to the U.S. Census Bureau's American Community Survey. Old Westbury, meanwhile, has an average household income of $333,302, with New Cassel's average income at $93,708.
The Westbury Union Free School District had 1,349 students enrolled during the 2014-15 school year, with minority enrollment totaling 98 percent, according to U.S. News & World Report.
Of those students, 83 percent were deemed to be economically disadvantaged. Westbury High School currently has an 81 percent graduation rate, which is slightly higher than the statewide average of 79.4 percent, according to the New York State Education Department. Schools with similar minority enrollment include Roosevelt High School and Wyandanch High School, which have graduation rates of 76 percent and 65 percent, respectively.
---