LIRR's summer repairs: A rail balancing act
The MTA says its plan to get through the Long Island Rail Road's so-called "summer of hell" will provide enough options and redundancies to serve all of the LIRR's daily riders.
At the same time, experts warn there's ample opportunity in the complex plan for something to go wrong, and the consequences could be severe.
The multi-faceted plan is designed to accommodate all of the LIRR's daily riders — numbering 300,000 on any given workday — despite operating with three fewer tracks at the railroad's primary hub, Penn Station, to accommodate long-delayed track improvements.
To maintain its existing capacity, the railroad is lengthening some trains, running additional trains just outside the rush hours, and supplementing rail service with first-of-their kind express bus and ferry routes. The LIRR is also relying on customers' willingness to travel to alternative stations, such as Atlantic Terminal in Brooklyn, throughout the summer, and will offer reduced fares as an incentive to do so. In addition, construction work on river crossings, including the RFK bridge, is being hastened to make it easier for those who take to their cars.
The MTA has said it will be flexible with its plan, and re-evaluate and change it as needed throughout the summer. But for Long Islanders who simply have to get to Manhattan this summer, there's ample opportunity for something going wrong on a commuter railroad already operating at the brink.
Will it work? Here are some of the factors that may make the difference.
Penn Station
On an average day, the nation's busiest rail hub is a crowded, confusing and chaotic place. With construction blocking access to three of Penn's tracks, and Amtrak and NJ Transit sharing tracks that the LIRR usually has to itself, it could be especially hectic. To reduce the pressure on Penn, the LIRR is counting on some commuters choosing other options, including subways and other LIRR city terminals. But the vast majority of LIRR trains will still go to and from Penn Station.
Although the LIRR has said only peak trains will be affected by the service disruptions, Penn may also be more crowded than usual during off-peak hours. Some late-night travelers will also be impacted, as the LIRR is canceling three overnight trains to and from Penn throughout the summer.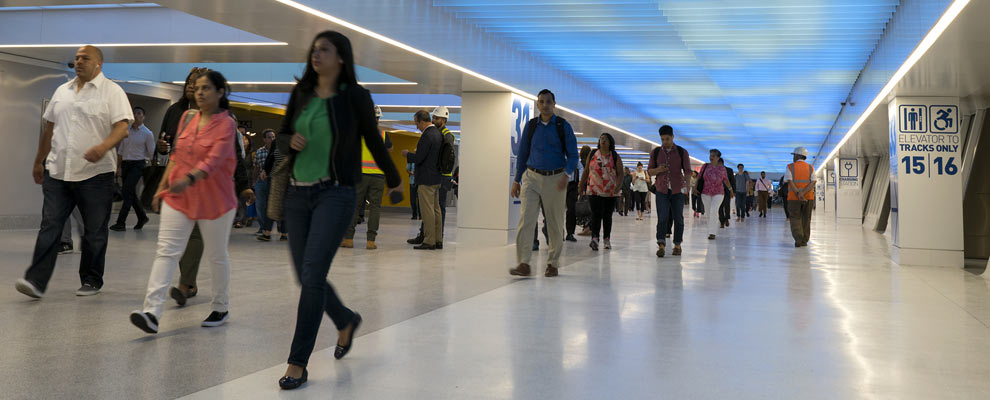 Commuters at the newly opened West End Concourse at Penn Station, part of the Empire Station/Moynihan Train Hall Development that is part of the Farley U.S. Post Office building. Photo by Craig Ruttle
On the upside, the newly opened west-end concourse at Penn, beneath the old Farley Post Office, provides new space for commuters to congregate and disperse. It will be especially important once the LIRR starts running longer trains that release more commuters than usual onto a platform all at once.
Alternative terminals
This summer could be the coming-out party for the LIRR's other NYC terminals, which are typically viewed as the stepchildren of Penn Station – most notably Atlantic Terminal in Brooklyn and Hunterspoint Avenue in Queens. With six tracks, a relatively new customer concourse, and connections to several major subway lines, Atlantic is equipped to handle more riders than it does now.
Hunterspoint Avenue, on the other hand, is old and rickety – handling just a handful of customers a day. But for commuters heading to the East Side of Midtown Manhattan, it could be an attractive option.
As an incentive for riders to use the alternative terminals — and help make up for the inconvenience of having to doing so — the LIRR is reducing fares to and from Atlantic and Hunterspoint Avenue by an average of 25 percent this summer. But many commuters have said commuting to and from stations in Queens or Brooklyn doesn't work for them, both because of the added distance from their workplaces and the infrequency of service.
Subways
The LIRR's summer plan will lean heavily on the MTA's subway system to carry customers to their jobs from key transfer points, such as Jamaica, where riders can grab the E, J and Z trains, Hunterspoint Avenue, where passengers can catch the 7, and Atlantic Terminal, which connects to many of the city's main subway lines.
The MTA says it has more than enough capacity to handle the extra riders. Railroad spokesman Shams Tarek noted that even if every affected commuter chose to ride the subway — an "impossible scenario"— the impact would be negligible on a system that transports 1.6 million riders every morning.
But the extra riders will come at a time when the subway system is under considerable strain itself, with growing delays caused by overcrowding on trains and at platforms. The recent problems led the MTA to take on a top-to-bottom review of the subway system, and prompted Gov. Andrew M. Cuomo to declare the system in a state of emergency on June 29.
In addition, the LIRR has only offered to honor railroad fares on subways in the mornings.
Ferries
Among the more murky elements of the MTA plan is the creation of as many as three new ferry routes to help commuters get to and from East 34th Street in Manhattan. The MTA has yet to name the vendors that will operate the routes, and securing vessels in the peak summer season is a challenge, experts said.
The MTA says the Glen Cove and Long Island City ferries will accommodate 2,300 people. It's unclear how popular the new service will be, but New York City's ferry system has struggled to meet growing demand, even chartering extra boats in recent months.
Some Long Island residents and officials have already raised several concerns, saying the plan has not been adequately studied for its environmental impact and will bring unwelcome car traffic.
The MTA previously said it was looking into setting up a third ferry route to serve South Shore Nassau commuters, including those on the Long Beach and Far Rockaway lines, but it has yet to materialize.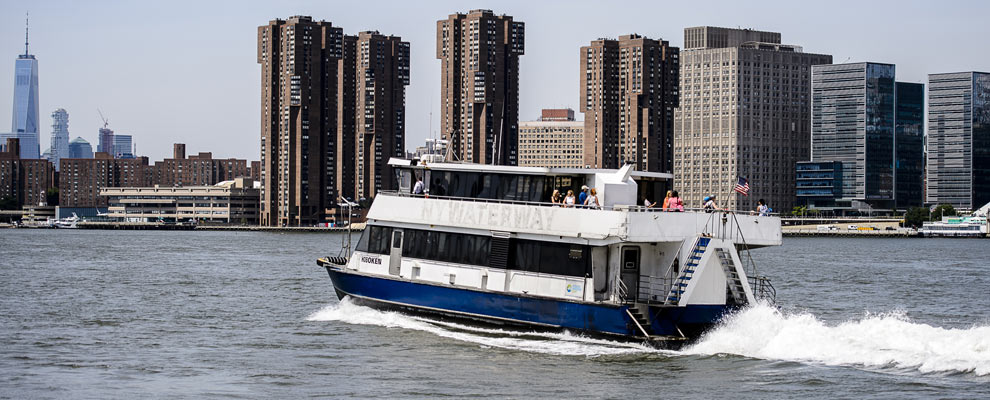 A ferry leaves Hunters Point South ferry landing in Long Island City. Photo by Jeff Bachner
Express buses
The MTA says it has secured 200 coach buses both from its own fleet and from two New Jersey-based private vendors — Coach USA and Academy Bus — to carry 10,000 commuters to and from eight designated locations on Long Island and three in Manhattan — at East 34th Street near the Midtown Tunnel, near Penn Station, and near Grand Central Terminal.
But the buses will have to navigate the infamous traffic on the Long Island Expressway and connecting roads, a deterrent for commuters looking for predictability. The MTA has said it will be flexible, and could opt to reduce the number of buses provided if there are too few takers. But it also notes the buses, which will be stored in Long Island City and Hoboken during mid-days, could provide a backup during unanticipated service disruptions.
To help make the buses a slightly more attractive option, the MTA plans to provide free food and drinks at their designated origin points on Long Island.
It also remains to be seen whether the designated park-and-ride locations – including the already popular Park & Ride in Melville – set up by the MTA will be able to handle all those extra cars.
Roads
The plan also aims to help ease the traffic on the roadways both for commuters who opt to drive all or part of the way to work, and for the express buses the MTA will run between Long Island and Manhattan. Gov. Andrew M. Cuomo has said all construction projects going on at the MTA's crossings will be rushed along and finished by July 8, only two days before the Penn work begins.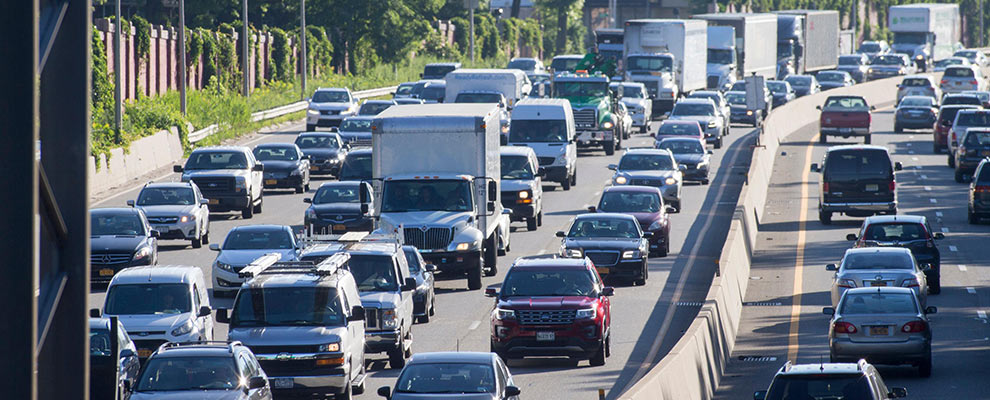 Photo by Howard Schnapp
The plan also offers 50 percent toll discounts to truckers overnight to get them off the roads during the days. Rather than charging less to drive overnight, some experts have said the state should have charged more to cross during the day – essentially implementing a congestion pricing plan. Also helping matters will be the recent implementation of cashless tolling at some major crossings, including the Midtown Tunnel and RFK Bridge.
Crowding
With 20 percent fewer rush-hour trains going into and out of Penn this summer, some trains and stations may see a lot more crowding than usual. The LIRR says it has carefully considered ridership demands on every train and every station, and is confident it will be able to handle them.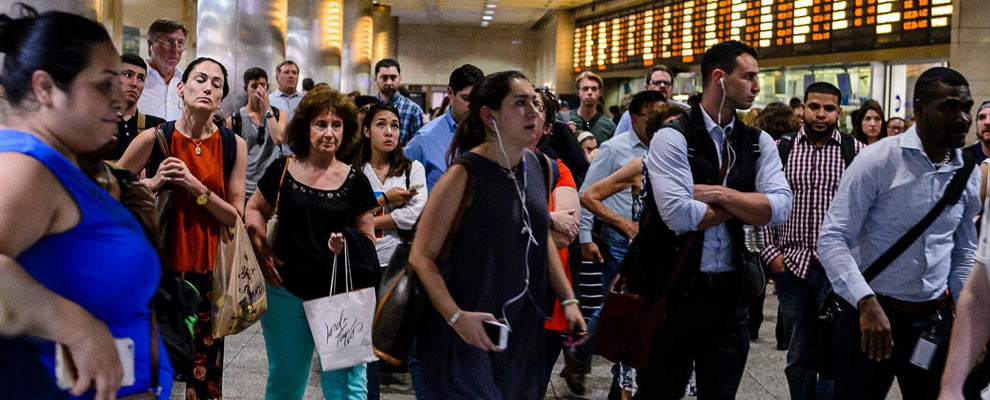 Photo by Jeff Bachner
On-time performance
It may be especially difficult for commuters to get anywhere on time this summer. Crowding at stations and on trains could result in longer loading times. And some trips will take longer because some express trains will add stops to accommodate customers on trains that were cancelled. Trip times may be even more predictable on ferries and, especially, express buses, which will be at the whim of LIE traffic.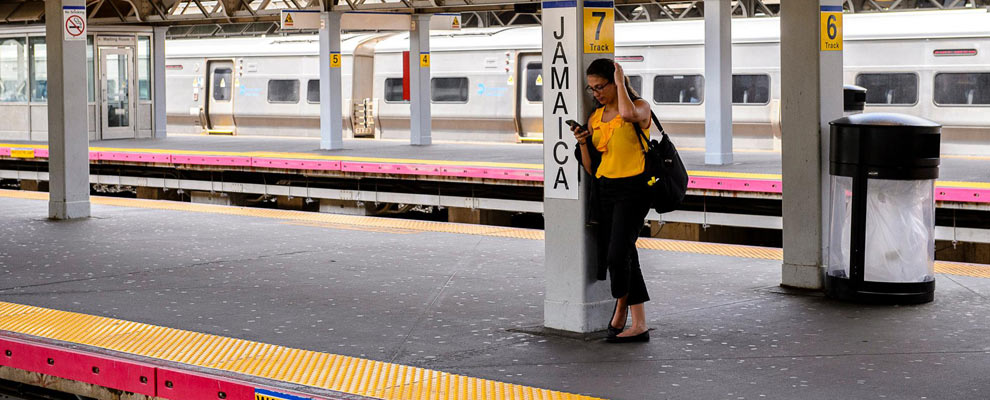 A commuter waits at Jamaica Station. Photo by Jeff Bachner
Can it get done in time?
Amtrak has said its summer infrastructure renewal plan aims to condense years' worth of construction work over just two months, but some have expressed skepticism about Amtrak's ability to get the work done on time, given its track record. Amtrak says it is hiring a private consultant to help manage the project, and Amtrak and the LIRR say they will monitor the work and make regular progress reports to riders.
Communication
The LIRR has taken a lot of heat from commuters for what they've said is a failure to communicate clearly in general, and especially during recent and frequent service disruptions. The LIRR has promised an "aggressive public awareness campaign" to communicate service options to riders.
Mark Epstein, chairman of the LIRR Commuter Council, said he'd also like to hear from the LIRR about how it will respond to unexpected service problems that could arise.
It's very nice that they're telling us about the planned outage. What happens when there's also an unplanned outage?
– Commuter council chief Mark Epstein
Some station platforms signs may not display correct data. Service is on or close. Please listen for station announcements.

— LIRR (@LIRR) June 28, 2017
X factors
Then there's everything else that can go wrong.
The unprecedented situation of the nation's busiest commuter railroad operating at reduced capacity during the two hottest months of the year could lead to all kinds of problems, experts say, ranging from heat-related broken rails to communication meltdowns or power outages.
Anthony Simon, leader of the LIRR's largest labor organization, has "insisted" that the railroad keep its train crews in the loop about service conditions throughout the summer, but said that can be tough to achieve during "real-time" emergencies. He asked for riders' patience. He implored riders not to take their frustrations out on train-crew members.
The LIRR could also face other operating challenges, including from its problematic switch and signal system. When the LIRR faces unexpected capacity constraints, it typically defaults to "off-the-shelf" service reductions that include cancelling and combining certain trains.
But, with the LIRR's capacity already significantly reduced at Penn, experts have said there is no room for error. In such a situation, the LIRR will probably rely heavily on its express buses and ferries to bring riders to and from work.