Working D
o

gs

of Long Island
Sage
4 years old
Greeter
Andrew's Family Farm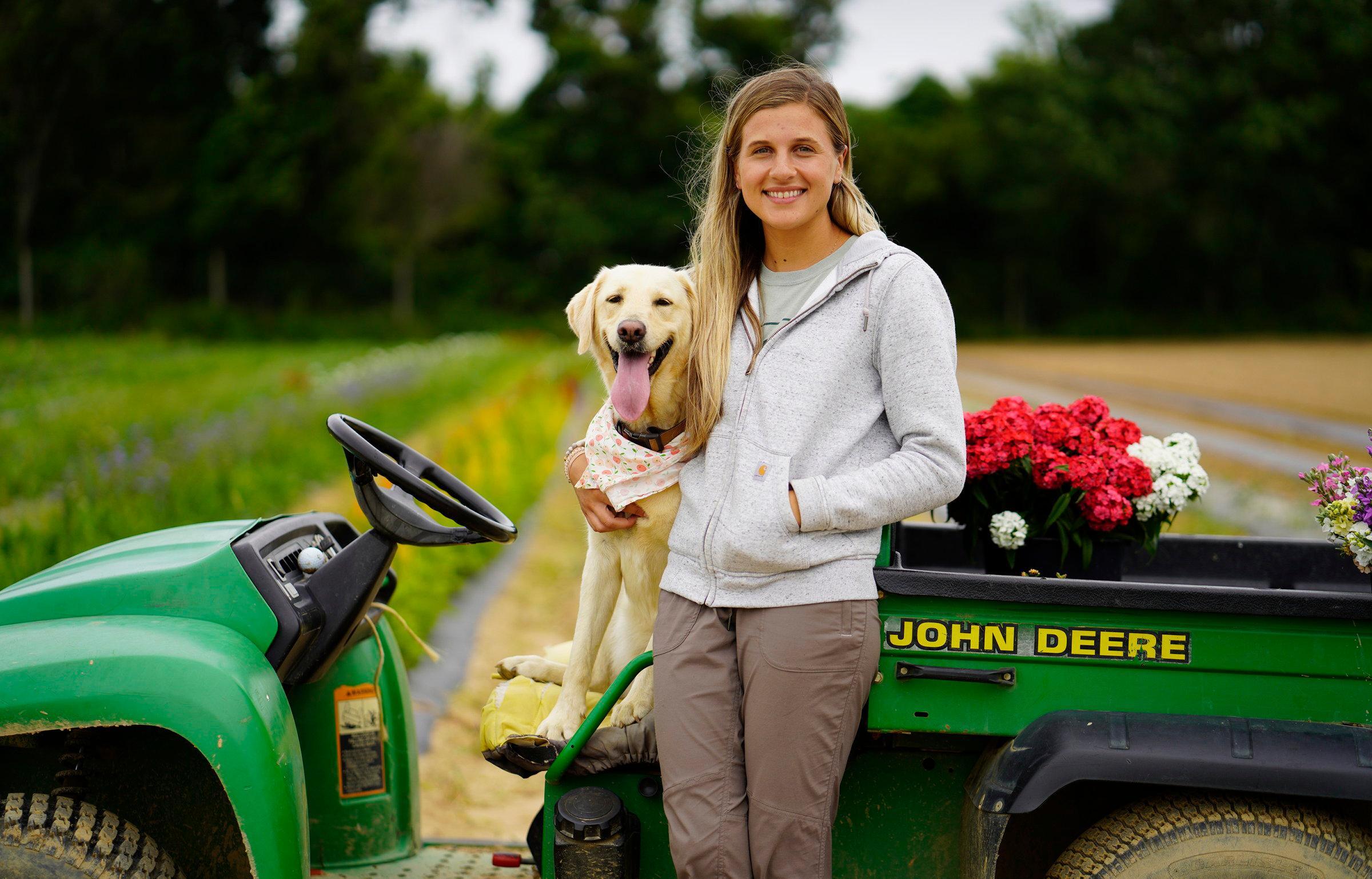 It's just after 11 a.m. on a Monday and Sage picks up her favorite orange ball and drops it at the feet of her owner, Rose Andrews. "Sometimes, if she can't find her ball, she'll go into the farm stand and pick up a peach," says Andrews, 24, a manager at her family's Andrews Family Farm in Calverton.
The farm has been operational for the past three decades, but it only gained its mascot four years ago. Sage, a 4-year-old Labrador retriever/golden retriever mix, has spent nearly every day of her life — since she was 10 weeks old — at the farm stand.
"Our jobs would be a little bit more boring without Sage here, for sure."

-Andrews, farm stand manager
"It's hard to have a bad day when she's here," says Andrews as Sage lies beside her on a green John Deere Gator. "This, here, is her favorite place."
Sage's official role is greeter, says Andrews, explaining that patrons will sometimes come down to the farm just to see her.
In the farm stand, Sage weaves her way in and out of the legs of shoppers, patrolling the area. "Every time someone pulls up she stands up from what she's doing — unless she's having a really deep nap."
But there's hardly any downtime on the Andrews' 80-acre farm with 29 greenhouses growing flowers and vegetables sold at the stand and outsourced to local restaurants and farms.
Sage, just like her family, has work to do.
She gets to the farm at 7:30 a.m. with Andrews. "When we turn onto Hulse Landing Road, she sees the farm, it stretches far back, and she sits up and gets so excited. It's like she doesn't do this every day, but she does."
Her routine begins by making the rounds: She checks in on the plants, smells the flowers, says hello to the farm's rabbits and gently strolls through the greenhouses. "If you step on the flowers you'll kill them, but Sage tiptoes around everything. She has greenhouse etiquette and knows not to step on the flats."
Then, she follows Andrews, her brother William and their parents until it's time to go home around 6 or 7 p.m. "She's our little co-worker."

Freddie
2 years old
Facility Dog
Cerebral Palsy Association of Nassau County, Inc.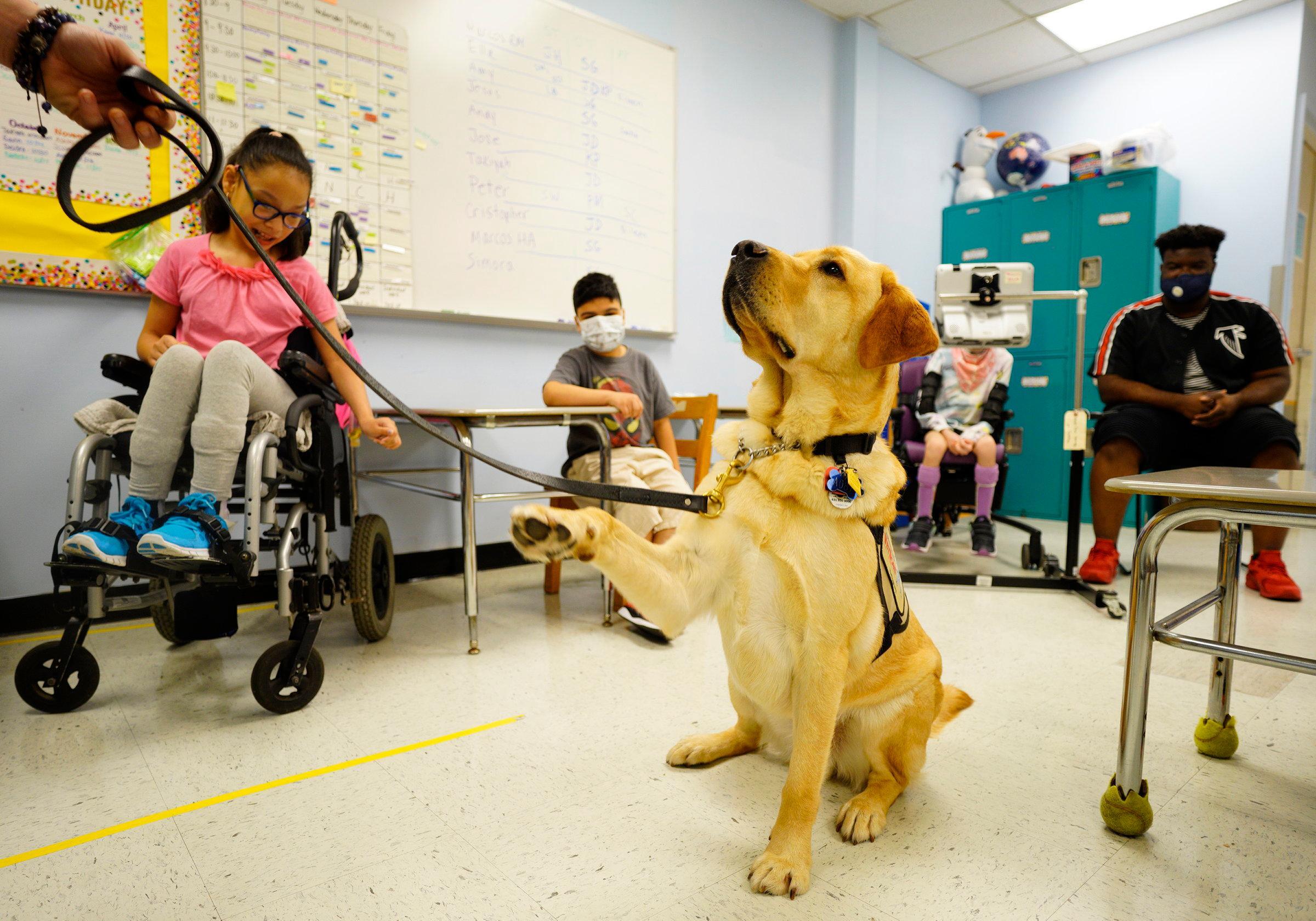 Many of the more than 200 grade school students at the Cerebral Palsy Association of Nassau County in Roosevelt are nonverbal or have limited communication skills, but the excitement is written on their faces when Freddie, a 2-year-old Labrador retriever walks into their classrooms.
"Freddie, wave!" Jennifer Green, the school's music therapist, calls out as Freddie lifts his right paw demonstrating how he greets students.
Ashley Brun-Johnson, 20, of Queens, is among the first to lift her arm back to him. She uses her iPad to communicate.
"Freddie has already helped with communication," says Sherri Glazer, one of the assistant principals, explaining that children and young adults who are meeker in tone need to use a projected voice or use their communication devices to get a response from Freddie. "In the beginning, there were a lot of kids who we'd find were afraid of almost everything. Now they jump out of their shells to touch and engage with him," says assistant principal Jessica Jean-Charles.
Freddie started his job as a facility dog at the school in May. He spends much of his day traveling between classrooms at the school, helping to encourage children learning motor and communication skills. For Jesus Bonilla, 9, of Hempstead, the command "Freddie bop" helps Bonilla to both speak at a louder volume, walk toward Freddie and reach out to "bop" his nose.
"I've seen such a change in Freddie and the students."

-Gabi Lugo, 23, service dog instructor at the Guide Dog Foundation.
Gabi Lugo, of the Guide Dog Foundation, trained Freddie for nine months to prepare him for his job. She started off with basics — walking, maintaining eye contact — and gradually worked up to training Freddie to wave, "bop," shake and more. "Coming back and seeing the difference in him, it's almost like he knows his job now and settled into what he needs to do," says Lugo, of Smithtown.
Freddie starts his day at 8:30 a.m., sits atop a pedestal and greets the students as they get off their buses by waving a paw. He'll then walk alongside their wheelchairs as they make their way to their classrooms. He'll pop into music therapy classes, development classes and more. For break time, he plays with toys in a fenced-in area outside or cuddle up for nap a bed placed by the desks.
"We knew that Freddie was going to love this. He's really cut out for just bringing joy to people," says Lugo.

Maclyn
3 years old
Explosive Detection Canine
MacArthur Airport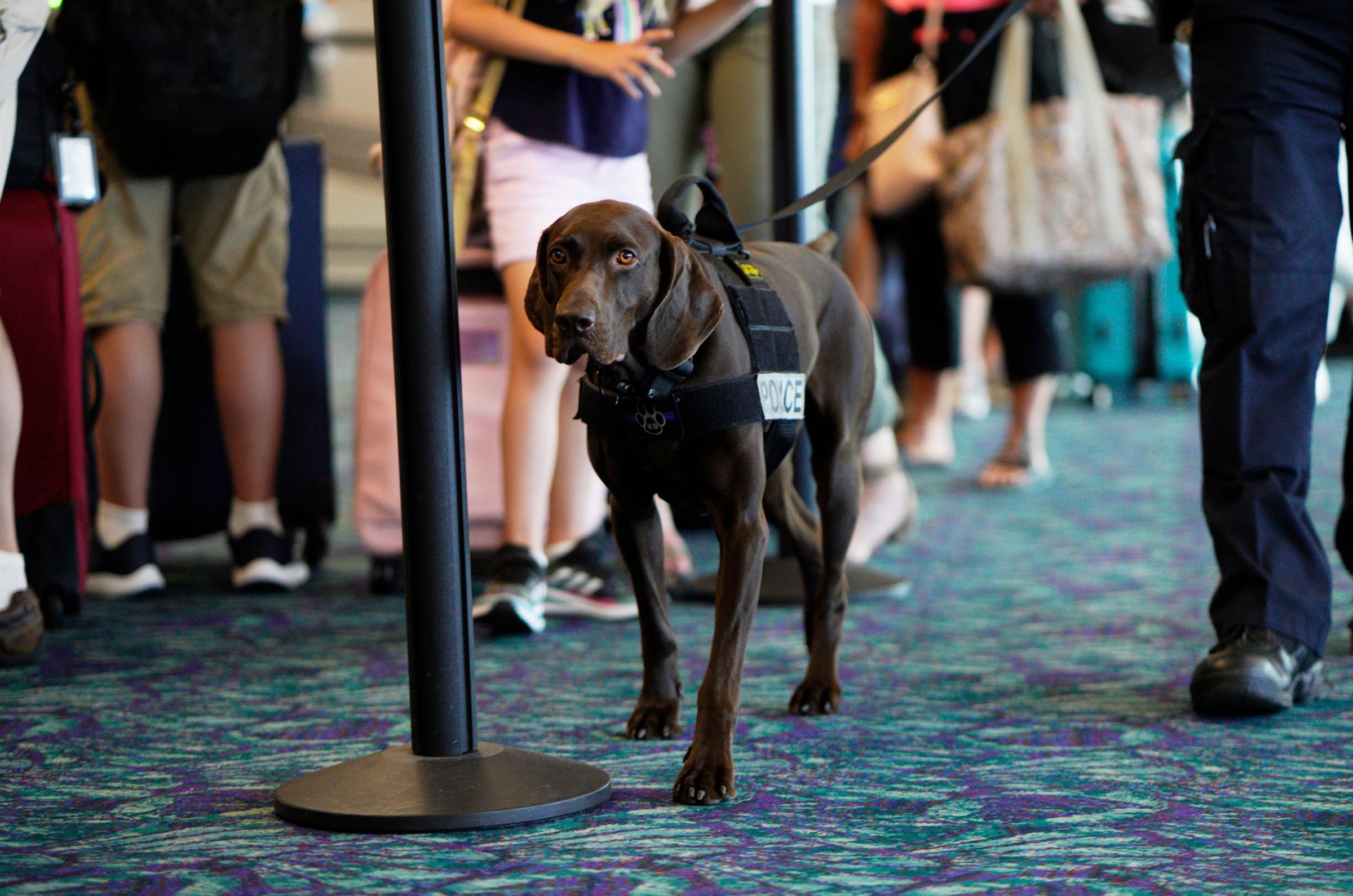 Suffolk County police officer Kevin Henry says the airport is always moving — which means that Maclyn is always sniffing.
Maclyn is a 3-year-old German shorthaired Pointer. She is the only female dog working in the Suffolk County Police Department. Maclyn is an explosive detection canine, working at Long Island MacArthur Airport in Ronkonkoma.
When she's not doing her job, "she goes home with me and puts me to work at home," says Henry, her handler. They live in Setauket.
While working at the airport, Maclyn is thorough and attentive. On a recent weekday, there's a long line at the Southwest Airlines terminal. Henry walks her along the line, and she sniffs just about every suitcase and backpack within reach.
"She's very calm," he says, "and always working."
In May 2019, Maclyn started training with the Suffolk County Police Department. For four months, she sharpened her skills in tracking, obedience and agility.
As an explosive detection canine, Maclyn is trained to move through crowds, find an odor source and follow it. When she finds something, Henry explains, she stays with it, usually by sitting down next to the source. That's where he comes in.
Maclyn is the only working dog at this airport, so there's a lot of ground to cover.
"When they're sniffing, they get really tired," Henry says. "Processing all the different smells, and they break it all down. They work really hard. It kind of wipes them out."
So Henry makes sure Maclyn rests throughout her eight-hour shift as much as possible. He said she can "run through" the concourse sniffing luggage for about 45 minutes before needing a break. But if there aren't a lot of travelers, she can last longer. Her favorite reward after work is playing with her ball.
In addition to being the only female dog, Maclyn is also the first dog of her breed in the county's police department, Henry says. Henry adds that they've mainly worked with German shepherds and Labrador retrievers.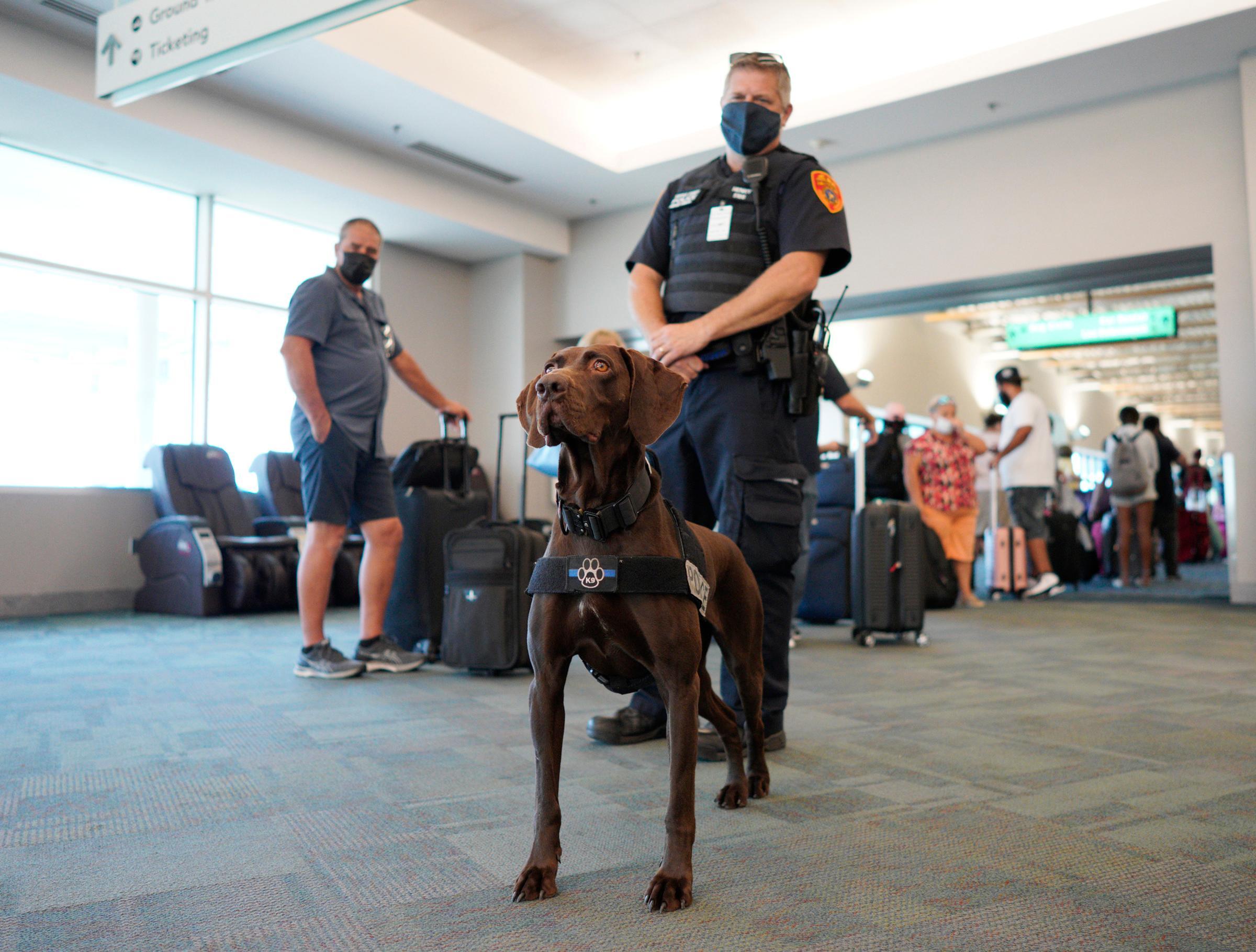 "Probably one of the other reasons why they picked the Pointer: High drive, a lot of energy," Henry says. "She's amazing though. When she's here, there's plenty of noise and plenty of movement. It kind of keeps her calm."
This demeanor took some time to achieve. "In the beginning, she was all over the place. She used to drag me all around the airport," Henry says. "She wanted to find the odor so she could play with her ball."
During the coronavirus pandemic, the airport was empty most days. So to keep Maclyn's skills sharp, Henry puts her to the test by setting up tasks for her to complete.
Now, with a sense of normalcy returning, she hasn't skipped a beat. And Maclyn seems happy while she weaves through the crowds. She doesn't get sidetracked when people pet her.
"We try to avoid people petting the dog but with her temperament, she's great," Henry says. "If you watch someone pet her, she's still sniffing away. She's still doing her job."

Dewey
1 year old
Greeter and Taste-Tester
Pawcasso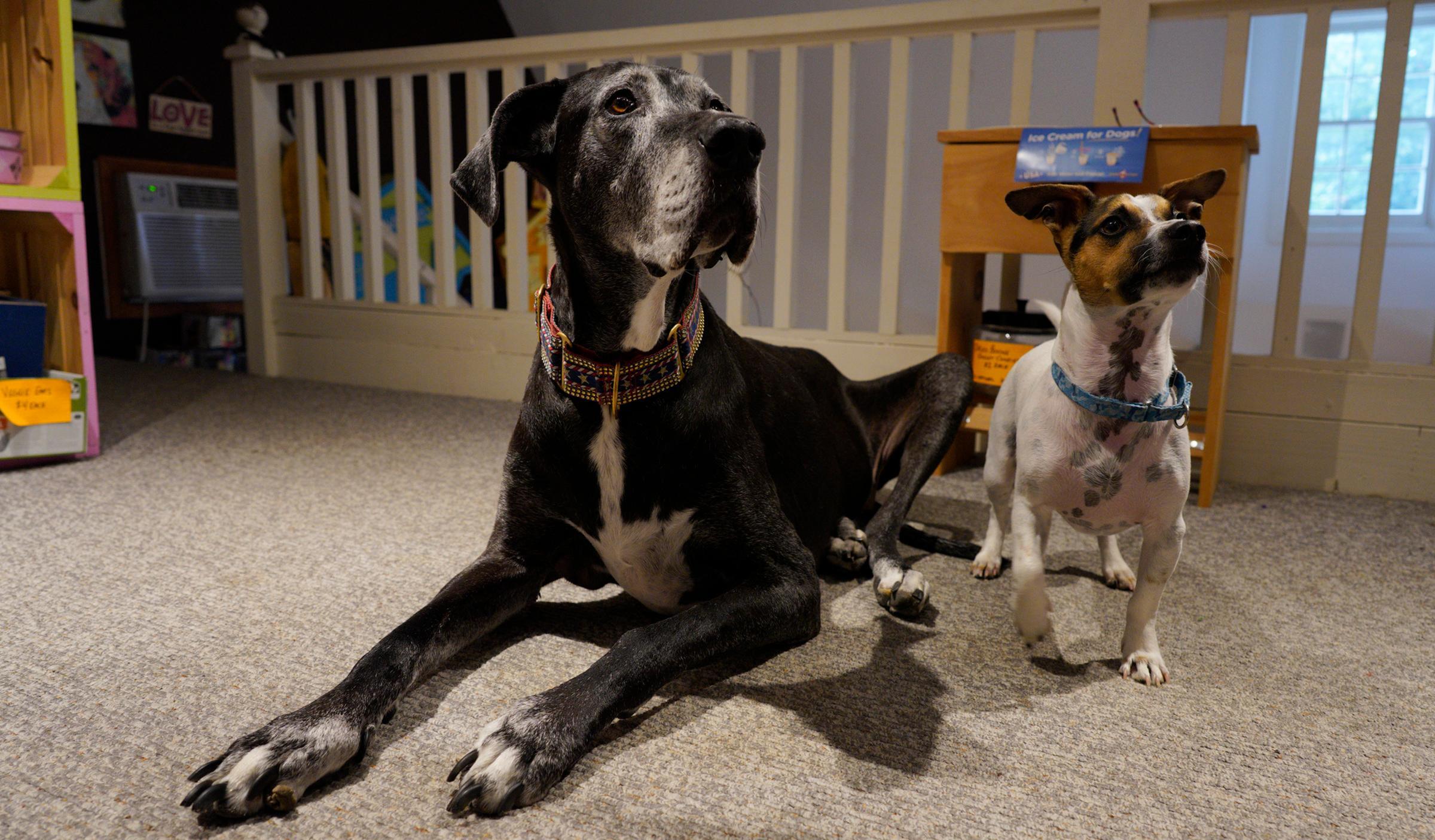 Kids giggled and yelled "Dewey!" as an energetic Jack Russell Terrier jumped up and down at the entrance of Pawcasso. On a summer day, they fed him sweet peppers and gave him hugs on the grass.
This art studio and pet boutique in Westhampton Beach is home to one of the happiest employees you'll ever meet. Dewey's job is to schmooze visitors all day long.
Pawcasso is more than dog-friendly — it's dog-embracing. Co-owners Barbara Martorelli-Shapland and Ron Shapland, of East Moriches, opened a pet store in 2015. But Shapland is a graphic designer, and some customers inquired about his work. Shapland started creating art inspired by pets.
"So one of our first thoughts was, we'll sell some of his unique pet ideas at our store," says Martorelli-Shapland. "But then more people started finding out he was an artist."
This was also around the time that paint-and-sip nights began trending — evenings of paint classes paired with refreshments started popping up on Long Island and beyond.
That's when the couple decided to move into their current space and expand. The first floor is their studio, where art classes for children and adults take place, and the pet boutique is upstairs. They sell treats (which Martorelli-Shapland makes herself by dehydrating all-natural meat and vegetables), collars, leashes and specialty items for dogs and humans alike.
"Animals and art," Martorelli-Shapland says. "How could you go wrong?"
Pet owners can bring their dogs while they paint, and the pup can even become a part of the experience, Martorelli-Shapland says.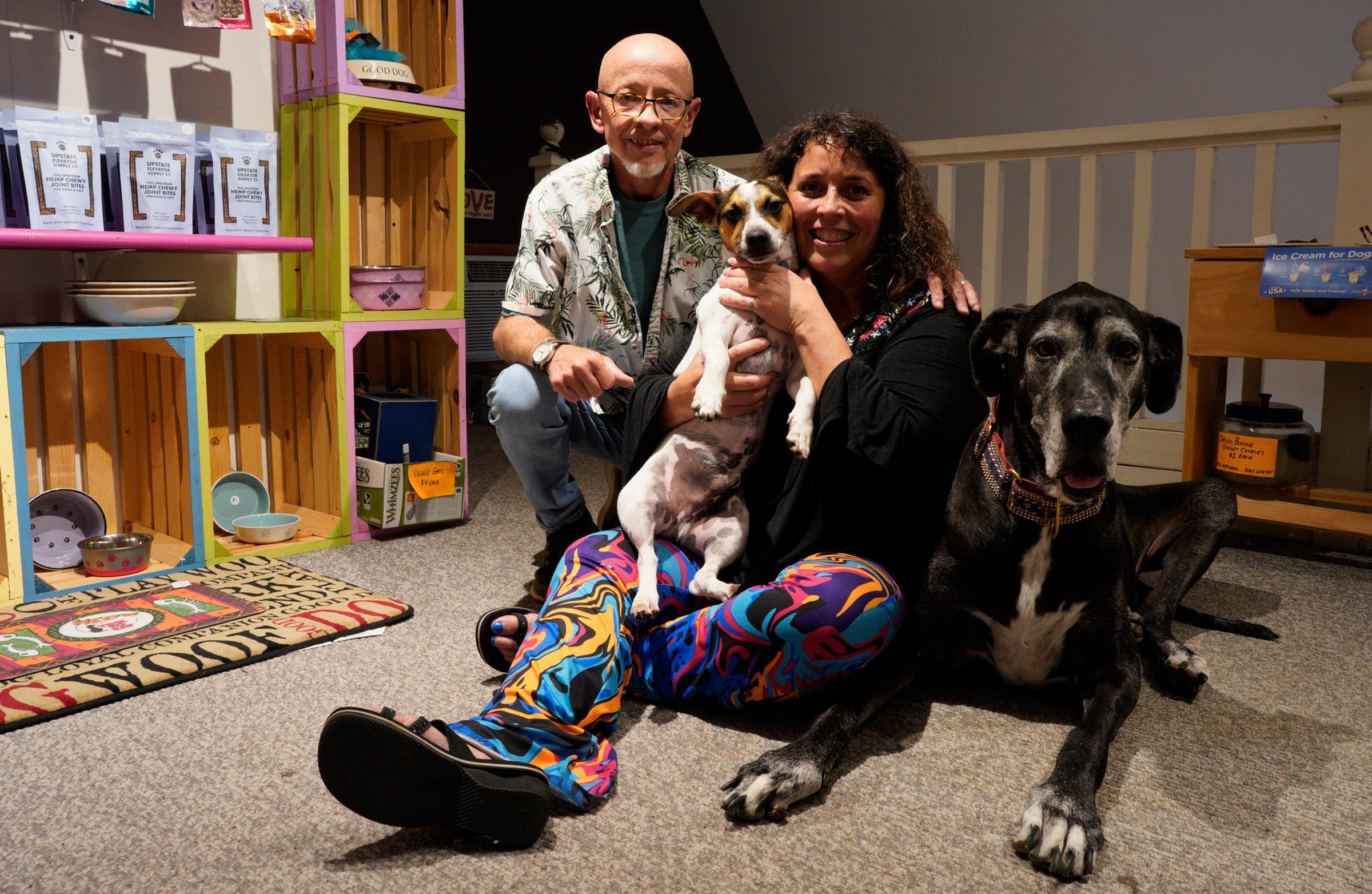 "Their dogs will lay down, sometimes they'll sit on a chair," she says. "And they can paint either them or something else. And we have animals incorporated into almost all of our paintings."
The "big draw" for the customers, the owners agree, is Dewey. The 1-year-old Jack Russell Terrier mix greets folks when they arrive at Pawcasso. The main entrance is a Dutch door, horizontally split and open on top. Customers get a great view of Dewey on their way in — he jumps excitedly so he can be seen through the door.
When children come in for art classes at the studio, that's when Dewey really gets to work.
"First thing he does is he greets the kids that come in," Martorelli-Shapland says. "Kids that love dogs tend to fall on the floor and let him go crazy and lick them."
"All you hear is, 'Dewey, Dewey, Dewey,'" Shapland adds.
"When we first got him when he was a puppy, we would go home and be like, 'If I hear the name Dewey one more time, I'm gonna scream,' " Martorelli-Shapland says with a laugh.
"He plays with them and then as customers come in, he greets every customer," Martorelli-Shapland says. "He also gets to play with all the dogs, so he loves that."
Lucky for Dewey, he's also a "taste-tester" for all of the treats sold at Pawcasso. But he doesn't do this job alone — the owners have another dog who roams the boutique area of the store. Kava is a nine-year-old Great Dane. When she was a puppy, she welcomed customers like Dewey does now, Martorelli-Shapland says. Since she's gotten older, now she mostly hangs out upstairs in the boutique while Dewey entertains in the studio below.
"They still love her; they go up and see her," Martorelli-Shapland says.
Meanwhile, Dewey also goes for walks with kids who take classes there, and they've even taught him a few tricks. As he jumps for joy at the entrance for any who comes in or just passes by, children laugh and point while painting their masterpieces.
"That's his job," Shapland says. "Making kids laugh."

Kota
6 years old
Grief Therapy Dog
Moloney Funeral Homes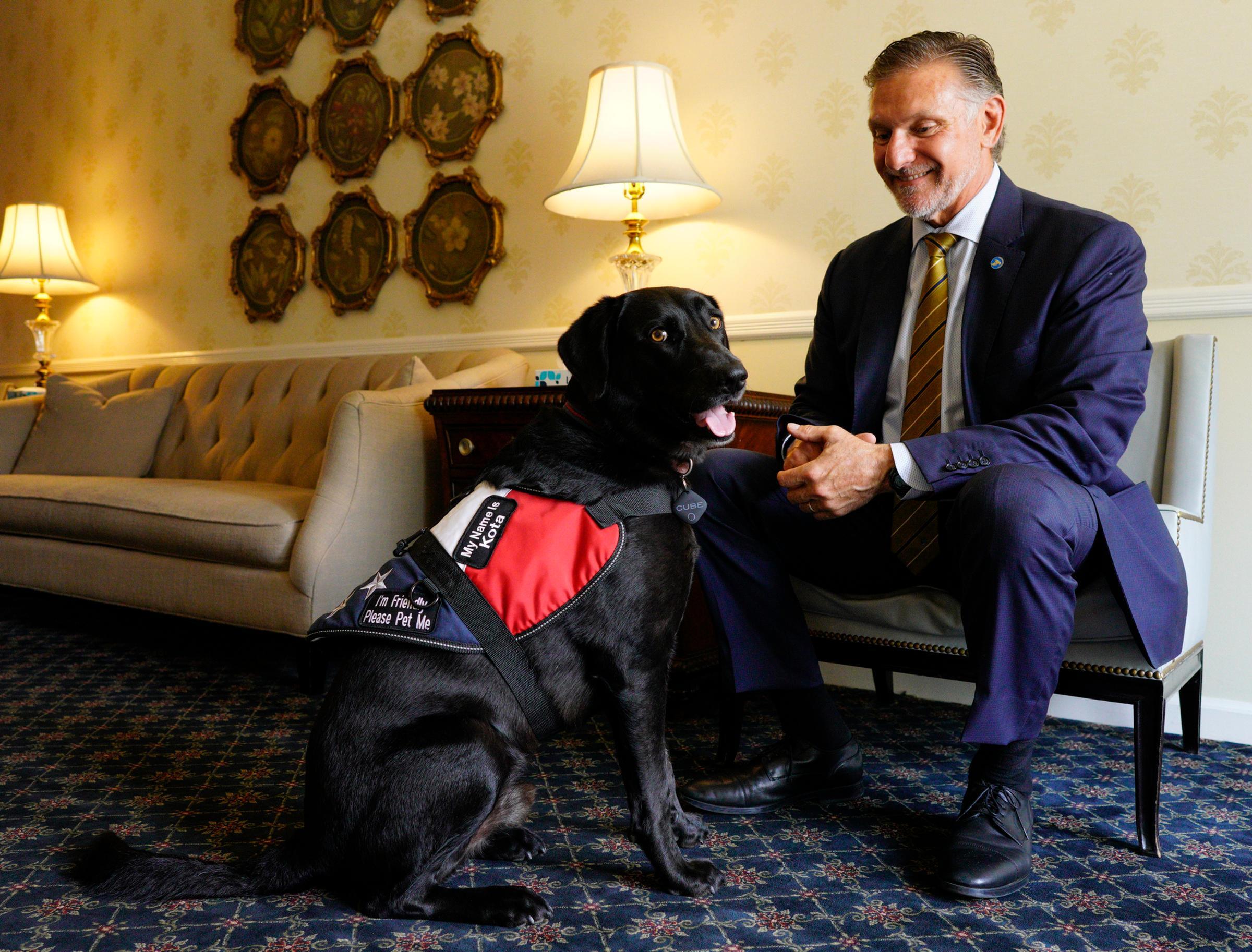 Six years ago, Kota was facing numbered days at a kill shelter in Arkansas. Now, he spends his time helping Long Islanders grieve the loss of their beloved family members at Moloney Funeral Homes.
"It's crazy how his journey has come full circle," says Peter Moloney, the owner of Moloney Funeral Homes which has seven locations in Suffolk County.
Moloney rescued Kota, a 6-year-old Labrador/Weimaraner mix with his family and after noticing his calm temperament, he trained him to become a therapy dog to offer relief during wakes.
"He knows when he's coming to work when he sees the vest." Kota's uniform is a patriotic red, white and blue vest with a patch that reads, "I'm friendly, please pet me" — that's exactly what his job entails.
Kota spends most days right beside Moloney — in his office in Ronkonkoma, greeting guests and staff, walking the grounds and attending monthly staff meetings. "He's the only one that groans," he jokes. "He gets away with it."
But Kota's biggest responsibly is attending wakes to serve as an emotional support animal, allowing those grieving to hug, play, pet or simply sit beside him. Kota attends as many as five services per day, spending up to 20 minutes with each.
"He's brought so much relief to grief through the past years to many, many families," he says, recalling a time when Kota consoled a 92-year-old man who'd lost his wife. "Kota just put his head on his lap and offered him that comfort he needed."
Moloney says it's been rewarding to watch as he didn't initially think Kota would make such an impact. He introduced the complimentary service at his funeral homes five years ago after witnessing the power grief dogs can hold while at a business meeting. It was that experience that encouraged him to train Kota to do the same. "We recognized that Kota was very smart and docile, so we came home and did some training."
That turned into six months of training four times a day and a therapy dog certification. "He's been working with families ever since."
On the off chance he's not traveling to services, he can be found lying in bed in Moloney's office in Ronkonkoma. "He's busy. He has a place up in my office where he relaxes with his little toys he chews on. He's a true companion for me."
Writers and producers: Meghan Giannotta and Rachel Weiss
Digital development: Mark Levitas and Matthew Cassella
Photo and video: Chris Ware
Multimedia journalist: Steve Langford