Billions of dollars in infrastructure investments being made now on the LIRR could transform how Long Islanders live and commute within the next five years, experts said.
From new trains to new stations to new tracks, several big-ticket improvements long debated for the Long Island Rail Road are now approved, funded and on the way.
Taken together, the convergence of major railroad enhancements provide a stark contrast to the misery commuters have endured leading up to, and during, the ongoing "summer of hell" that resulted from the LIRR struggling to reconcile record ridership with antiquated assets.
The fact is our region hasn't seen such a massive investment in our transportation system since Robert Moses built Long Island's parkway system.
– Kyle Strober, executive director of the Association for a Better Long Island, a planning group
Some of the projects were conceived decades ago, such as a third track along the LIRR's congested Main Line in Nassau County. Others seek to take advantage of emerging technology, including computer systems that can automatically prevent train crashes.
What this potentially will mean for the LIRR's 308,000 daily riders is shorter commutes, fewer rush-hour delays and cancellations, safer trains, and for some, a way to avoid the maddening conditions at Penn Station.
Chris Jones, chief planner for the Regional Plan Association, a nonprofit planning group, doesn't think all these projects are a panacea, but said "you can't underestimate the improvements that will be there once all these projects are done."
The changes coming to the LIRR will also provide better access to high-paying jobs, bring more income back to local businesses, increase home values, and help retain the next generation of Long Islanders, experts said.
It's going to be the greatest transformation of the LIRR since it began. It's long overdue.
– Gov. Andrew M. Cuomo, in a telephone interview Friday
Here's a look at some of the key improvements that are in the pipeline:
East Side Access
BUDGET: $10.2 billion
ESTIMATED COMPLETION: December 2022
WHAT IT WILL DO: The project, described as the largest public works effort under construction in the nation, aims to bring the LIRR to a new eight-track, bi-level station underneath Grand Central Terminal via six miles of newly bored tunnels from Queens to Manhattan. The Metropolitan Transportation Authority predicts some 162,000 customers will travel to and from the LIRR's new Manhattan terminal, which will include a 350,000-square-foot customer concourse and 25,000 square feet of new retail space.
Project proponents say the new, direct connection to Manhattan's East Side will save some commuters up to 40 minutes a day in travel time. It will also provide the LIRR and its riders an alternative to the aging and disruption-prone Penn Station.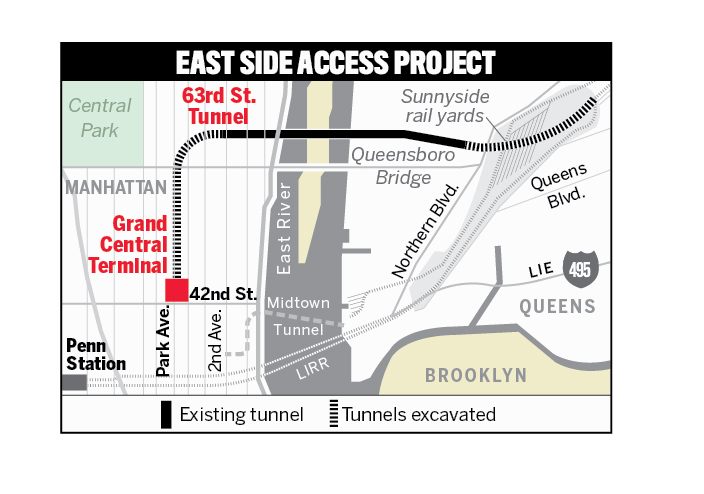 STATUS: Ten years after major construction began, significant progress has been made on the project, jointly funded by federal grants and the capital program of the MTA, the LIRR's parent agency. Major tunnel boring was completed about five years ago and the MTA last year awarded its last major construction contract, which will include putting the finishing touches on the new station. But delays and cost overruns have plagued the project, which was once forecast to be finished by 2009 at a cost of $4.3 billion. Project officials have said recently they are falling further behind, in part because of the lack of cooperation from Amtrak at a critical work site in Queens.
Third Track/LIRR Expansion Project
BUDGET: $1.95 billion
ESTIMATED COMPLETION: Officials have said construction will begin next year and take three to four years.
WHAT IT WILL DO: A decade after the LIRR's last expansion plan went nowhere, Cuomo and the railroad last year resurrected the plan for improvements along a particularly busy 9.8-mile stretch of the LIRR's Main Line between Floral Park and Hicksville. Key among them is the construction of a third track on the LIRR's existing property that officials say will reduce congestion and provide needed redundancy for the LIRR to more quickly bounce back from unplanned service disruptions, by providing additional track space around disabled trains and other problems. It will also facilitate reverse commuting to and from jobs on Long Island.
The planned work also eliminates seven railroad grade crossings, which will reduce accidents, traffic congestion and noise from train horns and whistles. Also in the plan are more than 3,600 new parking spaces, including at least three new garages, modernized train signals and improvements to several stations along the project corridor.
STATUS: Just last month, the State Legislature accepted the MTA's amendment of its five-year capital program to include the third track, clearing the way for the agency to put out to bid a contract to design and build the project, guided by the final environmental impact statement that was issued in April.
Double Track
BUDGET: $388 million
ESTIMATED COMPLETION: Summer 2018
WHAT IT WILL DO: Formally proposed in 2009, the Double Track will add a second set of rails to an 18-mile, largely single-track stretch between Farmingdale and Ronkonkoma. The MTA has said the addition of a second track, which is being constructed entirely on the LIRR's property, will "dramatically increase capacity of the Ronkonkoma Branch" — allowing the railroad to offer half-hourly service in both directions during off-peak hours, providing more flexibility, reducing the impact of disruptions on the branch, and better serving Long Island MacArthur Airport. The project also calls for signal upgrades where the new rail is being added.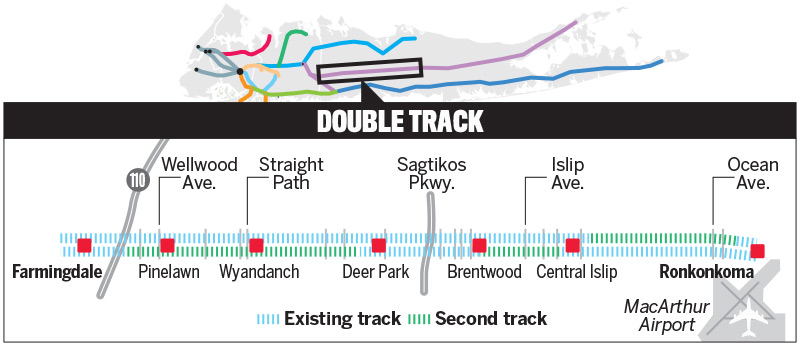 STATUS: The first segment of new track was laid in 2015 just west of Ronkonkoma, and by August of last year the second track had reached as far as Central Islip. Construction work was under way in Brentwood as recently as last month. Cuomo recently said the project, originally slated to be complete by late 2018, was on pace to finish months early.
Penn Station Redevelopment/Moynihan Train Hall
BUDGET: $1.6 billion
ESTIMATED COMPLETION: December 2020
WHAT IT WILL DO: In September 2016, Cuomo announced plans to carve out space for the LIRR in the new 255,000-square-foot Moynihan Train Hall being built at the James A. Farley Post Office on Eighth Avenue, across the street from Penn Station. Cuomo said the new train hall, which was initially proposed to be used exclusively by Amtrak, could "effectively replace Penn Station" for some commuters.
The 300,000-square-foot new train hall will include a new concourse for LIRR customers, retail and a 92-foot-high skylight roof. The project includes improvements to the existing LIRR concourse at Penn, with wider walkways and taller ceilings. The project promises to ease the confusion, crowding and chaos at Penn, but does nothing to improve or add capacity to the tracks below.
STATUS: In June, the Empire State Development Corp., a quasi public agency overseeing the Moynihan initiative, closed on the second and final phase of the project, which is being funded by the state, Amtrak, the MTA, the Port Authority, private developers and through federal grants. June also marked the completion of the first phase, which included new entrances/exits and a new 400-by-400-foot customer concourse with access to 17 of Penn's 21 tracks.
Positive Train Control
BUDGET: $968 million for the LIRR and Metro-North combined.
ESTIMATED COMPLETION: December 2018
WHAT IT WILL DO: So-called PTC is intended to curtail deadly crashes by reducing the possibility of human error. Radio transponders installed on tracks and on trains communicate with each other to automatically slow down or stop a train if it's going too fast, is about to hit another train or violates a signal.
Experts, including the National Transportation Safety Board, have said PTC could have prevented several train accidents in the Northeast in recent years.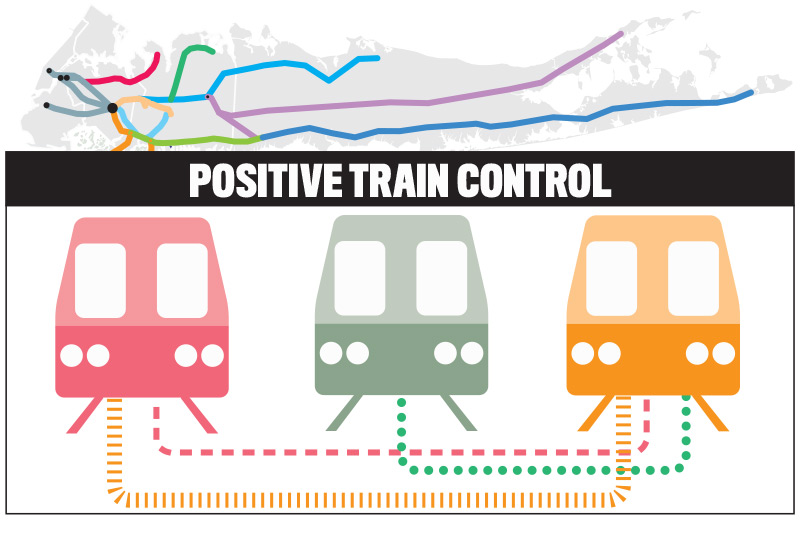 STATUS: The U.S. Safety Improvement Act of 2008, drafted after a Los Angeles collision between a commuter train and a freight train killed 25 people, requires all railroads to have PTC in place by the end of 2018. The MTA has begun installing the technology on tracks and trains and says it is still on schedule to meet the deadline. But the agency has also said recent design and software issues "have made it more challenging to maintain the schedule" and that it is "in the process of determining if additional funds are needed."
Jamaica Capacity Improvements
BUDGET: $442 million
ESTIMATED COMPLETION: 2019
WHAT IT WILL DO: The project is to bring some of the most significant changes in the 104-year-history of the busy Queens junction, where all but one of the LIRR's branches converge. Included is a major reconfiguration of Jamaica's complex network of tracks and switches, including the construction of a new, dedicated track and platform for all Brooklyn trains. The new area, located south of the existing tracks near the AirTrain connection to Kennedy Airport, will include glass-enclosed, heated waiting areas, Wi-Fi access and USB charging stations. LIRR officials have said the enhancements will allow the LIRR to increase the number of morning trains it runs from Jamaica to Manhattan by 40 percent — a necessary upgrade as the railroad begins running to Grand Central Terminal in 2022 via East Side Access.
STATUS: Begun in 2010, the Jamaica project is being funded through both the MTA's existing 2015-2019 capital program and its previous five-year plan. In September 2016, the MTA announced it had awarded a $64.9 million contract to create the new platform and track for Brooklyn trains. Some tracks have already been reconfigured, including at the Johnson rail yard near the station.
The Next Generation of LIRR Trains
BUDGET: $500 million
ESTIMATED COMPLETION: First cars roll out in November 2018
WHAT IT WILL DO: The LIRR expects to purchase more than 400 new "M-9" model train cars, both to bolster its existing fleet of about 1,200 trains as it begins running additional service as part of East Side Access, and to replace its 1980s-era M-3 electric cars.
The trains will include several new features, like onboard cameras, closed-loop armrests that will prevent ripped pockets, electrical outlets on every row, 32-inch multimedia screens in each car, increased window tint to reduce glare, touchless hand dryers in the bathrooms, and four to six additional seats per every pair of cars. Another 160 "M-9A" cars, which may come online in 2021, will have even more amenities, including USB ports at every outlet, power bathroom doors, and damage-resistant windows.
STATUS: The new cars, funded in the MTA's current capital program, are being designed by Kawasaki Rail Car Inc. in Kobe, Japan, but will be mass-produced at Kawasaki's facility in Yonkers. The design phase has encountered some delays and cost overruns, in part because the initial design did not include the necessary space for the installation of positive train control equipment.
OTHER IMPROVEMENTS: Commuters stand to benefit from other projects in the works: $120 million in renovations at 16 LIRR stations, a $128 million new storage yard in Ronkonkoma and new stations near Republic Airport in East Farmingdale and the Brookhaven National Laboratory in Yaphank. In addition, the construction of new "pocket tracks" and rail sidings will offer smaller capacity improvements.
The next frontier
In addition to the improvements already in the pipeline, experts said there will be plenty of proposals on the horizon to complete the LIRR's transformation into a 21st century railroad. They include:
-Amtrak's proposed $24 billion Gateway project, which would eventually double the capacity at Penn Station by adding new tracks and platforms and a new rail tunnel under the Hudson River.
-LIRR president Patrick Nowakowski has said a top priority in the MTA's next capital program should be bringing centralized, computerized train control to the railroad to replace its antiquated signal tower-based train control system.
-Several towns and villages have lobbied the LIRR to electrify its tracks throughout its "diesel territory" in Suffolk.
-The Regional Plan Association has proposed "through-running service" among the region's commuter railroads that would include extending the LIRR into New Jersey.
Cuomo has also pushed for the consideration of other far-out projects, like an AirTrain linking the LIRR to LaGuardia Airport and a rail tunnel across the Long Island Sound.
After months of planning and dread, the "summer of hell" has arrived on Long Island.
Want to join the chatter? Use the hashtag #SummerofHell on Instagram or Twitter.
---
6:46 p.m.
Penn Station

https://www.instagram.com/p/BWYiDbAHP_Y

6:30 p.m.
Mineola
Reverse commuter Nick Ward, 30, of Greenpoint awaits his train home at Mineola station on the first day of #summerofhell #newsday pic.twitter.com/gAyV7sICGA

— Ken Schachter (@kschach) July 10, 2017
Nick Ward, 30, lives in Greenpoint, Brooklyn, and commutes to Mineola for his job at Dealerweb, a fixed income brokerage in Garden City. He's been doing the reverse commute, which takes an hour and 10 minutes "on a good day," for three months. The trip Monday morning was smooth, but Ward said "today is the first day of service changes, but not the first day of commuter headaches. Every day it's something."
— Ken Schachter
6:30 p.m.
Hunterspoint Avenue
#TrainPain is real on the 1st Day of the #summerofhell as Penn Station construction diverts commuters like myself to Queens, Brooklyn & LIC pic.twitter.com/QfEzjVUcdO

— Julia Neisloss (@Julia_Neisloss) July 10, 2017
6:11 p.m.
Traffic on the bus route back, to no commuter's surprise. But there is ac! #summerofhell pic.twitter.com/yqUmDHem0q

— Christine Chung (@chrisychung) July 10, 2017
6 p.m.
.@LIRR someone is eating tunafish on my train and it's 100x worse than any delay or cancelation I will encounter during this #summerofhell

— billy (@chunter3482) July 10, 2017
Normally this corridor is packed with people around 6pm but today is pretty empty. We'll see what #summerofhell has it store for us pic.twitter.com/nP6OxNmUbk

— Kevin Lui (@kevinlui915) July 10, 2017
Another practically empty commuter bus back to Long Island. One passenger on board headed to valley stream. #SummerofHell pic.twitter.com/N0uIu7e3vT

— Christine Chung (@chrisychung) July 10, 2017
5:50 p.m.
#summerofhell begins – won't be getting on this one! pic.twitter.com/zjBZZrOvXb

— KristenChambersJPM (@kchambo1) July 10, 2017
5:45 p.m.
5:30 p.m.
#summerofhell ? Train was 5 mins early this AM and Penn was uncrowded and train flying in the PM more like #summerofswell

— Tyler Thornhill (@tylerdthornhill) July 10, 2017
Here's a first: Carol Doner cools off on one train while waiting for another on opposite tracks to pull through. #SummerOfHell pic.twitter.com/KmbFU0YIAp

— Scott Eidler (@scottyeidz) July 10, 2017
5:10 p.m.
Atlantic Terminal
Crowd waiting for a train at Atlantic Terminal in Brooklyn. #summerofhell @Newsday pic.twitter.com/AC0fRMjdtJ

— Michael O'Keeffe (@MOKNYC) July 10, 2017
4:52 p.m.
4:24 p.m. train to Ronkonkoma left a minute late, but we're cruisinnnnnn. Passengers say they're yet to see #summerofhell pic.twitter.com/wyAfeiDh4z

— Taylor Swaak (@tswaak27) July 10, 2017
4:30 p.m.
Cold beers selling hot at Atlantic Terminal
Justin Miata, 26 of Elmont, gets beer as he waits for the train #SummerofHell pic.twitter.com/M4r0gYzDSZ

— Scott Eidler (@scottyeidz) July 10, 2017
A line was brewing outside the LIRR tracks Monday afternoon at Atlantic Terminal — but not for a seat.
A few minutes before hopping on the 4:16 p.m. train to Babylon, Ken McLellan, 47, bought two Coors Lights at the terminal's bar. Usually he'll grab one. "I don't know how long the ride's going to be. I want to be prepared," the Manhattan attorney said.
Justin Miata, 26, an accountant from Elmont, was headed home from Atlantic Terminal on the Hempstead line and bought a Coors Light at the bar. He had an appointment in Brooklyn Monday, but said he would head to the Hunterspoint Avenue station during the summer to avoid the crush of commuters at Jamaica. "I know it's going to be hectic, and I'd rather get a different train away from the chaos at Penn. The beer, he said, is refreshing after a hot day.
Nearby, Valerie Purcell, a social worker heading to St. Albans, was sipping on a vodka and tonic as she waited for her train. "It's going OK," she said, calling the LIRR civilized. "Where else can you come for cocktails and read your books?"
— Scott Eidler
OH at Penn: "Commute was wonderful" also "It's been brutal" #SummerofHell pic.twitter.com/rczCVljera

— Anahita Pardiwalla (@anahitakp) July 10, 2017
4 p.m.
3:40 p.m.
Penn Station
Afternoon commuters are starting to gather in front of LIRR board. No noticeable delays #summerofhell pic.twitter.com/nGXouxDjbp

— Taylor Swaak (@tswaak27) July 10, 2017
3:30 p.m.
The real test of the #summerofhell for the LIRR will be when there is a 'signal problem' in Jamaica on top of the modified schedule.

— Lance Millionz (@Lancealotlinks) July 10, 2017
Hey @LIRR @MTA maybe as a courtesy to everyone going though #summerofhell you could turn on the AC? Too much to ask for my $250 a month?

— leigh quindara (@leighquindara) July 10, 2017
1 p.m.
Selena Rosa celebrated #NationalPiñaColadaDay by making 150lbs of the drink. LIRR commuters can bring their tickets for free drinks all day! pic.twitter.com/KeyWjvhWJO

— Anahita Pardiwalla (@anahitakp) July 10, 2017
After months of planning and dread, the "summer of hell" has arrived on Long Island.
Check back here for live updates from Newsday's reporters, and tune in to News 12 Long Island as they broadcast from the field.
Want to join the chatter? Use the hashtag #SummerofHell on Instagram or Twitter.
---
Passengers wait for a morning train in Huntington Station on Monday, July 10, 2017. (Credit: Ed Betz)
---
7:30 a.m.
Mineola
At Mineola @LIRR to hear how commuters are dealing w/ #summerofhell. Seems like fewer commuters than usual- so far. Cc:@JoeLhota @News12LI pic.twitter.com/G6OB6gT7XE

— Jack M. Martins (@jackmartinsny) July 10, 2017
---
7:26 a.m.
Penn Station
Welcome to Penn where the fun begins #summerofhell pic.twitter.com/oqZv1TovHf

— Anahita Pardiwalla (@anahitakp) July 10, 2017
---
7:15 a.m.
Bethpage
Packing an empty car in Bethpage #SummerofHell pic.twitter.com/OnwUuraWCE

— Scott Eidler (@scottyeidz) July 10, 2017
Cheryl Tudor & Jaime Obremski at Bethpage. Taking a train 21 mins earlier than usual. "I'm very nervous," Obremski said #SummerOfHell pic.twitter.com/vCbwIe2cY8

— Scott Eidler (@scottyeidz) July 10, 2017
---
7 a.m.
Roosevelt Field park-and-ride. Buses at the ready. #summerofhell pic.twitter.com/FdU5b6ZELG

— nerdy.nel (@nerdynel17) July 10, 2017
#summerofhell @News12LI @Newsday We've managed to crawl a few more feet. We just passed the Clearview Ramp but we're gonna stay on the LIE. pic.twitter.com/IthlIYOje3

— Khristopher J Brooks (@AmericanGlow) July 10, 2017
It's getting packed in here! spy people reading @Newsday as they should be on this first day of #summerofhell pic.twitter.com/UZbAW432oK

— Anahita Pardiwalla (@anahitakp) July 10, 2017
6:57 a.m.
Glen Cove
Just 39 takers for the 6:10 Glen Cove ferry. I'm guessing that number grows in the coming weeks if things go smoothly #SummerOfHell @newsday

— Alfonso Castillo (@AlfonsoReports) July 10, 2017
---
6:38 a.m.
Penn Station
Not too many Penn Station friends yet (should be picking up soon) #SummerOfHell pic.twitter.com/17STfq9shX

— Taylor Swaak (@tswaak27) July 10, 2017
---
6:33 a.m.
Port Washington
MTA personnel at Port Washington station tells me SO far everything is running smoothly #summerofhell pic.twitter.com/pPPQUp8JOQ

— Anahita Pardiwalla (@anahitakp) July 10, 2017
---
6:27 a.m.
Glen Cove
Starting the morning off early trying out this ferry business #glencoveferry #ferry #summerofhell pic.twitter.com/KJCuWRsVce

— Jen P (@Jenwestbay) July 10, 2017
---
6:21 a.m.
Atlantic Terminal
Eerie quiet at Atlantic Terminal, where New York's commuter #Summerofhell begins today. Will this go smoothly or is this quiet before storm?

— Michael O'Keeffe (@MOKNYC) July 10, 2017
---
6:15 a.m.
First #LIRR express bus set to leave park and ride. #SummerOfHell pic.twitter.com/tERxyZGG3x

— Erin Colton (@erincolton) July 10, 2017
---
6 a.m.
Penn Station
If you're taking 1 of the LIRR's buses or ferries today I'm especially curious how those run–and why you chose that option. #summerofhell

— Alfonso Castillo (@AlfonsoReports) July 10, 2017
My 4:53 a.m. train from Farmingdale arrived in Penn on-time for its first day 👌🏻 #summerofhell pic.twitter.com/VoEzIZiGxt

— Taylor Swaak (@tswaak27) July 10, 2017
---
5:15 a.m.
Atlantic Terminal
LIRR #summerofhell Day 1? No problem! 5:15am to Atlantic Terminal, got the place all to myself. #lirr #atlanticterminal #actorslife pic.twitter.com/S466PUOJV4

— Rich Mollo (@richmollo) July 10, 2017
---
5 a.m.
So it begins! The #summerofhell #LIRR App says 5:33 train "cancelled" , station announcement says "on time" train shows up 2 minutes late! pic.twitter.com/UkZVJ1uhgw

— Doug Z. Goodstein (@dougzgoodstein) July 10, 2017
---
4:54 a.m.
Farmingdale
4:53 a.m. peak train to Penn right on time (good start?) #summerofhell pic.twitter.com/QsXE7TlaLs

— Taylor Swaak (@tswaak27) July 10, 2017
---
My Dad: "You should leave this afternoon for work tomorrow"#SummerOfHell

— Dan Colantonio (@DanColantonio4) July 9, 2017
---
After months of planning and dread, the "summer of hell" has arrived on Long Island.
Check back here for live updates from Newsday's reporters, and tune in to News 12 Long Island as they broadcast from the field.
Want to join the chatter? Use the hashtag #SummerofHell on Instagram or Twitter.
---
12:30 p.m.
#summerofhell still plentiful at Nassau coliseum… Somebody must have left work early now there's only seven cars in the lot pic.twitter.com/gFQiBeVF3B

— John harvey (@Johnhar22345543) July 10, 2017
---
11 a.m.
Louie Platanias, owner of Mineola Eats, says that the impact of #summerofhell could force him to cut workers' hours.#newsday pic.twitter.com/JM7gSxZc9K

— Ken Schachter (@kschach) July 10, 2017
Trains came and went at Jamaica station mostly unremarkably during Monday's morning rush hour, passengers and LIRR personnel said.
Jamaica station, a potential choke point junction where hundreds of trains pass through each day, was flooded with LIRR customer service personnel in blaze-orange safety vests.
They carried paper printouts of scheduling changes, and helped direct passengers through sometimes confusing train transfers. One of them, who had been on duty since 5 a.m., said the morning commute at Jamaica seemingly had gone off without a hitch.
The LIRR employee, who would only identify herself as a manager in a project planning office, said many of her colleagues in the office had been reassigned to help guide commuters on Jamaica station's platforms, and that she expected to continue to do so into September.
"It's been all hands on deck," she said. "But I don't know how our regular work is going to get done."
---
10:30 a.m.
Rahima Hossain says her newsstand near Mineola station will feel the affects of the LIRR #summerofhell #newsday pic.twitter.com/5TwP5VEyxk

— Ken Schachter (@kschach) July 10, 2017
9:30 a.m.
I took an express on #LIRR during #summerofhell this morning with no issues. As a former #NJTransit person, LIRR folks have no complaints.

— Michael Krebs (@MichaelPKrebs) July 10, 2017
#summerofhell plenty of free parking at Nassau Col. 8 cars in lot. Getting out will still probably be a nightmare pic.twitter.com/vDSMwX66Db

— John harvey (@Johnhar22345543) July 10, 2017
---
9:03 a.m.
West End Concourse
Dozens of riders arrive at the new concourse at the Farley Post Office #summerofhell pic.twitter.com/ZWJXz0VUfQ

— Mark Morales (@MarkMorales51) July 10, 2017
---
9:02 a.m.
Atlantic Terminal
MTA workers in orange vests are stationed at Atlantic Terminal to help commuters on 1st day of #Summerofhell pic.twitter.com/TbD2p6cFUZ

— Michael O'Keeffe (@MOKNYC) July 10, 2017
---
8:56 a.m.
Port Washington
so far my 8:30 am PW train to #pennstation was 8 mins late. Otherwise 1st day of #summerofhell is okay

— Evelyn Batista (@evelina22368) July 10, 2017
---
8:39 a.m.
Penn Station
At Penn Station, on my way to work. @NYCTSubway seems to be on an normal schedule with exceptions to @LIRR & @Amtrak. #SummerOfHell🚊 pic.twitter.com/H3u3p1MgYj

— Joshua Albarran (@JoshX1993) July 10, 2017
---
8:32 a.m.
Hunterspoint Avenue
The @LIRR clearly underestimated the amt of ppl going to Hunterspt Ave. Train was packed & took forever to get to 7 train. #summerofhell

— Kristi Gatto (@kristigatto) July 10, 2017
---
8:30 a.m.

https://www.instagram.com/p/BWXcRFvDO7u/

@LIRR Actually a great ride this morning on the 6:46am from Wantagh to NYC. #summerofhell off to a less than terrible start.

— James Sheridan (@jmbsheridan) July 10, 2017
John Kobi of Dix Hills: "It's an aggravation." #SummerOfHell pic.twitter.com/vwVndaOJWc

— Scott Eidler (@scottyeidz) July 10, 2017
My train was more on time than it is on a normal basis #summerofhell @LIRRoutrage

— Michelle Aimee (@hayyitsmichelle) July 10, 2017
---
8:17 a.m.
Penn Station
Almost at Penn and I haven't seen a single conductor 🙄

— Jenna Bella (@mushybella) July 10, 2017
---
8:13 a.m.
Hunterspoint Avenue
First day going to #hunterspointave instead of #pennstation. Connection was 8 minutes late. #TrainPain4NY #traintrouble #summerofhell @LIRR

— Amy Jacobs (@i_am_cookielady) July 10, 2017
---
8:03 a.m.
Babylon
My train (8:03 Babylon-Penn) is one minute ahead of schedule leaving Jamaica. Forest Hills and Penn are the last two stops. #SummerOfHell

— Baby (@HornikGSN) July 10, 2017
---
8 a.m.

https://www.instagram.com/p/BWXXr3Vhh0K/

---
The MTA says its plan to get through the Long Island Rail Road's so-called "summer of hell" will provide enough options and redundancies to serve all of the LIRR's daily riders.
At the same time, experts warn there's ample opportunity in the complex plan for something to go wrong, and the consequences could be severe.
The multi-faceted plan is designed to accommodate all of the LIRR's daily riders — numbering 300,000 on any given workday — despite operating with three fewer tracks at the railroad's primary hub, Penn Station, to accommodate long-delayed track improvements.
To maintain its existing capacity, the railroad is lengthening some trains, running additional trains just outside the rush hours, and supplementing rail service with first-of-their kind express bus and ferry routes. The LIRR is also relying on customers' willingness to travel to alternative stations, such as Atlantic Terminal in Brooklyn, throughout the summer, and will offer reduced fares as an incentive to do so. In addition, construction work on river crossings, including the RFK bridge, is being hastened to make it easier for those who take to their cars.
The MTA has said it will be flexible with its plan, and re-evaluate and change it as needed throughout the summer. But for Long Islanders who simply have to get to Manhattan this summer, there's ample opportunity for something going wrong on a commuter railroad already operating at the brink.
Will it work? Here are some of the factors that may make the difference.
Penn Station
On an average day, the nation's busiest rail hub is a crowded, confusing and chaotic place. With construction blocking access to three of Penn's tracks, and Amtrak and NJ Transit sharing tracks that the LIRR usually has to itself, it could be especially hectic. To reduce the pressure on Penn, the LIRR is counting on some commuters choosing other options, including subways and other LIRR city terminals. But the vast majority of LIRR trains will still go to and from Penn Station.
Although the LIRR has said only peak trains will be affected by the service disruptions, Penn may also be more crowded than usual during off-peak hours. Some late-night travelers will also be impacted, as the LIRR is canceling three overnight trains to and from Penn throughout the summer.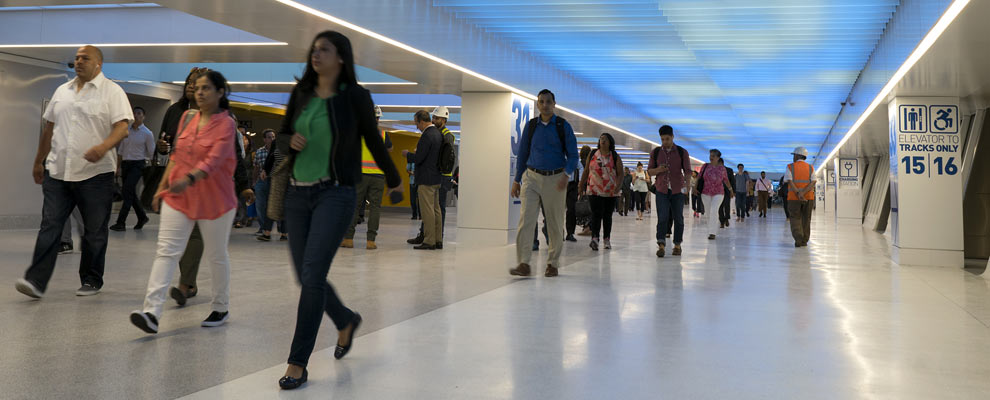 Commuters at the newly opened West End Concourse at Penn Station, part of the Empire Station/Moynihan Train Hall Development that is part of the Farley U.S. Post Office building. Photo by Craig Ruttle
On the upside, the newly opened west-end concourse at Penn, beneath the old Farley Post Office, provides new space for commuters to congregate and disperse. It will be especially important once the LIRR starts running longer trains that release more commuters than usual onto a platform all at once.
Alternative terminals
This summer could be the coming-out party for the LIRR's other NYC terminals, which are typically viewed as the stepchildren of Penn Station – most notably Atlantic Terminal in Brooklyn and Hunterspoint Avenue in Queens. With six tracks, a relatively new customer concourse, and connections to several major subway lines, Atlantic is equipped to handle more riders than it does now.
Hunterspoint Avenue, on the other hand, is old and rickety – handling just a handful of customers a day. But for commuters heading to the East Side of Midtown Manhattan, it could be an attractive option.
As an incentive for riders to use the alternative terminals — and help make up for the inconvenience of having to doing so — the LIRR is reducing fares to and from Atlantic and Hunterspoint Avenue by an average of 25 percent this summer. But many commuters have said commuting to and from stations in Queens or Brooklyn doesn't work for them, both because of the added distance from their workplaces and the infrequency of service.
Subways
The LIRR's summer plan will lean heavily on the MTA's subway system to carry customers to their jobs from key transfer points, such as Jamaica, where riders can grab the E, J and Z trains, Hunterspoint Avenue, where passengers can catch the 7, and Atlantic Terminal, which connects to many of the city's main subway lines.
The MTA says it has more than enough capacity to handle the extra riders. Railroad spokesman Shams Tarek noted that even if every affected commuter chose to ride the subway — an "impossible scenario"— the impact would be negligible on a system that transports 1.6 million riders every morning.
But the extra riders will come at a time when the subway system is under considerable strain itself, with growing delays caused by overcrowding on trains and at platforms. The recent problems led the MTA to take on a top-to-bottom review of the subway system, and prompted Gov. Andrew M. Cuomo to declare the system in a state of emergency on June 29.
In addition, the LIRR has only offered to honor railroad fares on subways in the mornings.
Ferries
Among the more murky elements of the MTA plan is the creation of as many as three new ferry routes to help commuters get to and from East 34th Street in Manhattan. The MTA has yet to name the vendors that will operate the routes, and securing vessels in the peak summer season is a challenge, experts said.
The MTA says the Glen Cove and Long Island City ferries will accommodate 2,300 people.
It's unclear how popular the new service will be, but New York City's ferry system has struggled to meet growing demand, even chartering extra boats in recent months.
Some Long Island residents and officials have already raised several concerns, saying the plan has not been adequately studied for its environmental impact and will bring unwelcome car traffic.
The MTA previously said it was looking into setting up a third ferry route to serve South Shore Nassau commuters, including those on the Long Beach and Far Rockaway lines, but it has yet to materialize.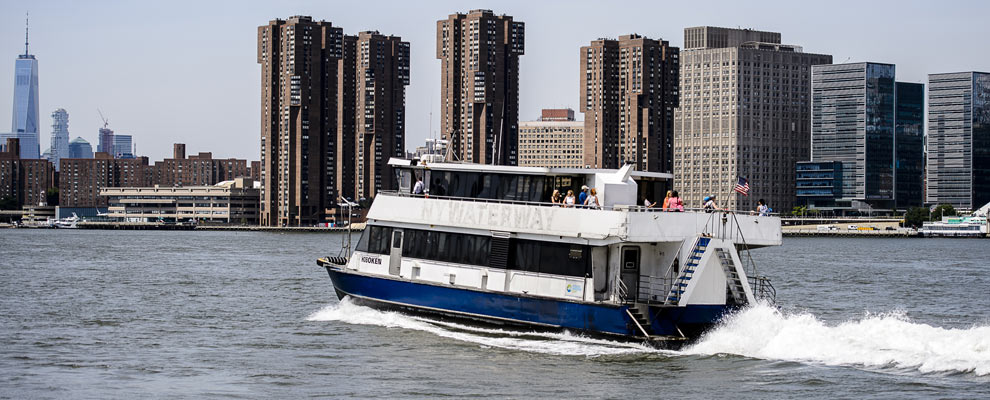 A ferry leaves Hunters Point South ferry landing in Long Island City. Photo by Jeff Bachner
Express buses
The MTA says it has secured 200 coach buses both from its own fleet and from two New Jersey-based private vendors — Coach USA and Academy Bus — to carry 10,000 commuters to and from eight designated locations on Long Island and three in Manhattan — at East 34th Street near the Midtown Tunnel, near Penn Station, and near Grand Central Terminal.
But the buses will have to navigate the infamous traffic on the Long Island Expressway and connecting roads, a deterrent for commuters looking for predictability. The MTA has said it will be flexible, and could opt to reduce the number of buses provided if there are too few takers. But it also notes the buses, which will be stored in Long Island City and Hoboken during mid-days, could provide a backup during unanticipated service disruptions.
To help make the buses a slightly more attractive option, the MTA plans to provide free food and drinks at their designated origin points on Long Island.
It also remains to be seen whether the designated park-and-ride locations – including the already popular Park & Ride in Melville – set up by the MTA will be able to handle all those extra cars.
Roads
The plan also aims to help ease the traffic on the roadways both for commuters who opt to drive all or part of the way to work, and for the express buses the MTA will run between Long Island and Manhattan. Gov. Andrew M. Cuomo has said all construction projects going on at the MTA's crossings will be rushed along and finished by July 8, only two days before the Penn work begins.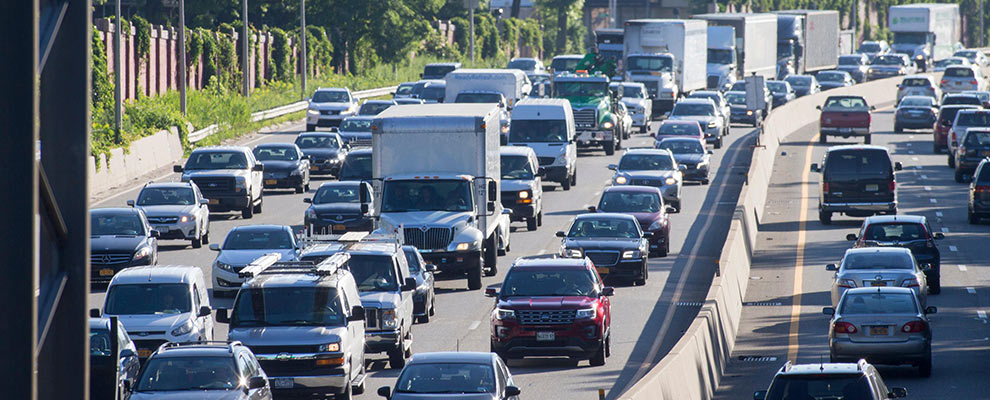 Photo by Howard Schnapp
The plan also offers 50 percent toll discounts to truckers overnight to get them off the roads during the days. Rather than charging less to drive overnight, some experts have said the state should have charged more to cross during the day – essentially implementing a congestion pricing plan. Also helping matters will be the recent implementation of cashless tolling at some major crossings, including the Midtown Tunnel and RFK Bridge.
Crowding
With 20 percent fewer rush-hour trains going into and out of Penn this summer, some trains and stations may see a lot more crowding than usual. The LIRR says it has carefully considered ridership demands on every train and every station, and is confident it will be able to handle them.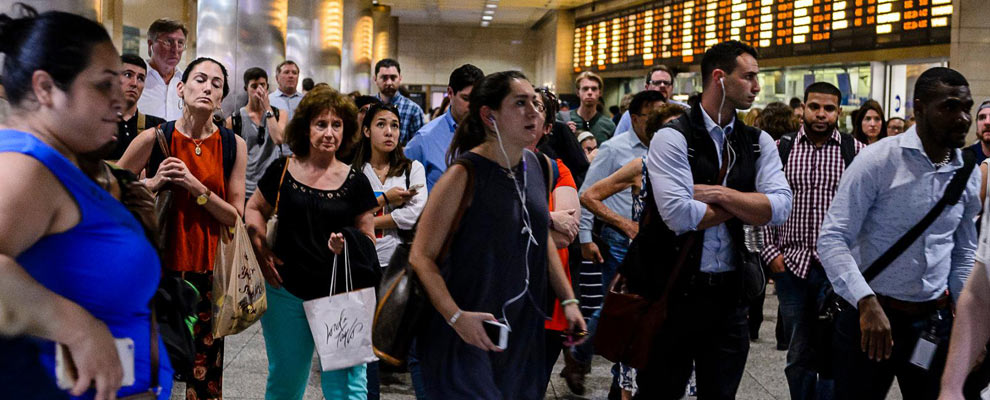 Photo by Jeff Bachner
On-time performance
It may be especially difficult for commuters to get anywhere on time this summer. Crowding at stations and on trains could result in longer loading times. And some trips will take longer because some express trains will add stops to accommodate customers on trains that were cancelled. Trip times may be even more predictable on ferries and, especially, express buses, which will be at the whim of LIE traffic.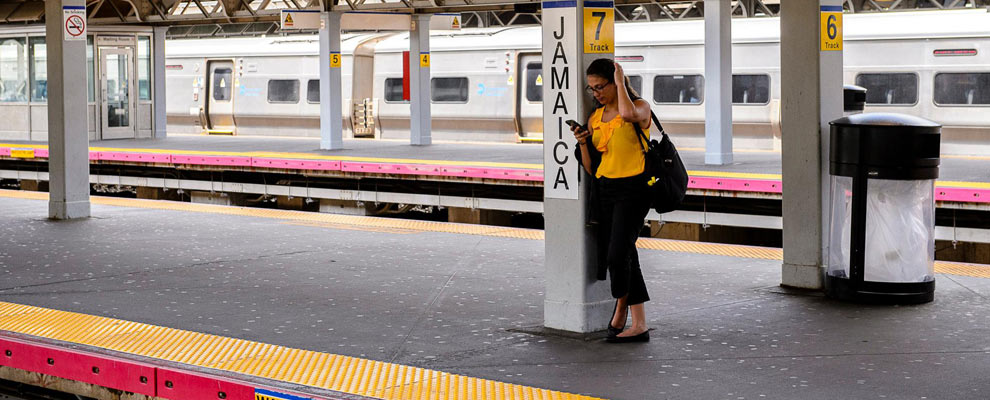 A commuter waits at Jamaica Station. Photo by Jeff Bachner
Can it get done in time?
Amtrak has said its summer infrastructure renewal plan aims to condense years' worth of construction work over just two months, but some have expressed skepticism about Amtrak's ability to get the work done on time, given its track record. Amtrak says it is hiring a private consultant to help manage the project, and Amtrak and the LIRR say they will monitor the work and make regular progress reports to riders.
Communication
The LIRR has taken a lot of heat from commuters for what they've said is a failure to communicate clearly in general, and especially during recent and frequent service disruptions. The LIRR has promised an "aggressive public awareness campaign" to communicate service options to riders.
Mark Epstein, chairman of the LIRR Commuter Council, said he'd also like to hear from the LIRR about how it will respond to unexpected service problems that could arise.
It's very nice that they're telling us about the planned outage. What happens when there's also an unplanned outage?
– Commuter council chief Mark Epstein
Some station platforms signs may not display correct data. Service is on or close. Please listen for station announcements.

— LIRR (@LIRR) June 28, 2017
X factors
Then there's everything else that can go wrong.
The unprecedented situation of the nation's busiest commuter railroad operating at reduced capacity during the two hottest months of the year could lead to all kinds of problems, experts say, ranging from heat-related broken rails to communication meltdowns or power outages.
Anthony Simon, leader of the LIRR's largest labor organization, has "insisted" that the railroad keep its train crews in the loop about service conditions throughout the summer, but said that can be tough to achieve during "real-time" emergencies. He asked for riders' patience. He implored riders not to take their frustrations out on train-crew members.
The LIRR could also face other operating challenges, including from its problematic switch and signal system. When the LIRR faces unexpected capacity constraints, it typically defaults to "off-the-shelf" service reductions that include cancelling and combining certain trains.
But, with the LIRR's capacity already significantly reduced at Penn, experts have said there is no room for error. In such a situation, the LIRR will probably rely heavily on its express buses and ferries to bring riders to and from work.
Like
Tweet
Share
Pin
Email
LIRR STRIKE
How do you Feel?
Pick a box below to indicate how optimistic you are about whether a strike will be avoided and whether you're more supportive of the MTA's or unions' position.
Clicking on a box also activates a pop-up where you can tell us about yourself and your commute. Boxes on the grid will darken as more people choose a particular position.
Come back tomorrow and vote again. We'll also be using your answers to chart how Long Islanders' sentiments change over time.
How hopeful are you that the strike will be averted?
Your answer may take a few minutes to appear.